Walmart apologized on Monday for making a cake featuring the flag of the Islamic State for a Slidell, Louisiana, man who had originally wanted his cake printed with the Confederate battle flag.
In a video posted to YouTube on Friday, Chuck Netzhammer showed off his sheet cake featuring the flag of the Islamic State militant group, also known as ISIS. He also held up the image of the Confederate battle flag that he had originally wanted on the cake, and expressed dismay that Walmart accepted one flag but not the other.
"That's an ISIS battle flag cake that anybody can go buy at Walmart," Netzhammer says in the video, in which he also shows his Walmart receipts and a copy of the rejected order for the Confederate cake. "But you can't buy a Confederate flag toy, with like, say, a 'Dukes of Hazzards' [sic] car."
A spokesperson for Walmart explained to ABC News on Monday that the employee at the store "did not know what the design meant and made a mistake."
In all fairness, at times even CNN has had a hard time identifying the ISIS flag.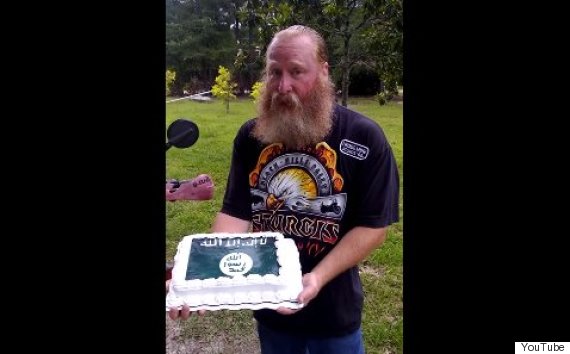 Chuck Netzhammer shows off the ISIS cake he got at Walmart.
A month ago, Netzhammer might have very well been able to drop by Walmart and pick up a cake, a toy car or any other Confederacy-themed memorabilia. However, Walmart recently banned merchandise featuring the Confederate battle flag after nine innocent black men and women were shot dead by a white gunman at a Charleston, South Carolina, church earlier this month. Retailers such as Amazon and eBay have also pulled the flag.
The Confederate flag design that Netzhammer wanted on the cake was emblazoned with the slogan "heritage not hate," a view that has been criticized as revisionist and incorrect.
Slidell is in St. Tammany Parish, where a slew of racist emails between white police detectives was uncovered last year. Located just north of New Orleans, the parish has also been a support base for the political career of former Ku Klux Klansman David Duke.