July 14 (Reuters) - Greece will need far bigger debt relief than euro zone partners have been prepared to envisage so far due to the devastation of its economy and banks in the last two weeks, a confidential study by the International Monetary Fund seen by Reuters shows.
The updated debt sustainability analysis (DSA) was sent to euro zone governments late on Monday, hours after Athens and its 18 partners agreed in principle to open negotiations on a third bailout program of up to 86 billion euros in return for tougher austerity measures and structural reforms.
"The dramatic deterioration in debt sustainability points to the need for debt relief on a scale that would need to go well beyond what has been under consideration to date - and what has been proposed by the ESM," the IMF said, referring to the European Stability Mechanism bailout fund.
The fund released the document on Tuesday in Washington after it had been seen by Reuters and other news organizations.
A senior IMF official said late on Tuesday that the debt relief would give Greece a chance to recover and would be needed if the fund was to stay involved with any new Greek program.
"I don't think this is a gimmick or kicking the can down the road," said the official, who spoke on condition of anonymity. "This is a dramatic measure to take the entire European stock (of debt) and reprofile it," so the country has a chance of "getting some growth back."
European countries would have to give Greece a 30-year grace period on servicing all its European debt, including new loans, and a very dramatic maturity extension, or else make explicit annual fiscal transfers to the Greek budget or accept "deep upfront haircuts" on their loans to Athens, the report said.
It was leaked as German Finance Minister Wolfgang Schaeuble disclosed that some members of the Berlin government thought Greece would have been better off taking "time-out" from the euro zone rather than receiving another giant bailout.
IMF Managing Director Christine Lagarde attended weekend talks among euro zone finance ministers and government leaders that agreed on a roadmap for a new bailout. An EU source said the new debt sustainability figures were given to euro zone finance ministers on Saturday and were known by the leaders before they concluded Monday's deal with Athens.
The IMF study said the closure of Greek banks and imposition of capital controls on June 29 was "extracting a heavy toll on the banking system and the economy, leading to a further significant deterioration in debt sustainability relative to what was projected in our recently published DSA."
European members of the IMF's executive board tried in vain to stop the publication of that earlier study on July 2 just three days before a Greek referendum that rejected earlier bailout terms, sources familiar with the discussions told Reuters.
Greek Prime Minister Alexis Tsipras and his former finance minister, Yanis Varoufakis, seized on the IMF study as vindicating their argument that the proposed bailout was unsustainable and that Greece was right to demand debt relief.
The latest IMF study said Greek debt would now peak at close to 200 percent of economic output in the next two years, compared to a previously forecast high of 177 percent.
Even by 2022, the debt would stand at 170 percent of gross domestic product, compared to an estimate of 142 percent issued just two weeks ago.
Gross financing needs would rise to above the 15 percent of GDP threshold deemed safe and continue rising in the long term, the updated IMF study said.
Moreover, the latest projections "remain subject to considerable downside risk," meaning that euro zone countries might have to provide even more exceptional financing.
In the laconic technocratic language of IMF officialdom, the report noted that few countries had ever managed to sustain for several decades the primary budget surplus of 3.5 percent of GDP expected of Greece. As soon as Athens had swung into a small surplus before debt service last year, the government had failed to resist political pressure to ease the target, it noted.
The IMF study also appeared to challenge the assumption by some European officials that Greece will be able to meet some of its financing needs from the markets in 2018.
"Borrowing at anything but AAA rates in the near term will bring about an unsustainable debt dynamic for the next several decades," it said. (Editing by Paul Taylor, Toni Reinhold)
BEFORE YOU GO
07/15/2015 3:26 PM EDT
Peaceful Rally Interrupted By Clashes
Danae Leivada reports from Athens:
Members of the Public Sector Union (ADEDY) and Leftist groups rallied in Athens' Syntagma Square on Wednesday night to remind the government Greeks answered the July 5 referendum on a new bailout program with a resounding "Oxi" or "No."

People gathered on the central square as lawmakers were scheduled to vote in parliament on a bill outlining numerous reforms the country's creditors demanded in return for fresh bailout funds.

The reforms were met with dismay and outrage by the protesters. One of them described the proposal as "a treacherous and harsh agreement." Another demonstrator told HuffPost the new deal was "worse than the ones that came before it."

While the demonstration started out peacefully, it was abruptly interrupted by anarchists who clashed with police in front of the parliament building.
07/15/2015 2:45 PM EDT
PHOTOS: Syntagma Square
Danae Leivada was in Athens' Syntagma Square before the clashes started.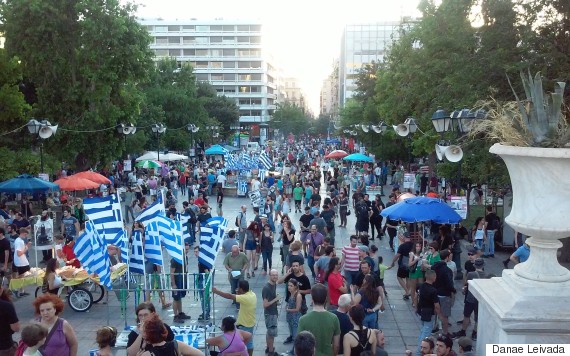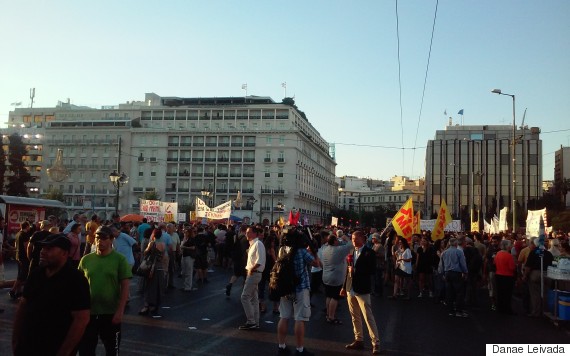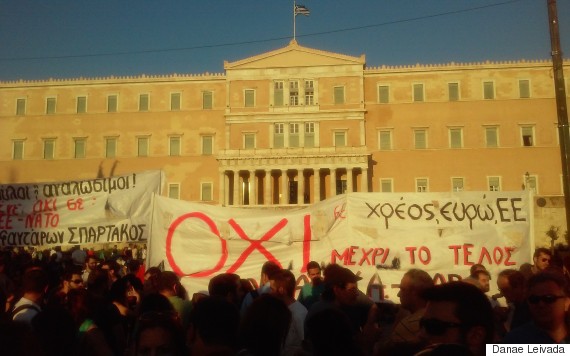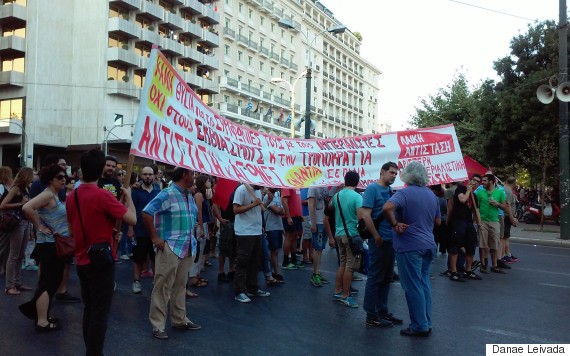 The banner reads "No sacrifices for agreements with imperialists. No to blackmail and terrorism. Resistance and struggle against old and new bailouts -- Left Anti-Imperialist Co-Operation"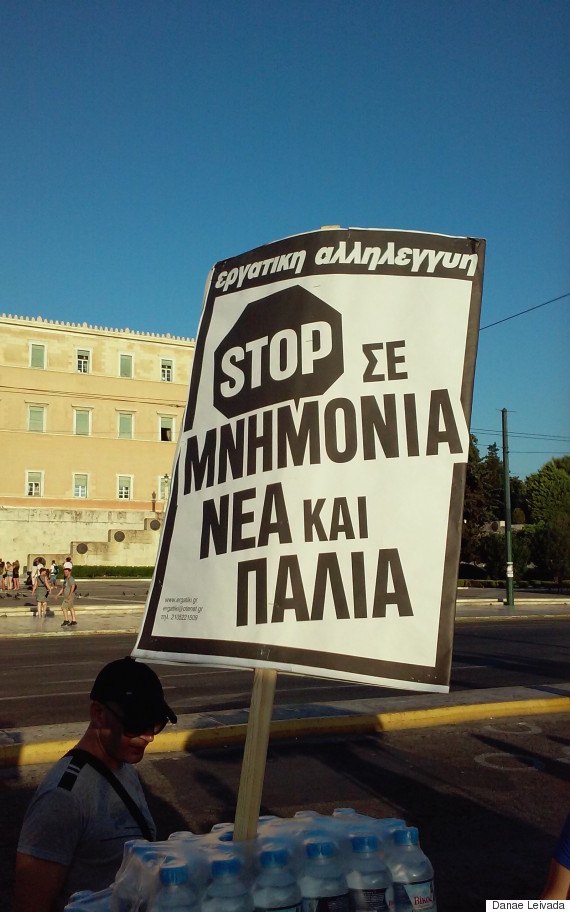 The poster reads "STOP to old and new bailout memoranda -- Workers' Solidarity"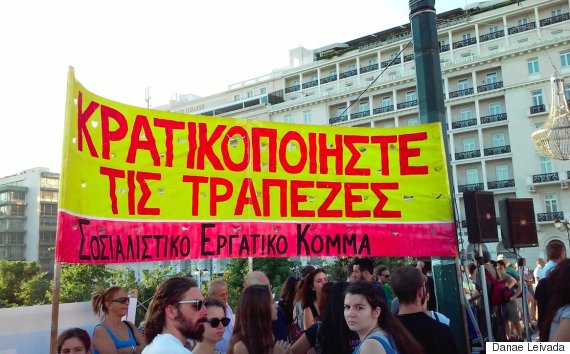 The banner reads "Nationalize Banks -- Socialist Workers' Party"
07/15/2015 2:18 PM EDT
Clashes At Anti-Austerity Protests
The Associated Press reports:
BREAKING: Clashes break out at Greek anti-austerity rally by thousands of protesters outside Parliament.

— The Associated Press (@AP) July 15, 2015
07/15/2015 10:39 AM EDT
PHOTOS: Civil Servants On Strike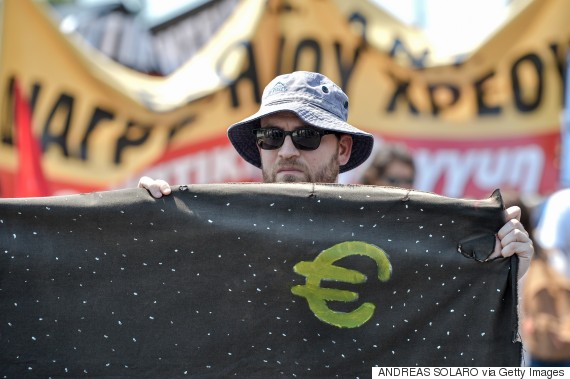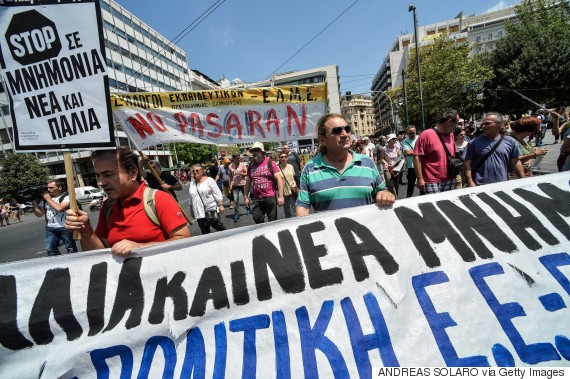 Protester holds a banner during a protest in central Athens, marking a 24-hours public sector and pharmacists strike on July 15, 2015 against the new package of austerity measures. (ANDREAS SOLARO/AFP/Getty Images)
07/15/2015 10:29 AM EDT
Secretary General Of Social Security To Hand In Resignation
George Romanias, the Secretary General of Social Security in Greece, announced he plans to resign the coming days, HuffPost Greece reports.
Romanias said he disagrees with the measures which will be introduced as part of the country's fresh bailout program. Romanias also claimed he, nor Deputy Social Security Minister Dimitris Stratoulis were consulted during the drafting of the bill of reforms Parliament is voting on today.
07/15/2015 10:26 AM EDT
'No To Blackmail'
President of the Greek Parliament Zoe Konstantopoulou urged lawmakers ahead of Wednesday's vote on a fresh bailout program for the country not to let "blackmail" succeed.
Konstantopoulou pointed at an IMF document that surfaced on Tuesday and indicated that Greece's debt is so sizable the country needs debt relief and a hirty-year grace period on servicing its debt.
"It is our duty to ask of our European partners to serve their obligations", Konstantopoulou said, according to HuffPost Greece.
07/15/2015 9:46 AM EDT
Photos: Parliament Debates Passing Key Reforms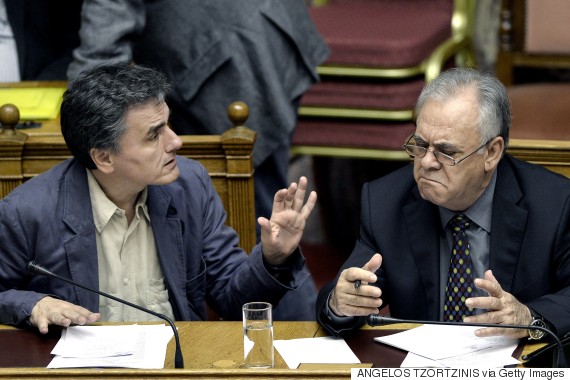 Greek Finance Minister Euclid Tsakalotos (L) speaks with Deputy Prime Minister Yannis Dragasakis (R) during a parliament session in Athens, on July 15, 2015. (ANGELOS TZORTZINIS/AFP/Getty Images)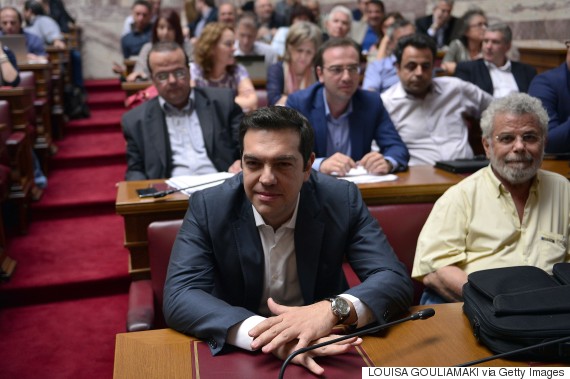 Greek Prime Minister Alexis Tsipras attends his Syriza party's parliamentary group meeting at the Greek parliament in Athens on July 15, 2015. (LOUISA GOULIAMAKI/AFP/Getty Images)
07/15/2015 9:20 AM EDT
Political Cartoons Take On Greece And Eurozone
A flurry of political cartoons from around the globe tackles Greece's debt crisis with a sharp mix of comedy and tragedy, with a nod to Greek dramatic tradition.
The cartoons pull no punches -- one likens the nation to an ISIS hostage -- and range from heartbreaking to scathing -- especially for Merkel.
From American cartoonist Jim Morin
#greekment #GreekCrisis @enfogr @enforadio @culturalsynergy pic.twitter.com/A0QCnu5niU

— kimon sapnas (@kimons) July 14, 2015
Read the full story here.
07/15/2015 8:33 AM EDT
Greece's Deputy Finance Minister Resigns
Deputy finance minister Nadia Valavani has resigned ahead of a vote in Greek parliament on whether to approve the reforms necessary for a bailout.
Greece's deputy finance minister Nadia Valavani resigns ahead of crucial vote for bailout reforms - @abcnews http://t.co/i4RIeXtZ3n

— Breaking News (@BreakingNews) July 15, 2015
07/14/2015 3:50 PM EDT
IMF May Walk
The IMF's new memo calling for dramatic debt relief for Greece indicates that unless its requests are heeded, the IMF will not continue to participate in Greece's bailouts.
The Financial Times reports:
The [IMF] memo argues that only through large-scale debt relief — something eurozone officials have fiercely resisted — could Greece see its debt fall to levels where it would be able to return to the financial markets.

"Greece's debt can now only be made sustainable through debt relief measures that go far beyond what Europe has been willing to consider so far," the memo reads.

Under its rules, the IMF is not allowed to participate in a bailout if a country's debt is deemed unsustainable and there is no prospect of it returning to private bond markets for financing. The IMF has bent its rules to participate in previous Greek bailouts, but the memo suggests it can no longer do so.