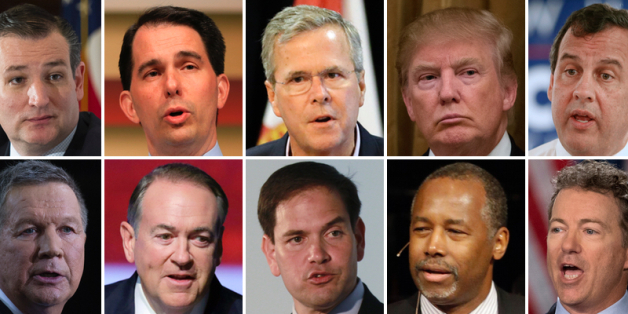 Republicans vying for the White House took the stage against some of their opponents Thursday night in the first GOP debate of the 2016 race.
The 10 highest-polling candidates of the field debated 9 p.m. ET. The other seven candidates for the GOP nomination took part in a smaller debate at 5 p.m. ET.
The debate, taking place in Cleveland, Ohio, aired on Fox News.
09/16/2015 11:26 PM EDT
Donald Trump Peddles Discredited Vaccine-Autism Link
HuffPost's Arthur Delaney reports:
"Autism has become an epidemic. Twenty-five years ago, 35 years ago, you look at the statistics, not even close," Trump said. "I am totally in favor of vaccines but I want smaller doses over a longer period of time."
All states require certain immunizations in order for children to be admitted to public schools, with limited exceptions for religious or health reasons. Some parents worry vaccines cause autism, a theory supported by less than a shred of evidence. Some other parents favor slowing the schedule of immunizations to reduce the risk of autism, another unsupported theory.
The Centers for Disease Control and Prevention explains the risk of delaying immunizations: "Some vaccine-preventable diseases remain common in the United States, and children may be exposed to these diseases during the time they are not protected by vaccines, placing them at risk for a serious case of the disease that might cause hospitalization or death." Skipping or delaying vaccinations also weakens herd immunity, which protects people who are too young to have been immunized.
Read more here.