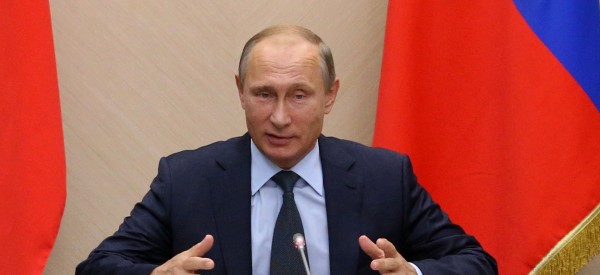 TOP STORIES
To get The Morning Email, HuffPost's daily roundup of the news, in your inbox, sign up here. And listen to the news in under two minutes here.

PUTIN: NO PLANS 'RIGHT NOW' TO PUT TROOPS ON THE GROUND IN SYRIA Russian President Vladimir Putin said on "60 Minutes" he had no current plans to place combat troops on the ground in Syria. The announcement came on the heels of a surprise intelligence-sharing treaty among Russia, Iraq, Syria and Iran. [AP]

INTRODUCING THE HUFFPOST RISE MORNING BRIEF Want to watch your morning news? Check out the HuffPost Rise Morning Newsbrief here. [HuffPost]
2016 SHENANIGANS ROUNDUP Donald Trump refused to give concrete facts about his sweeping tax reform plan, a stage collapsed behind Carly Fiorina mid-Q&A, Jeb Bush's donors told him he's got to get a move on and Hillary Clinton said the email server was Bill Clinton's. And here's why the divide in the Republican Party is pushing Congress, and the 2016 race, to the edge. [Laura Barron-Lopez and Michael McAuliff, HuffPost]
SHELL TO END OFFSHORE ARCTIC DRILLING The amount of oil found thus far in the controversial drilling program wasn't enough to outweigh the expensive costs and risks. [AP]
ELIZABETH WARREN GIVES BLACK LIVES MATTER SPEECH "Sen. Elizabeth Warren (D-Mass.) on Sunday forcefully called for a renewed focus on the fight for racial justice, arguing that 'we have not made enough progress' since the civil rights movement of the 1960s and outlining three main policy areas in which black people continue to face discrimination, including her signature issue of economic inequality." [Marina Fang, HuffPost]
POPE ENDS U.S. VISIT VOWING TO ADDRESS SEXUAL ABUSE Pope Francis met with five survivors of sexual abuse Sunday and vowed to hold members of the Church responsible. Take a look back at the pope's six-day tour of the U.S., as well as that time he met a baby dressed like himself. [Carol Kuruvilla, HuffPost]
NASA PLANNING BIG MARS ANNOUNCEMENT You can watch the mysterious press conference at 11:30 a.m. EDT here. [David Freeman, HuffPost]
THE FERGUSON FELLOWSHIP: YEAR TWO Huffington Post readers enabled Mariah Stewart to stay in Ferguson long after the national media left town. Help us keep her there. [HuffPost]
THE NEW HAMPSHIRE PRIMARY FOR WORLD LEADERS Check out First to Last's rankings for the imaginary president of the world. [Howard Fineman, Jason Linkins and Lauren Weber, HuffPost]
WHAT'S BREWING
RELIVE THE SUPERMOON Photos of that red beauty in all its glory. [HuffPost]
INDIA: 'THE NEW CHINA' FOR TECH "The Padachuri family's love of technology helps explain why India and its 1.25 billion residents have become the hottest growth opportunity -- the new China -- for American Internet companies. Blocked from China itself or frustrated by the onerous demands of its government, companies like Facebook, Google and Twitter, as well as start-ups and investors, see India as the next best thing." [NYT]
WHAT YOU DIDN'T NOTICE IN THOSE KIT HARINGTON PICTURES And why Daily Dot is mourning the death of the TV twist. [HuffPost]
THIS GUY IS CLIMBING MOUNT EVEREST He only has one finger. You can do something more with your Monday today. [BuzzFeed]
OVER $10,000 WORTH OF MARIJUANA DROPPED FROM THE SKY AND CRUSHED AN ARIZONA DOG HOUSE You can't make this stuff up. [The Guardian]
IT'S TOO HARD TO FIRE ABUSIVE PRISON GUARDS The Marshall Project investigates an all-too-common narrative in the modern criminal justice system. [The Marshall Project]
THE PERFECT MURDER "Four dead, an ever-expanding list of suspects, dozens of detectives on the case. Three years after the fact, a mysterious shooting in the French Alps has evolved into one of the most confounding, globe-spanning criminal investigations in decades." [GQ]
For more from The Huffington Post, download our app for iOS or Android.
WHAT'S WORKING
THIS TEENAGER INVENTED AN EBOLA DETECTION TEST "Olivia Hallisey, a junior at Greenwich High School, was awarded $50,000 in scholarship funds in the 2015 Google Science Fair for her innovation that detects Ebola. Olivia's invention costs $25 a test, can be stored and transported without refrigeration and determines if a person is infected within 3o minutes, according to the contest's site." [HuffPost]
ON THE BLOG
MATT DAMON: A LOOK AT THE WATER CRISIS "If you don't know about the water crisis, you should. About 2.5 billion people are affected. They lack clean water and a toilet. Each day, kids miss school, moms walk miles and families get sick from unsafe water. And too many die." [HuffPost]
BEFORE YOU GO
~ The U.N. General Assembly kicks off today, with the crisis in Syria as its major focus.
~ The foreign-born population in the U.S. is nearing record highs.
~ The TSA needs to pick up its game when it comes to finding loaded guns in luggage.
~ Why we should all be playing "Settlers of Catan."
~ Pro tip: Don't try to kill a spider with fire when you're putting gas in your car.
~ There are too many San Francisco bunk bed Craigslist ads.
~ There are 1,584 people in America named "Seven."
~ We're a bit too Type A for this "glitch" architecture fad.
~ Zac Efron shirtless. Need we say more.
~ What the future can look like in city design.
~ The myth of busyness.
~ Sarah Koenig would like you to know she misses being anonymous. We miss "Serial." That is all.
~ The second-to-last chapter of Steven Brill's investigative feature on Johnson & Johnson tackles the controversial court case.
~ Tonight is Trevor Noah's debut on "The Daily Show."
~ This is what it looks like when you paint a Van Gogh in a field with crops as your paint.
~ And Nike's latest running ad hits a bit too close to home.
Send tips/quips/quotes/stories/photos/events/scoops to Lauren Weber at lauren.weber@huffingtonpost.com. Follow us on Twitter @LaurenWeberHP. And like what you're reading? Sign up here to get The Morning Email delivered to you.