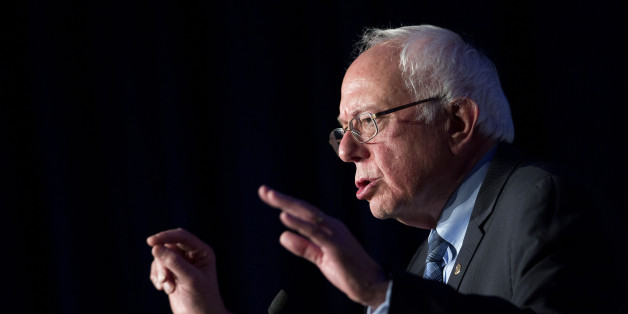 Five Democratic presidential candidates face off tonight in the first debate of the 2016 campaign cycle.
The debate airs at 9 p.m. ET on CNN.
Read the latest updates below:
10/14/2015 1:41 AM EDT
9 Issues Democrats Just Debated That Have Been Almost Completely Ignored By Republicans
HuffPost's Nick Wing and Ruby Mellen report:
With just five candidates at Tuesday's Democratic primary debate, the stage almost looked empty compared with the Republican debates. The most recent round of GOP contests featured a total of 15 candidates sparring in two separate events, including an 11-person primetime showdown.

Many people surely expected the Democratic candidates to show plenty of disagreement with Republicans on how to address the nation's most pressing issues. But we saw the Democratic candidates on Tuesday hit a number of topics that barely registered in the Republican debates, if at all.

While the first two GOP debates touched on topics that included cutting taxes, restricting abortion access, illegal immigration, vaccine skepticism and Secret Service aliases -- all issues, with the exception of the last, that debate moderators likely thought were at least somewhat important to GOP primary voters -- the Democratic candidates discussed topics that highlighted key differences between the parties.
10/14/2015 1:39 AM EDT
Hillary Clinton Punched Down During The First Debate -- And It Worked
HuffPost's Sam Stein and Amanda Terkel report:
LAS VEGAS -- The first debate of the 2016 Democratic presidential primary will be defined by two moments: When the topic turned to Sen. Bernie Sanders' (I-Vt.) chief vulnerability, Hillary Clinton jumped at the opportunity to draw a sharp contrast. When the roles were reversed, Sanders threw her a lifeline.

Those two exchanges -- the first on gun control and the second on Clinton's use of a private email account as secretary of state -- exemplified not just the different political DNA of each candidate, it underscored the brewing intensity of a Democratic primary that few thought would be competitive.

Clinton's overall performance will be remembered as the more forceful one, in part because the early questions played to her strengths. A back-and-forth on why Sanders didn't consider himself a capitalist led to her defending robust regulations, with him touting Denmark.
10/14/2015 12:11 AM EDT
ESPN's Curt Schilling Thinks ISIS Won The Democratic Presidential Debate
HuffPost's Travis Waldron reports:
ESPN baseball analyst Curt Schilling, a former major league pitcher, is fond of sharing his political opinions on Twitter, so perhaps it's no surprise that he weighed in with his thoughts on who won Tuesday night's Democratic presidential debate.
His chosen victor, however, may surprise you.
10/13/2015 11:55 PM EDT
Clinton, O'Malley Love To Hate The NRA
Ahead of Tuesday night's Democratic presidential debate, the National Rifle Association criticized Hillary Clinton and Martin O'Malley for their records on gun control.
RT if you'll be cringing every time @HillaryClinton talks #guncontrol during the #DemDebate tonight.

— NRA (@NRA) October 13, 2015
"I proudly hold an F rating." - @MartinOMalley. And we were happy to give it to you. You earned it. #demdebate

— NRA (@NRA) October 14, 2015
Neither Democrat had a problem returning the favor.
When candidates were asked to name their favorite enemy, O'Malley had only four words. "The National Rifle Association," he said to cheers.
Clinton, too, named the NRA as one of her top enemies because of the group's efforts to block gun control legislation, despite the growing number of mass shootings. Earlier in the debate, she noted that 90 people die every day in the U.S. because of gun violence. Congress hasn't done anything in response.
"This has gone on too long and it's time the entire country stood up against the NRA," Clinton said to applause. "The majority of our country supports background checks, and even the majority of gun owners do."
Clinton, O'Malley and Lincoln Chafee all boasted about their F ratings from the NRA. Bernie Sanders bragged about his D- rating, too. Jim Webb was the only one in good standing with the gun group, with a 92 percent rating.
-- Jennifer Bendery
10/13/2015 11:21 PM EDT
Final Speaking Time Tally
Final Tally in #DemDebate Clinton 30:25 Sanders 27:41 O'Malley 17:08 Webb 15:20 Chafee 9:05 #nprdebate

— Ally Mutnick (@allymutnick) October 14, 2015
10/13/2015 11:18 PM EDT
Jim Webb: I Killed A Guy
Former Sen. Jim Webb (D-Va.) had the strangest answer Tuesday when CNN debate moderator Anderson Cooper asked each Democratic presidential candidate to name an enemy he or she had made.
"I would have to say the enemy soldier that threw the grenade that wounded me, but he's not around right now to talk to," Webb said, smiling.
Webb, a Marine veteran, was awarded a Navy Cross for valor in Vietnam. He'd been approaching a bunker when an enemy soldier threw a grenade his way, according to the award citation.
"Observing the grenade land dangerously close to his companion, First Lieutenant Webb simultaneously fired his weapon at the enemy, pushed the Marine away from the grenade, and shielded him from the explosion with his own body," the citation says. "Although sustaining painful fragmentation wounds from the explosion, he managed to throw a grenade into the aperture and completely destroy the remaining bunker."
The other debate candidates listed Iranians, the National Rifle Association and various industries and special interest groups as their enemies.
-- Arthur Delaney
10/13/2015 11:10 PM EDT
Hillary Jumps To Defend Paid Leave Laws
Hillary Clinton gave a textbook, factually correct defense of paid family leave and medical leave laws during Tuesday's debate.
CNN's Dana Bash asked Clinton about the subject, pressing her on Republican Carly Fiorina's claim that requiring corporations to provide paid leave will hurt businesses and the economy. Clinton responded that it was a strange claim for Fiornia to make, given that Fiorina comes from California -- a state that has had a paid leave law in effect for 10 years.
And the California law has worked well, by nearly all accounts. Last year, an assessment
commissioned by the U.S. Department of Labor found that -- thanks to the paid leave law -- many more low-income parents were able to take leave. They were better off and so were the kids. And it all happened without ill effects on the economy.
In 2014, during a televised CNN interview, Clinton said she wasn't sure paid family leave was "politically feasible," even though she was a longtime supporter. Lately, though, she's been talking it up -- making it a centerpiece of her campaign.
Bernie Sanders supports it too, with Sen. Kirsten Gillibrand (D-N.Y.) and Rep. Rosa DeLauro (D-Conn.) championing the cause on Capitol Hill.
And the Republicans? Like Fiorina, they oppose anything that actually requires corporations to provide leave -- favoring, instead, tax incentives that few experts think would make much difference.
-- Jonathan Cohn
10/13/2015 11:08 PM EDT
More People Are Watching CNN's Livestream Than During The GOP Debate
According to CNN, at 10 p.m. ET Tuesday, 962,000 people were streaming the Democratic debate on CNN's website. That's more than the 921,000 who streamed the Sept. 16 GOP debate.
During both debates, CNN made its live stream available for free on its website to boost viewership.
--Marina Fang
10/13/2015 11:03 PM EDT
I'm Not Running For President Because Of My Name, Says Hillary Clinton
Democratic presidential candidate Hillary Clinton said she doesn't expect to coast into the White House because of her famous name.
"I would not ask anyone to vote for me based on my last name," Clinton said during Tuesday night's Democratic debate. "I'd ask them to listen to what I'm proposing. Look at what I accomplished in the Senate, as secretary of state, and then draw your own conclusion."
Former Maryland Gov. Martin O'Malley, one of her challengers, suggested the country has had enough of the Clintons in the White House. She disagreed, obviously.
"I'm campaigning because I think I have the right combination of what this country needs at this point," Clinton said. "And I think I can take the fight to the Republicans because we cannot afford a Republican to succeed Barack Obama as president of the United States."
-- Jennifer Bendery
10/13/2015 11:01 PM EDT
Hillary Clinton Is The First -- And Last -- Candidate To Bring Up Planned Parenthood
Former Secretary of State Hillary Clinton was asked during Tuesday's debate whether paid family leave could advance in a Congress concerned about new forms of government intervention.
Instead of answering, Clinton pivoted to point out that Republicans have no problem intervening in women's reproductive health care decisions by trying to chip away at abortion access and de-fund Planned Parenthood.
Clinton was the first candidate on the debate stage to mention Planned Parenthood, the reproductive health provider that has faced unprecedented attacks on its programs across the country this year. She also was the last to mention the organization.
-- Samantha Lachman