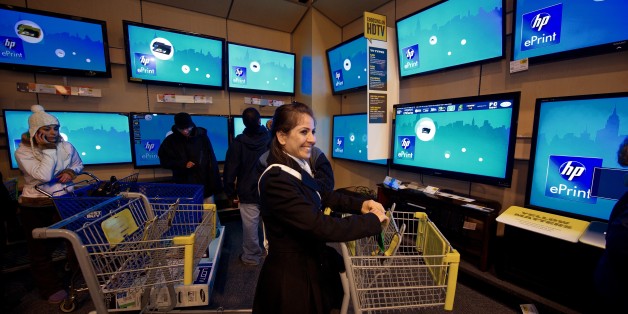 Our Black Friday wish list is massive. Well, our wish list is always massive. But America's most frenzied shopping holiday only makes us covet fine furniture, fluffy blankets and kitchen gadgets all the more.
When it seems like everything is discounted, what's really worth buying on Black Friday? We went to the pros for some advice on what to purchase.
1. TVs, but purchase with caution.
This year, "the price on TVs is falling through the floor," says Brad Wilson, founder of Brad's Deals, the world's largest editorial deals site. He describes Best Buy's $899.99 deal on a Samsung 55-inch TV as "by far the lowest" price he's ever seen for that product. (The TV is normally $1,399.99, for reference).
Best Buy's 50-inch Panasonic TV for $199.99, meanwhile, is being regarded as THE Black Friday deal of the season.
But be sure to take a moment to seriously consider quality. We don't know about you, but were surprised to find out that on Black Friday, many stores sell lesser versions of products, specifically designed to be sold at cheaper-than-cheap Black Friday prices.
"Stores don't 'decide' which products go on Black Friday sale," says Wilson. "They conceive those products." He added that stores work with manufacturers to build specific TVs, for example, that can be produced at a lower price. This often means downgrades like less plug-in ports, lower picture quality and fewer "smart" features. So while your deal may be a great one, don't be fooled into thinking it's the same product on shelves during the rest of the year.
2. Vacuums
Walmart's Dyson deal -- $199 for a vacuum that's usually $299 or more -- is stellar, as is Lowes' DC65 Animal for $449. Prices are also good on models by Hoover and Shark.
3. Mixers, slow cookers, coffee makers & other small kitchen appliances
KitchenAid's stand mixer at Kohl's is the deal to beat, Wilson says -- with rebates and a special Kohl's Cash offer considered, the price comes out to just $114.99. More than one of our experts also praised JCPenney's $7.99 slow cooker and 12-piece Cuisinart knife set for $17.99.
Anything you might keep on your kitchen counter, really, is fair game. While major brands do offer discounts on pricey items like fancy coffee makers, you'll find better deals on the cheaper stuff, like utensil sets.
"Toasters, coffee pots and waffle makers usually get heavy markdowns," says Louryn Strampe of BFads, a site dedicated to analyzing Black Friday deals. "Most of the time, (the markdowns) are on reputable name brands, but the cheapest prices will not be on their most expensive products. They discount their cheaper lines above the premium ones."
4. Tools
Home Depot has some great deals on tool sets, Wilson points out, and ACE Hardware offers a Dewalt drill kit for $50 off, plus more discounts from special coupons.
But please, do NOT buy...
1. Linens
When people are prepping their homes for holiday visitors, there isn't much of an incentive for retailers to discount linens. However, during the January "white sales," sheets, towels, blankets, bath and bed accessories go on major markdown. You're better off using your Black Friday cash for other housewares.
2. Furniture
Black Friday is a no-go for patio chairs and tables. "Yes, you'll see Black Friday sales," says Mark LoCastro of DealNews, a site that analyzes thousands of deals per day. "But the best sales are at the end of summer, around Labor Day."
It's not an ideal time for indoor furniture, either: new models typically hit stores in February, so January is an ideal time to buy living room couches and chairs.
3. Fridges, washing machines & other big appliances
Traditionally, the best time to buy dishwashers and washing machines is early fall, when new models come out, and the ideal time for fridges is May.
However, stores like Home Depot, Sears and Kmart are offering Black Friday deals that totally rival typical end-of-year costs. So if you really need a big appliance, then go for it.
You officially have our permission to shop 'til you drop.
BEFORE YOU GO
PHOTO GALLERY
Best Buy Black Friday Deals 2014