The I-95 corridor was the center of INTENSIVE media attention -- there's also a blizzard! (eyy-ooooh) Area boyfriends grunted with neanderthalic satisfaction as they hauled back the last Sleepy Time Tea from the local Safeway for their girlfriends. And just like those boyfriends, area residents stocked up on supplies ahead of the blizzard. "Stocked up," of course, being the latin for, "Using this inclement weather as a flimsy excuse to ditch my diet and only consume bourbon and Stouffer's Macaroni for the 72 hours." This is HUFFPOST HILL for Friday, January 22nd, 2016:
MEET DEBATE CRASHER KID: HE WILL BE PRESIDENT ONE DAY - Keep that democratic fervor alive! "So many people have been asking me how I snuck into the Democratic Debate on Sunday in Charleston, I figured I owe everyone a story... [a staffer] asked me who I was here with ... As she was speaking to me a woman who was working for the DNC (Democratic National Convention) walked past and said 'No, no, no he is one of my staff working for the debate' and proceeded to hand me a lanyard that said partner on it...One particular staffer asked if I was Martin O'Malley's son and I said yes. He went and told some of the other staff that I was the former Governor's son and I gained recognition based on my jacket... Once inside the media room I ate some of the excellent food provided for the reporters and press... When I was stopped at the doors...I showed them my pass and told them that I was the aid of the Rabbi ... who was giving an opening address to the debate and needed to have a word with him ... They let me in ... I met Martin O'Malley and shook hands with him ... Once the debate was over people started to exit from the back and the immediate family of the candidates began to enter onto the stage. At this point I said to myself fuck it I was going to get on stage with the candidates. So I followed the families of the candidates through the side exit to backstage and past many secret service agents none of which stopped me." [Via @elisefoley]

Martin O'Malley shaking hands with his fake son.
GUB'MENT CLOSED: Y'ALL BE SAFE OUT THERE - Sixteen to 30 inches is the current District forecast. Remember to eat your weakest first. John Woodrow Cox, Dana Hedgpeth and Aaron Davis: "By late morning, the region's schools, malls and child-care centers were already shuttering. Most of the city's attractions, including the Smithsonian museums and the National Zoo, announced closures that would last through the weekend, and the National Park Service said the Mall would be closed to the public at noon…The federal government was sending its workers home by midday, but many had already taken the day off or chosen to work from home. Most of region's roadways looked more like they do on a weekend day than a Friday, with no significant hiccups on major highways, including the Capital Beltway and Interstate 66. This was a relief two days after a two-inch snowfall during the afternoon rush hour created epic commutes…[D.C. Mayor Muriel] Bowser and the District's top emergency official said that 36 hours of 'wet and heavy' snow is likely to bring down trees and power lines. Winds could reach 50 mph, and the District may at times get 3 inches of snow per hour." [WaPo]
The speaker's office is livestreaming the view from the Speaker's Balcony as snow accumulates on the National Mall. Also, the soundtrack is almost certainly the hold music you hear while phoning P90X's support line. Also, whoever first correctly identifies this *sick* beat gets a copy of Eliot's forthcoming book.
RUBIO YOUNG ONCE - The Washington Post's Manuel Roig-Franzia and Scott Higham have a cool story about Marco Rubio's naughty 1990 summer, but we prefer the Jason Linkins screenplay version. "Mom is wailing in the bedroom. Dad, a bent and downcast portrait of wrecked middle-class masculinity in the kitchen, stares at his feet, as his son Marco quietly, almost imperceptibly, vibrates with worry by the stove. Marco's dad slowly unwraps himself, and takes a deep breath before speaking
DAD: Marco! How could you? First your brother-in-law devastates the family by being convicted in a major drug-trafficking case, and now you? Standing in a park after it closed? How are we going to come back from this?
MARCO: Um, I was drinking a beer in a park, and the cops cited me, it's not a big deal and I'll get it cleared up without any trouble, I don't understand why you're reacting --
DAD: Marco! Marco!
MARCO: What?
DAD: (Slowly, and with great disappointment, standing to exit) Just... try to make something of yourself. (Suddenly animated) By God, Marco, I was a bartender at Sam's Town! Never forget that!" [HuffPost]
Does somebody keep forwarding you this newsletter? Get your own copy. It's free! Sign up here. Send tips/stories/photos/events/fundraisers/job movement/juicy miscellanea to huffposthill@huffingtonpost.com. Follow us on Twitter - @HuffPostHill
OPENING SALVO IN CORPORATE TAX FIGHT - Alan Ota: "Senior House tax-writer Devin Nunes is making an opening bid in the GOP's hunt for a viable tax overhaul with a proposal to replace the 35 percent corporate rate with a 25 percent levy on cash flow, a measure of funds typically available after expenses, financing and investment. The California Republican said in an interview that his American Business Competitiveness plan could move on a separate track from an envisioned international tax overhaul that is a top priority of Ways and Means Chairman Kevin Brady, R-Texas. Nunes' proposal, introduced earlier this month, will be one of the items weighed as Speaker Paul D. Ryan of Wisconsin and his leadership team try to frame tax priorities for a campaign agenda they plan to unveil by spring...Nunes said the 26 co-sponsors of his bill represent a number of important constituencies within in the GOP conference. They include other GOP tax writers such as Reps. Pat Tiberi of Ohio and Charles Boustany Jr. of Louisiana, and several conservative rebels such as Dave Brat of Virginia and Ted Yoho of Florida." [Roll Call]
NATIONAL REVIEW PANS TRUMP - Collection of white Washington guys drowned out by larger collection of white stuff falling on Washington. Michael Calderone: "On Thursday night, National Review unveiled a new issue that makes the conservative case against real estate mogul Donald Trump's bid for the presidency. It features 22 contributors, from veteran magazine writers to popular bloggers to fiery radio hosts. 'We take our heritage seriously,' National Review's publisher, Jack Fowler, told The Huffington Post on Friday. 'We were the founding institution of the modern conservative movement and we see ourselves as the protector of what conservative means,' he said...In the new issue, National Review's editors denounce Trump for shifting his political stances and describe him as 'a menace to American conservatism who would take the work of generations and trample it underfoot in behalf of a populism as heedless and crude as the Donald himself.'" [HuffPost]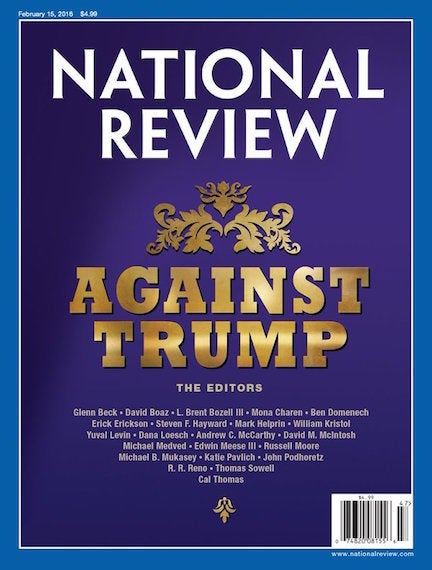 From Trump's tweet: "National Review is a failing publication that has lost it's way. It's circulation is way down w its influence being at an all time low. Sad!'
Speaking of things that will make no difference on the race: "Donald Trump on Friday retweeted a message from a Twitter user with the handle @WhiteGenocideTM.
The tweet features a photoshopped picture of Jeb Bush holding a "vote for Trump" sign outside of Trump Tower. The user's profile has a black banner photo with red lettering that says 'Get the f--- out of my country.' The name attached to the profile is Donald Trumpovitz and the location is 'Jewmerica,' with a link to a page promoting a pro-Adolf Hitler documentary." [Politico]
Lindsey is still having a lot of fun: "Sen. Lindsey Graham (R-S.C.) may be having even more fun on the campaign trail as a sharp-tongued surrogate than he did back when he was a happy-go-lucky 2016 White House contender. On Thursday, Graham said that deciding whether the Republican Party should back Donald Trump or Sen. Ted Cruz (R-Texas) was the equivalent of choosing between 'being shot or poisoned.' Graham then upped the ante while he was stumping here on behalf of former Florida Gov. Jeb Bush (R), whom he endorsed last week, cheekily taking a page out of Trump's playbook to draw attention to Cruz's Canadian birth…'If Ted doesn't win here, he's lost a home game because he's from Canada, right next door.'" [HuffPost's Scott Conroy]
BECAUSE YOU'VE READ THIS FAR - Here's an unfriendly cat.
COMFORT FOOD
- Think you're having a bad day? At least you aren't this imploding tanker.
- Creating beats with Siri.
- Politicians reimagined as classic paintings.
TWITTERAMA
- An honest FAQ with an weather expert.
@delrayser: [Justices gather on first day of Term]
"I vote to overturn Citizens United!"
"But… this case is about ERISA I don't th…"
"CITIZENS UNITED!"

@Snowden: Soon, even D.C. will be Snowden.
Got something to add? Send tips/quotes/stories/photos/events/fundraisers/job movement/juicy miscellanea to Eliot Nelson (eliot@huffingtonpost.com) or Arthur Delaney (arthur@huffingtonpost.com). Follow us on Twitter @HuffPostHill (twitter.com/HuffPostHill). Sign up here: http://huff.to/an2k2e