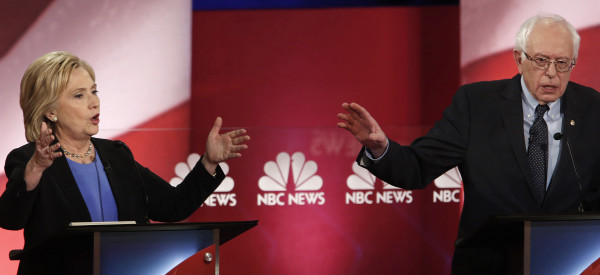 TOP STORIES
DAYS BEFORE IOWA, CLINTON UPS ATTACKS ON SANDERS Inside Hillary Clinton's increased criticisms of her rival, and why Bill's worried about Super Tuesday. [AP]
NORTH KOREA DETAINS U.S. COLLEGE STUDENT "North Korea has detained a U.S. university student, the third western citizen known to be held in the isolated state, for committing a 'hostile act' and wanting to 'destroy the country's unity', it said on Friday." [Reuters]
AT LEAST 20 DEAD IN SOMALI TERRORIST ATTACK The Islamic extremist group al-Shabab has claimed responsibility for the massacre, which took place in a beachfront restaurant in the capital of Mogadishu. [AP]
MID-ATLANTIC BRACES FOR BLIZZARD D.C. could see a historic white out of over two feet of snow. [AP]
THE FLINT CRISIS FORCES EPA OFFICIAL TO RESIGN "The Environmental Protection Agency boss for the Midwest resigned Thursday amid ongoing fallout over the drinking water crisis in Flint, Michigan. As the EPA's Region 5 administrator, Susan Hedman helped oversee the state's handling of Flint's water, which became toxic after the city switched its water source nearly two years ago." [Arthur Delaney, HuffPost]
THOSE THAT CRITICIZE PUTIN HAVE A HABIT OF DISAPPEARING In light of the charges that Vladimir Putin probably approved the assassination of a former KBG agent, here's a look at all his other critics that have gone missing. [Sam Levine, HuffPost]
POTENTIAL GLOBAL STOCK RALLY "Global stocks rallied Friday as oil prices staged a recovery and investors bet more stimulus from the world's central banks could help lift financial markets out of the new year's malaise." [WSJ | Paywall]
WHAT'S BREWING

THE KANYE, MILEY CYRUS TRACK HAS LEAKED No one man should have all that power -- thus the appearance of Miley. [HuffPost]
'TOM BRADY'S BIG REVEAL' "Love him, hate him, respect him or resent him, Tom Brady finally gave us a window into his life. He is as human to us, now, as he has ever been." [ESPN]
MELINDA GATES' THREE GOALS 'FOR A BETTER WORLD' Along with the woman she looks up to the most. [HuffPost]
LET'S SAY YOU WANTED TO BUY A STAR DESTROYER Here's how much you'd need to shell out. [Slate]
REASON 552 NOT TO USE COCAINE It "causes your brain to literally eat itself." [HuffPost]
'THE COW CON' "Arno Smit made off with an estimated $12 million from local dairymen he'd duped in a massive fraud." [The California Sunday Magazine]
For more from The Huffington Post, download our app for iOS or Android.
WHAT'S WORKING
THIS POST-BIRTH SELFIE Is speaking to moms everywhere. [HuffPost]
For more, sign up for the What's Working newsletter.
BEFORE YOU GO
~ A slew of prominent conservatives have written in the National Review why they will not be backing Donald Trump.
~ The 12 marines who went missing after their helicopters went down in Hawaii have been declared dead.
~ An argument against posting on Medium.
~ The environmental cost of your email.
~ A top cleric in Saudi Arabia has forbidden chess.
~ Google gave us all a streetview look at the world's largest model railway exhibit.
~ How to eat less pizza, not that we recommend this at all.
~ Amazon will refund you for that explosive fireball that is the hoverboard you bought your kid for Christmas.
~ Gwyneth Paltrow's kids can now eat sugar, and the world continues to turn.
~ Congrats to Mariah Carey, who is engaged to billionaire businessman James Packer.
~ TSA reported finding a record 2,653 guns at checkpoints, which is about a 20 percent increase from last year.
~ Biologists report that thousands of birds are washing up dead on the Alaskan shoreline.
~ America, we were all right: Jim and Pam were really in love on "The Office."
~ The "So That Happened" team tackle the implosion of the Republican party in the 2016 election.
~ And turns out basketball shorts are getting shorter.
Send tips/quips/quotes/stories/photos/events/scoops to Lauren Weber at lauren.weber@huffingtonpost.com. Follow us on Twitter @LaurenWeberHP. And like what you're reading? Sign up here to get The Morning Email delivered to you.