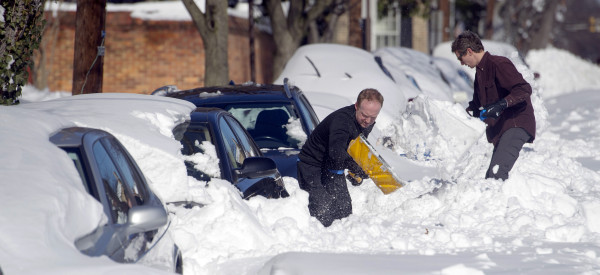 TOP STORIES
DIGGING OUT AFTER THE STORM The East Coast began the dig out process Sunday after massive blizzard Jonas paralyzed the region with several feet of snow over the weekend. At least 29 people died in the severe weather, and over 12,000 flights were canceled since Friday. And here's what "Snowzilla" looked like from space. [Reuters]

THE BRONCOS AND THE PANTHERS ARE HEADED TO THE SUPER BOWL Although we know you're just excited about the commercials. [Juliet Spies-Gans, HuffPost]
WHAT TO DO WITH RECESSION WARNINGS "Every U.S. recession since World War II has been foretold by sharp declines in industrial production, corporate profits and the stock market. Those ill omens have aligned again." [WSJ | Paywall]
THE PARTIES DECIDE TO IMPLODE Between Bloomberg possibly running for president and a potential Sanders-Trump race, the First to Last team takes a look at the end of political parties as we know them. [Howard Fineman, Jason Linkins and Lauren Weber, HuffPost]
CONCERNS OVER POTENTIAL FIXING AT AUSTRALIAN OPEN "A major sports gambling website suspended betting on Sunday for a mixed doubles match at the Australian Open, raising suspicions of match fixing at one of the world's most prestigious tennis tournaments." [NYT]
ISIS RELEASES NEW VIDEO OF PARIS ATTACKS A look at the disturbing propaganda film. [CNN]
WHAT'S BREWING
REPUBLICANS STILL AREN'T SURE WHY MITT ROMNEY LOST But on "Candidate Confessional" this week, Stuart Stevens, Romney's top strategist, has some ideas. [HuffPost]
HOWARD FINEMAN: 'HOW AND WHY TRUMP TRUMPED THE PRESS' "At a time when the media's duty to vet candidates is more urgent than ever, journalism is giving Donald Trump a free pass, leading historian Doris Kearns Goodwin told The Huffington Post in an interview." [HuffPost]
'THE MICHAEL JACKSON VIDEO GAME CONSPIRACY' Involving Sonic the Hedgehog. [HuffPost]
SHONDA RHIMES: IT'S NOT 'TRAILBLAZING' TO MAKE DIVERSE TV "It's not trailblazing to write the world as it actually is ... Women are smart and strong." [HuffPost]
WHEN A POLITICAL HACKER CAN BECOME THE NEXT PRIME MINISTER Meet the real Lisbeth Salander. [Medium]
A LOOK BACK AT THE ARAB SPRING "Since 2011 I have learned to distrust the grand pre-existent narratives of both left and right, to fear the dead(ly) ends of identity politics and to focus instead on the human facts. Like the 300,000 dead and 11 million displaced ... " [The Guardian]
WHAT TO KNOW AS A MOTHER-IN-LAW And what to remember. [HuffPost]
For more from The Huffington Post, download our app for iOS or Android.
WHAT'S WORKING
BRINGING OLDER WOMEN BACK TO WORK Understanding the "returnship" program at Goldman Sachs. [HuffPost]
For more, sign up for the What's Working newsletter.
BEFORE YOU GO
~ There was a giant "X-Files" twist last night -- click no further if you want to avoid spoilers.
~ You can search the Internet for sleeping kids. That is a problem.
~ The New York Times' website has been around for 20 years, and boy has it changed.
~ Jon Hamm's Golden Globe has his name spelled wrong.
~ When you're the president, it's hard to sport the latest gadgets.
~ Top brass at Twitter in product development have been kicked to the curb.
~ And because it's Monday, we are all this sloth, worried about traffic.
Send tips/quips/quotes/stories/photos/events/scoops to Lauren Weber at lauren.weber@huffingtonpost.com. Follow us on Twitter @LaurenWeberHP. And like what you're reading? Sign up here to get The Morning Email delivered to you.