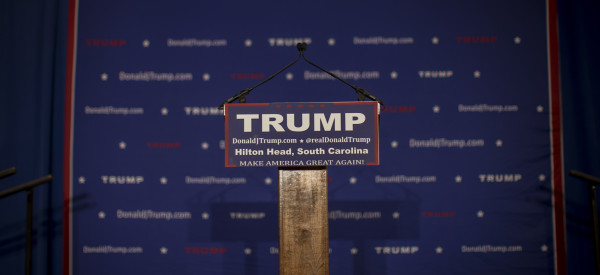 TOP STORIES
DESPITE APPEALS FROM O'REILLY, TRUMP VOWS NOT TO APPEAR AT DEBATE TONIGHT "Bill O'Reilly wants Donald Trump to be the bigger man in his ongoing feud with Fox News, but Trump is promising an 'eye for an eye' instead." Take a look at why Trump's latest move is another example of him "hacking the media," and here's what the Republican debate will look like without him. [Ed Mazza, HuffPost]

THREE MORE ARRESTED IN OREGON STANDOFF AS AMMON BUNDY URGES REST TO STAND DOWN The detained leader of the movement asked his followers to "Please stand down. Go home and hug your families." The militants have occupied the federal building in Oregon for the past month. [Ryan Reilly, HuffPost]
THE NAVY INTELLIGENCE CHIEF WHO CAN'T SEE INTELLIGENCE "For more than two years, the Navy's intelligence chief has been stuck with a major handicap: He's not allowed to know any secrets. Vice Adm. Ted 'Twig' Branch has been barred from reading, seeing or hearing classified information since November 2013, when the Navy learned from the Justice Department that his name had surfaced in a giant corruption investigation involving a foreign defense contractor and scores of Navy personnel." [WaPo]
LIVING THROUGH AN IOWA CAUCUS "For Iowans, the caucuses on Monday represent the official conclusion to more than a year of candidate visits, weekend forums, phone calls and intense news media attention from morning to night." [NYT]
HOW MUCH FACEBOOK IS MAKING OFF OF ALL OF US Billions. [Reuters]
UNDERSTANDING THE IMPACT OF PREP ON THE HIV/AIDS FIGHT "Those four letters stand for a daily medical regimen in which healthy individuals take a blue oval pill to lower their risk of becoming infected with HIV. The treatment, known as pre-exposure prophylaxis, has become so common in the Bay Area's gay community that it's frequently mentioned in social media profiles from Facebook to Scruff." [WaPo]
WHAT'S BREWING
TURNS OUT YOU CAN'T CHEAT SLEEP As much as you try, your body knows. [HuffPost]
SAY GOODBYE TO JUST THE LIKE BUTTON Facebook is rolling out a wealth of emojis with "Reactions." [HuffPost]
EATING HEALTHY WITHOUT BREAKING THE BANK Sorry folks, Chipotle doesn't count as eating healthy. [HuffPost]
KIT HARRINGTON WAS CONFRONTED ABOUT JON SNOW And he had a hard time being upfront. [HuffPost]
KANYE WEST JUST GOT HIMSELF INTO QUITE THE TWITTER WAR If you're into rap beefs, this is a story for you. [HuffPost]
BLACK AND NOT WEARING YOUR SEAT BELT? YOU'RE MORE LIKELY TO BE TICKETED "Black people in Florida are being stopped and ticketed for minor seat belt violations nearly twice as often as white people statewide and up to four times as often in specific counties, according to a report released Wednesday by the American Civil Liberties Union." [HuffPost]
For more from The Huffington Post, download our app for iOS or Android.
WHAT'S WORKING
TRANSFORMING TROLLING INTO DONATIONS "Organizer Libby Freeman calls it 'TrollAid.' Here's how it works: any time Freeman or others spot a negative comment on the page, instead of deleting it, they post a link to a crowdfunding website where others can donate." [HuffPost]
For more, sign up for the What's Working newsletter.
BEFORE YOU GO
~ RiRi fans, the time has come: You can now stream Rihanna's new album here.
~ The New Republic has a database of all the 2016 presidential ads, if you're into that sort of thing.
~ A look at a feminist in Egypt, five years after the revolution.
~ Congrats to Tyra Banks, who welcomed a baby boy with her boyfriend Erik Asla through a surrogate.
~ What you really need to stop feeding your pets.
~ It doesn't get much cuter than the new Gerber baby.
~ This is what getting married in a blizzard looks like.
~ Cam Newton talks about racism leveled at him as a black quarterback.
~ This article uses the phrase, "the Hugh Hefners among heifers," so it's worth a read.
~ The best time to use online dating sites and Tinder.
~ Make sure you don't get scammed by this ruse using fake Airbnb sites, as you actually do want to stay in that exposed brick loft instead of wiring money to Czechoslovakia.
Send tips/quips/quotes/stories/photos/events/scoops to Lauren Weber at lauren.weber@huffingtonpost.com. Follow us on Twitter @LaurenWeberHP. And like what you're reading? Sign up here to get The Morning Email delivered to you.