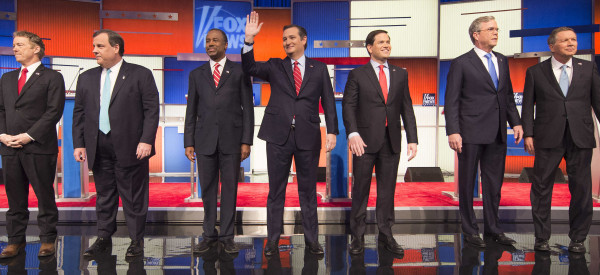 TOP STORIES
LAST GOP DEBATE BEFORE IOWA CAUCUSES Donald Trump loomed large over the affair, which showed a glimmer of the race that could have been without the billionaire businessman. Check out the highlights from the debate, as well as the winners and losers. [Igor Bobic, HuffPost]

THE LATEST ZIKA VIRUS UPDATE World leaders chime in on the emerging outbreak, which could rise to 4 million cases this year. [Erin Schumaker, HuffPost]
SENATE REPORT: THE DEPARTMENT OF HEALTH AND HUMAN SERVICES PLACED IMMIGRANT KIDS WITH TRAFFICKERS The Senate found that officials had failed to make home visits or run standard background checks on the caregivers. [NYT]
INSIDE THE OFTEN HIDDEN MEDICAL QUANDARY OF RATIONING DRUGS "Two kids in front of you, you only have enough for one. How do you choose?" [NYT]
OBAMA ADMINISTRATION PUSHES TO DISCLOSE PAY BY GENDER The Equal Employment Opportunity Commission would gather data from employers with over 100 workers, a plan that would cover over 63 million workers across the country. [WSJ | Paywall]
POLITICO IMPLODES Co-founder Jim VandeHei and star journalist Mike Allen are among those leaving the publication after the November election. [Ryan Grim, Sam Stein and Michael Calderone, HuffPost]
MEET THE AFGHAN WOMAN WHO STOOD UP TO HER HUSBAND, AND THEN HE CUT OFF HER NOSE "Reza Gul will never forget her wedding day. She was forcibly handed off to a complete stranger in exchange for just over $7,000. She was 14 years old." [Sophia Jones, HuffPost]
For more video news from The Huffington Post, check out this morning's newsbrief.
WHAT'S BREWING
ARIANNA HUFFINGTON: 'CALLING ALL TEENS WHO DON'T WANT TO GROW UP IN DONALD TRUMP'S AMERICA' "We're launching a contest for teens to tell us: why don't you want Donald Trump to be president? Because as we approach this election, it's more important than ever to hear the voices of young people who will live with its consequences, even if they aren't able to cast a vote." [HuffPost]
SOMEONE PAID $1 MILLION For this photo of (drumroll, please) … a potato. Wine was apparently involved in this decision. [HuffPost]
THE 'HEARTBREAKING' TEXTS PEOPLE HAVE COMPOSED FOR THEIR EXES You've been warned. [Brit + Co]
BARBIE NOW COMES IN CURVY, PETITE AND TALL A look at the first change to the Mattel classic's shape in decades. [HuffPost]
THE FLIGHT WHERE PASSENGERS STARTED FAINTING Inside the London to L.A. flight where several passengers came down with a "mysterious illness." [Quartz]
IKEA WANTS TO CONTINUE TO TAKE OVER THE WORLD By making you recycle your old Ikea furniture instead of trashing it. [Fast Company]
For more from The Huffington Post, download our app for iOS or Android.
WHAT'S WORKING
PENTAGON PUSHING FOR LONGER FAMILY LEAVE "Defense Secretary Ash Carter intends to double the length of fully paid maternity leave for female service members and will also work to boost time off for paternity leave and adoptions, U.S. officials said." [HuffPost]
For more, sign up for the What's Working newsletter.
BEFORE YOU GO
~ The FBI released the full video of the traffic stop that resulted in the shooting death of one of the Oregon militants.
~ Reporter Christina Wilkie investigates whether Donald Trump can be bought.
~ What caused the sonic boom that scared quite a few New Jersey residents.
~ New documents from Edward Snowden reveal a spy program the U.S. used to hack Israel's air force.
~ The Super Bowl is in eight days. Here's a bunch of tidbits to get you excited.
~ How to make it through solitary confinement, from an ex-con.
~ ICYMI, the books most college students are cracking open (or not) for class.
~ The big kids' books this year, according to Scholastic's top editors.
~ Of course Kim Basinger will be in the "Fifty Shades of Grey" sequel.
~ A look at the "honest thief," Aaron Swartz.
~ And the "So That Happened" crew talk to Ta-Nehisi Coates about his thoughts on Bernie Sanders's argument against reparations and break down Thursday's debate.
Send tips/quips/quotes/stories/photos/events/scoops to Lauren Weber at lauren.weber@huffingtonpost.com. Follow us on Twitter @LaurenWeberHP. And like what you're reading? Sign up here to get The Morning Email delivered to you.
CORRECTION: An earlier version of this report misidentified the Department of Health and Human Services as the Department of Homeland Security.