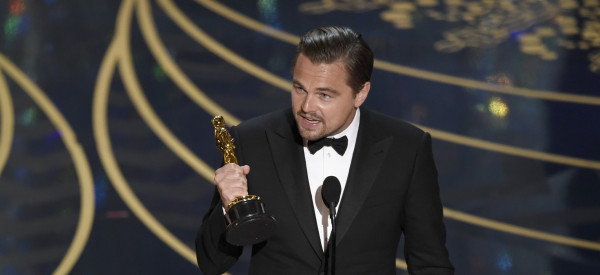 TOP STORIES
LET'S ALL BE HONEST Everyone is just happy Leonardo DiCaprio won an Oscar, even if he had to sleep in a horse carcass to do it. Here's a list of the rest of the winners, as well as the best dressed. And pundits everywhere agree that Chris Rock was the perfect host for a ceremony embroiled in #OscarsSoWhite scandal. [Matthew Jacobs, HuffPost]

WHAT TO LOOK FOR TOMORROW FOR SUPER TUESDAY Your guide to who needs to do what to survive tomorrow's "opening wide" for the primary field. [Howard Fineman and Jason Linkins, HuffPost]
UVA STUDENT DELIVERS STAGED CONFESSION IN NORTH KOREA "The University of Virginia student detained in North Korea confessed, in a highly orchestrated press conference Monday, to the 'very severe and pre-planned' crime of trying to steal a propaganda sign from a hotel in Pyongyang." Here's a history of such stylized confessions, which typically precede bargaining procedures for the detainee. [WaPo]
WHY DEMOCRATS SHOULD BE WORRIED ABOUT THE LOW VOTER TURNOUT IN SOUTH CAROLINA Two words: President Trump. [Zach Carter, HuffPost]
LIBYA, ISIS AND HILLARY CLINTON Check out part two of The New York Times' 'The Libya Gamble' series. [NYT]
MARIA SHRIVER: 'WE AREN'T DOING ENOUGH TO STOP ALZHEIMER'S' "We know the risks and the reality, but we are in denial and unprepared as a nation to deal with it." [Maria Shriver, HuffPost]
HAPPY LEAP YEAR! Here are a bunch of ways to save some money to celebrate. [Dominique Mosbergen, HuffPost]
WHAT'S BREWING
BONUS OSCARS FUN We're still shipping Leo and Kate Winslet, Jennifer Garner killed it going solo to the Oscars, and inside that emotional Lady Gaga performance. [HuffPost]
HOW TO GET DONALD TRUMP TO RETWEET MUSSOLINI Tell Trump he said it. [Gawker]
ROBOTS ARE COMING FOR YOUR NEIGHBORHOOD BUTCHER Soon, none of us will have jobs. [Daily Dot]
MSNBC HAS CUT TIES WITH MELISSA HARRIS-PERRY "MSNBC has parted ways with host Melissa Harris-Perry after she complained about preemptions of her weekend program and implied that there was a racial aspect to the cable-news network's treatment, insiders at MSNBC said." [WaPo]
THIS MAN IS TURNING 15 WHILE HIS SON IS TURNING 5 Don't worry, it turns out not to be as bad as it sounds. [HuffPost]
UNDERSTANDING WHY MONEY IS DISAPPEARING FROM YOUR ACCOUNT Inside the world of overdraft policies. [NYT]
For more from The Huffington Post, download our app for iOS or Android.
WHAT'S WORKING
THIS MACAW CAN EAT AGAIN WITH A TITANIUM BEAK And it was 3-D printed! [HuffPost]
For more, sign up for the What's Working newsletter.
BEFORE YOU GO
~ A man stabbed 10 children in the latest slashing spree at a school in China.
~ Authorities still don't know who killed the Prime Minister of Sweden, 30 years later.
~ In terribly obvious news, it appears Peyton Manning is retiring.
~ If you haven't seen Steph Curry's 35-foot game-winner, you don't understand pure joy.
~ A mom gave birth in an Amtrak cafe car, which is much better than getting hushed as you give birth in the quiet car.
~ Everybody is still crying over that Kelly Clarkson performance.
~ A look at how the word "bipartisan" can tank your chances in a primary.
~ Apparently, some people collect barf bags from different airlines like they're baseball cards.
~ Could a Teflon plant have poisoned the water of a New York village?
~ A look at how Silicon Valley is trying to "disrupt" education. (Yeah, we groaned at the tech vocabulary there too.)
~ You're not dumb -- sometimes it's really, really hard to open doors with misleading handles.
Send tips/quips/quotes/stories/photos/events/scoops to Lauren Weber at lauren.weber@huffingtonpost.com. Follow us on Twitter @LaurenWeberHP. And like what you're reading? Sign up here to get The Morning Email delivered to you.