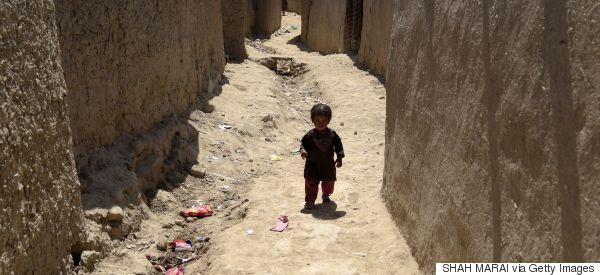 TOP STORIES
NUMBER OF AFGHANS DISPLACED BY VIOLENCE DOUBLES
"The number of Afghans internally displaced by conflict has 'dramatically' doubled to 1.2 million in just three years, Amnesty International said on Tuesday, warning that a lack of basic services was putting people on the brink of survival. The rights group said that situation of people uprooted from their homes in Afghanistan has deteriorated in recent years as global attention and aid money have been diverted to other crises." [
Reuters
]
YOU PROBABLY HAD A BETTER MEMORIAL DAY THAN THIS GUY

"Here's a different kind of holiday travel problem. A taxi jumped a curb and smashed into the glass at an entrance to Chicago O'Hare International Airport on Monday evening as Memorial Day travelers returned home. Images shared on social media by Daniel X. O'Neil show a Prius with markings of the Dispatch Taxi Affiliation in the entrance vestibule at the lower level of Terminal 3." [HuffPost]

POLISH LAWMAKER PUSHES TO EXTRADITE POLANSKI "Poland's justice minister on Tuesday revived an effort to have filmmaker Roman Polanski extradited to the U.S., where he is wanted in a nearly 40-year-old case involving sex with a minor. Justice Minister Zbigniew Ziobro's office said he asked Poland's Supreme Court to annul a ruling in October by a court in Krakow which found that Polish law forbids Polanski's extradition." [AP]

DONALD TRUMP DOESN'T ALWAYS BEAT CHINA... "'I beat China all the time,' Mr. Trump declared in a speech the day he announced his candidacy. "I own a big chunk of the Bank of America building at 1290 Avenue of the Americas that I got from China in a war. Very valuable.' Mr. Trump does have an investment in the building, an office tower near Rockefeller Center. But court documents and interviews with people involved in the deal tell a very different story of how he ended up with it." [NYT]

...BUT HE DOES BEAT AZERBAIJAN, THOUGH "Construction on the Trump International Hotel & Tower here in Azerbaijan's capital stopped last year when the country's oil-driven economy crashed amid plummeting oil prices. The local owner and developer, facing potentially huge losses, is scrambling to renegotiate contracts and get the building open … Critics say Trump, if elected, would face challenges here in drawing a distinction between the interests of his business and those of his country. Azerbaijan has been dominated for decades, stretching back to the 1960s Soviet Union era, by the Aliyev family, which, according to the State Department and human rights groups, has a poor record on human rights and free speech, including the jailing of journalists who investigate it." [WaPo]

HOLDER: SNOWDEN PERFORMED 'PUBLIC SERVICE' "Former U.S. Attorney General Eric Holder says Edward Snowden performed a 'public service' by triggering a debate over surveillance techniques, but still must pay a penalty for illegally leaking a trove of classified intelligence documents. 'We can certainly argue about the way in which Snowden did what he did, but I think that he actually performed a public service by raising the debate that we engaged in and by the changes that we made," Holder told David Axelrod on 'The Axe Files,' a podcast produced by CNN and the University of Chicago Institute of Politics." [CNN]

BIG BUSINESS TRYING TO SAVE GOP SENATE "The country's biggest business lobby will launch an initiative Tuesday to deploy influential Republicans to raise funds for tight Senate races, hoping to keep the GOP from losing control of the chamber in November. The U.S. Chamber of Commerce's 'Save the Senate' effort is being led by both Republicans who back the party's presumptive presidential nominee, Donald Trump, and those who have balked at doing so, in a shared quest to retain the Senate majority." [WSJ]

WHAT'S BREWING

THE GREAT BARRIER REEF IS DYING "The worst bleaching event ever seen on the Great Barrier Reef has killed more than a third of corals across wide swaths of the region, scientists announced on Sunday. Those numbers continue a streak of horrifically bad news for the largest living structure on the planet. Just a month ago, researchers said 93 percent of the reef had been affected by the mass bleaching event." [HuffPost]

GOLDEN STATE HEAD TO THE FINALS "In a 336-minute, seven-game series, the Golden State Warriors needed less than 170 seconds in the third quarter to dismantle, dishearten and dispose of the Oklahoma City Thunder, doing what they do best and knocking down five treys in three minutes to earn their second consecutive berth in the NBA Finals with a 96-88 victory Monday night. Of course, it started and ended with Stephen Curry." [HuffPost]

AD BLOCKING SOFTWARE HURTING ONLINE BUSINESSES "Many of the world's largest Internet companies, like Google and Facebook, rely heavily on advertising to finance their online empires. But that business model is increasingly coming under threat, with one in five smartphone users, or almost 420 million people worldwide, blocking advertising when browsing the web on cellphones. That represents a 90 percent annual increase, according to a new report from PageFair, a start-up that helps to recoup some of this lost advertising revenue, and Priori Data, a company that tracks smartphone applications." [NYT]

ELTON JOHN, MAN OF PEACE "British singer Elton John told a concert in Moscow he still wanted to meet President Vladimir Putin to discuss his concerns about gay rights and AIDS in Russia despite the Kremlin leader not having time to meet him this time round. John, performing at a luxury shopping and entertainment centre in the Russian capital on Monday night as part of a world tour, sounded disappointed about not getting to meet Putin, but said he would return to try to see him." [Reuters]

For more from The Huffington Post, download our app for iOS or Android.

WHAT'S WORKING

FT GOES GREEN… SORT OF "The editorial board of the Financial Times isn't exactly stacked with bleeding-hearted environmentalists. Just a month ago, the British paper defended ExxonMobil's right to question climate change amid legal probes into whether the oil giant covered up evidence of global warming. But in an editorial published Saturday, the FT urged the oil industry to "face a future of slow and steady decline."
[HuffPost]

For more, sign up for the What's Working newsletter.

BEFORE YOU GO

~ DOD is finally getting rid of its floppy disks.

~ A look at China's 20 largest companies.

~ How to uproot and retire in Spain.

~ Breaking down Bran's visions from the latest episode of "Game of Thrones."

~ In this week's Candidate Confidential, Sam Stein and Jason Cherkis talk to the newly minted Libertarian Party presidential nominee, former New Mexico Gov. Gary Johnson.

Send tips/quips/quotes/stories/photos/events/scoops to Lauren Weber at lauren.weber@huffingtonpost.com. Follow us on Twitter @LaurenWeberHP. And like what you're reading? Sign up here to get The Morning Email delivered to you.