This post was co-written by Emily Thomas.
It is hard to not have respect for wealthy celebrities who are willing to raise both awareness and money to impact many of the defining, moral issues of our time. In fact, the role of the purpose-driven, charitable public figure is something talk show host Arsenio Hall has proudly embraced -- in front of the camera, and away from the public eye.
Always one to share his thoughts on inspired philanthropy and giving back, Hall has generously supported the Magic Johnson Foundation, the Compound Foundation and the Tony Hawk Foundation -- three entities that have been consistent leaders in 21st-century philanthropy. He has also served on the Board of Directors for the Magic Johnson Foundation, which he was playing for on the NBC show Celebrity Apprentice.
Making his triumphant return to late night television (and into the consciousness of a new generation of media-watchers), it is clear that his trademark humor and sense of humanity are still very much in tact. Being a philanthropist and a "good giver" go well beyond one's donation, and involve forward-thinking solutions and approaches, a person works with others to create. And on that point, Arsenio delivers and is very much engaged.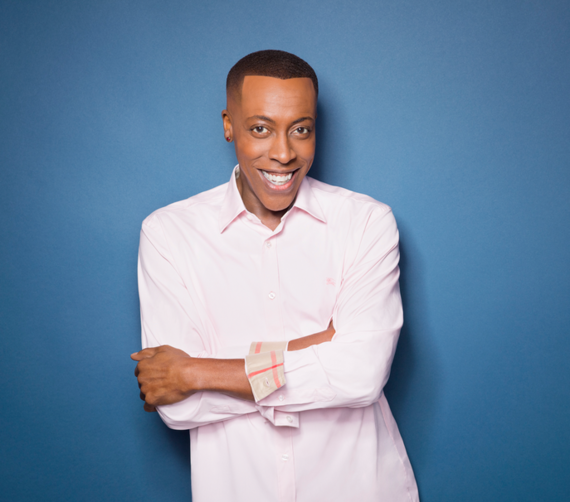 Photo Courtesy of Arsenio Hall

/ Courtesy CBS Television Distribution
You're back in late night. Congrats! What is like connecting with new fans and using social media to build your brand?
I'm a social media freak! (laughs) Building your brand is like a ladder you climb to your goal. Many rungs! And social media is probably four of the 10 rungs on that ladder. I was engaged to social media before I returned to my show, and now I'm married to it. Back in the day, I depended on the studio and the "suits" to break down the demographic focus groups, and tell me what people are thinking. Now I go straight to the people. Even the crazy ones! (laughs)
You've always been charitable. One of the foundations you support, the Magic Johnson Foundation, uses the motto "we are the communities we serve." How do you apply this motto to your life?
I grew up in an environment where people thought one of two ways: either scream loud and ask for someone's help, or help yourself! Magic Johnson and I subscribe to the latter. "We are our community." And change starts with the citizen in the mirror.
What in particular inspired you to support and get involved with the Magic Johnson Foundation?
When my friend called and told me he was HIV positive, it goes without saying where my involvement and support began.
Of the three foundations you support, (The Tony Hawk Foundation, Magic Johnson Foundation and Compound Foundation) all focus on educating and empowering the youth. How import do you feel education is in making a difference in the lives of today's youth?
Education feels to me like the solution to a multitude of problems with America's youth. From unemployment to racism, education and knowledge can help.
Why do you feel it is important for celebrities -- particularly huge celebrities like yourself -- to give back?
My wealthiest friends are not celebrities. Giving back is everyone's responsibility. Give five cents or five grand. I give back because I was taught by my dad, and heroes like Quincy Jones, that it is the right thing to do. And by the way, I admire celebrities like Bill Cosby, who give back tirelessly and don't always discuss it. Some celebrities don't need a spotlight or publicity attached to his generosity. Now that's cool.
For more information on his support of charities and other exciting projects, click on his website, or follow him on Twitter.