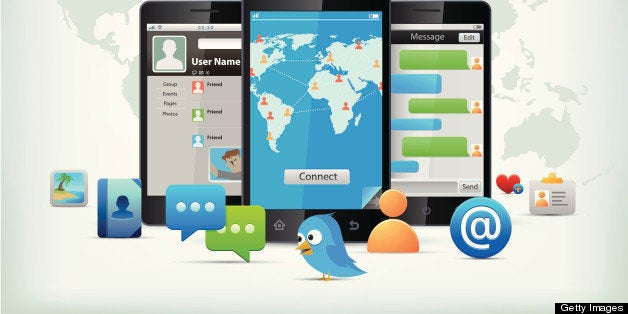 When Jenni Hogan was a little girl growing up in Australia, her family taught her to dream bigger than the boundaries of any continent, and to have a healthy respect for cultural traditions around the world. This would serve her well in the Great Northwest of the United States, a region bustling with dynamic diversity. Her reputation as a tireless fundraiser and respected media personality have won her awards and honors, and helped her become a presence voice in the emerging field of social television.
The social television field has become red hot in 2012, and Jenni Hogan is one of its bonafide stars. She interviews some of today's hottest newsmakers, and uses the full range of the web to engage her loyal viewership and find new platforms to communicate her brand.
Ask anyone on Seattle's red-hot tech scene about Jenni. Her name has both instant buzz and substance behind it. In between a few charitable projects, she sat down with us to share her thoughts on news, social media, and the importance of making a positive impact.
As someone who was born in Australia, and who has lived in the United States for years, I'm sure you have a great perspective on cross-cultural awareness.
The world is a small place when it comes to communication and working together on issues that affect us all (a big thanks to the Internet for this). When you talk about impacting others in a positive way, doing good and using your online voice to help others, I've found that has no cultural boundaries. I'm passionate about worldwide issues that affect my community. I was recently apart of co-hosting the "Climate Reality Project", a 24-hour live broadcast from New York that got more than 16 million views worldwide. Thought leaders and politicians came together to create conversation around a topic that affects everyone. It really opened my eyes to the importance of enabling people to be a part of the conversation when it involves something that will impact them, and their children, for years to come. Social media has really given us the tools to do this. Leaders no longer just tell us what's going on and how it has to be, but now thanks to technology we can all have a voice and help contribute to those conversations.
You were already a famous, well-respected television personality before social media became red hot. How have you been able to leverage social media for greater awareness of your charity work?
I feel like my online community has given me the gift of leading them to help focus on a cause close to their hearts at the exact same time. There is a lot of noise online when it comes to people asking for help. It's hard for people to be heard but it's also hard for people to focus on where to put their energy to help. We all want to see action and results when it comes to helping someone or something. Social media has given me a way to unite people and focus them onto one easy task. My social media campaigns for a cause, focusing on giving my community one simple action they can do. This could be one tweet, or a Facebook post or clicking on a donate here button. It's all about inspiring people to know their online voice is very powerful, especially when we team up together. I've noticed the best results come when we have a cause that is topical for the online community, then there is a goal we can come together to achieve that is something physical we can see through pictures, or real time results. I also believe listening to your community is the best way to find causes to team up with. If I notice there is a hot topic of conversation and people are really passionate about helping a certain cause, then I'll work on rallying everyone together for that particular ask and allow them to help through their online voice.
The mobile tweetups concept, where we come together online and in person for two hours to raise awareness for a cause, is topical and timely, having raised more than 100,000 items for babies and children in need. Another one of my favorite campaigns that really showed what we can do as an army focused on a cause together, was helping a local mother return home from Hawaii to live out her final wish. This was part of supporting BOBNW.org and their online campaign to ask followers to spread this mother's wish through their social media networks. That campaign raised over $70,000 in less than 24 hours to get the mother home on a medical private plane so she could pass peacefully around her family.
Both Forbes and business impresario Porter Gale have weighed in on your impact in the growing field of social TV, which has been called pioneering. What's your take?
I'm honored to have the community and the opportunities to play with social TV and how we can work together to make it great for our number one client... which is the viewer. I feel like social TV should be an inside out experience rather than an outside in experience. Traditional TV has always been one way where we tell the viewers what news we think they should know. Now with a lot of viewers having a second screen (smartphone or iPad) there is no need for news to be prepared so far in advance. If a viewer can get more updated news from their own resources, then TV news isn't helping them in their daily routine by repurposing news they have already seen online. With social media at the tip of our fingers, viewers can help create the news and help steer the content. I'd love to see newscasts treated like a start-up company for every single show. So instead of telling viewers what they want, social TV would allow the viewers in on the discovery of what the end result will be. In January, I did an experiment teaming up with Ustream to take my community to pre-inauguration events in Washington, D.C. hosted by Points of Light and Target where we live-streamed the experience as a guest rather than a media company looking in from the outside. The online conversation reached more than 2.8 million Twitter accounts, via TweetReach, as we invited our community to be a part of the lead-up, planning and discovery of where our camera was going during the live event. This experiment blew me away and it made me realize people don't just forward on links about news or events that they care about but if given the opportunity they will welcome being a part of gathering the news and experiencing it with you.
The Atlantic recently did a great write-up on the power of mom bloggers. Talk a little bit about this globally influential, online community of which you are apart.
I agree that this community is very powerful. I also think it's bigger than a lot of people realize. Every mom that tweets or uses Facebook is also part of this community as a micro-blogger. No longer do you have to know WordPress or have your own website to be able to influence other like-minded women in a positive way. You just have to have access to a computer or a smart phone, one post on Facebook and you're micro-blogging. This is a community that loves to pay it forward. If you can save another mom time, money or just make them feel happier through a quick post on social media about an experience or product that you love, then it's a multiplying effect. My goal with Jenni Hogan Media is to help create content on multiple platforms for this intelligent, powerful demographic that enables them to stay on the go, rather than having to stop to get updated with the latest news. We don't get our content from one source when we are juggling, life, careers, and our family. We may be checking a tweet or Facebook post while we're catching up with friends, a podcast we are listening to at the gym, or catching a news update while cooking dinner for our family. The way to help this demographic most is to supply the content where they're already going in their daily life, rather than asking them to add another aspect to their routine. A great example of this was a few days ago when I was pumping gas and the gas pump had a TV screen on it. Mario Lopez popped up and gave an entertainment report. As a busy working mother this was great, I got my entertainment update while doing a task I already do. It added value to my daily routine.
What advice would you give to those who'd like to focus a career in this emerging field?
Do it! It's an amazing field full of wonderful people and supporters that want to see you do well. Get your hands, feet, toes, nose dirty. Get hands on as quickly as possible. I think of emerging fields like, well, I'm jumping into the deep end of a swimming pool for the first time. You will never know what the water feels like unless you jump in. How can you describe it to others or understand it yourself until you get right in the middle of it? So jump! Try new things as soon as you hear about them. Then listen as much as you can to the people who have jumped into the pool before you.
If we were to move five years into the future, what role do you see social influencers such as yourself taking in the broader community?
There will be new platforms to influence on, and our role will be learning those platforms, listening to the people who follow us on those platforms and doing everything we can to make their lives better. It's an honor to be a social influencer, in a position where you can place the spotlight on voices that have something amazing to say. Thanks to digital media, every person has a voice. Every person has a story, and the people who listen, respond and share the best of those voices are going to be the social influencer leaders of the future.