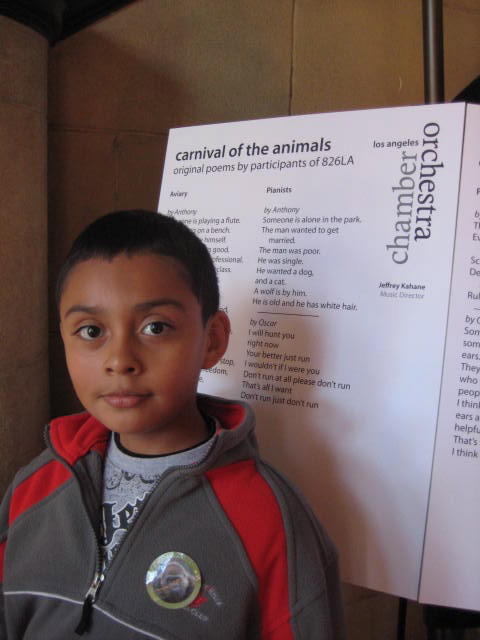 Super Bowl Sunday for 826LA fans had nothing to do with the Super Bowl. 826LA students and their families, along with staff and supporters, boarded a school bus and made the long journey to Glendale. They arrived at the Alex Theatre ready for an afternoon full of family fun, poetry, trumpets trumpeting, and violins happily playing away.
826LA students recently had the opportunity to learn about the unique coupling of music and poetry along with Los Angeles Chamber Orchestra's composer-in-residence, Derek Bermel. On this sunny Sunday afternoon, the LA Chamber Orchestra gracefully demonstrated this coupling for students of all ages, reading aloud the poetry written by 826LA students while performing the playful Carnival of the Animals by Saint-Saëns. 826LA students and their families were present to hear their works performed.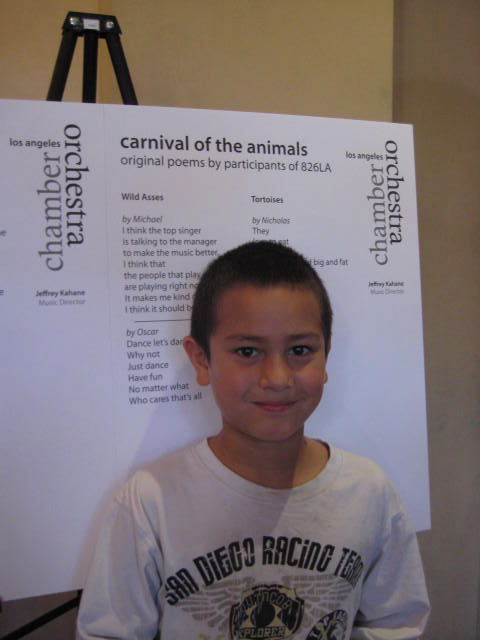 The performance was a fantastic time for 826LA students to witness a professional orchestra perform, and the Carnival of the Animals provided an excellent backdrop for their imaginations to soar against. 826LA students spent the duration of the performance pretending to conduct the orchestra from the balcony, flitting their hands to the sounds of birds taking flight, and debating which instrument was the coolest.
Take a look at the work that was published and read at the performance, and make sure to catch a family-focused LA Chamber Orchestra performance in the future.
(In case you were wondering, the violin won coolest instrument by far, even if they can't play it while rocking out on Guitar Hero.)
By Danny Hom, Programs & Social Media Coordinator at 826LA. Find out about what we do from Westchester to Boyle Heights, seven days a week, by visiting 826LA's website site: www.826LA.org.