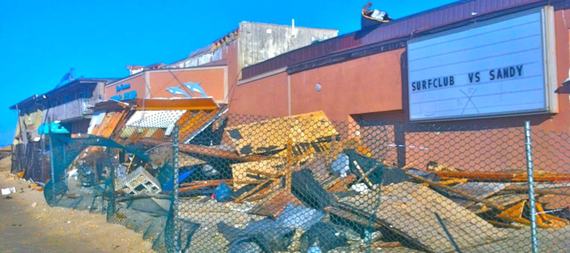 It was the Friday of Memorial Day Weekend and I was driving to the beach. As I neared the bridge, my eyes unconsciously ticked down to the time. As I closed in on my destination, I always checked the clock because the bridge opened every half hour for boats to pass and no one ever wanted to "catch" the bridge. It was something I had always done for years. That routine act to me felt normal. The day to me, felt normal. Until, instead of making a right after Bakin' Bagels onto 6th avenue in Ortley Beach, like I had always done, I made a right onto 8th avenue instead.
With another Post-Sandy-Memorial-Day-Weekend under our belts, for Jersey Shore locals, this "new normal" still doesn't feel normal at all. Our detours have detours. Our neighbor's houses are on stilts or not there at all. Gazebos have been replaced by benches. Sandy has showed me that even a familiar place can feel unfamiliar. It's quite the paradox. A place you spent most of your life can become unfamiliar, unrecognizable even.
Nearly three years after Hurricane Sandy wreaked havoc on the East Coast, demolition on oceanfront nightclub, Joey Harrison's Surf Club, known simply as "Surf Club" to most, is officially underway. Surf Club, located off of 6th avenue, along Ocean avenue, has been a Jersey Shore staple since first opening its teal doors in 1973. Like the rest of Ortley Beach, it was badly battered by waves, rain, wind and sand crashing relentlessly into the building.
Ortley Beach has been slowly rebuilding, but what was left of the Surf Club remained, frozen in time, like a fossil in tar. Until this past week that is, when a bulldozer began to excavate into the building, and I must say, I feel like I lost a very old, faithful friend.
Seeing the Surf Club still precariously standing there every time I drove by, even though it was in pieces, dilapidated and fenced off, even though I knew it would eventually come down, even though I hadn't walked through the doors and down the wooden planks, making a quick left to sit on the beach in years, was a comfort to me and many others who share my sentiments.
What many viewed as a hub of stereotypical Jersey Shore debauchery, was a second home to a lot of us.
It was where we shared a first kiss or a final breakup. It was where we met our first friends. I didn't meet my lifelong friends at school or on the playground. I met them on Ortley Beach, walking to Barnacle Bills; I met them at Surf Club, all before I turned 14-years-old. Our parents happened to sit close to one another on the beach. Beach toys and ocean soaked towels got mixed up and we ended up playing together. Pure serendipity. One of those families happened to be the proprietors.
Surf Club was where we had our first drink. (Anyone else remember the first time they tried a Miami Vice?) My 21st birthday was actually planned and put together by the owner and his family.
It was where we held our first job as beach waitress, bartender, bouncer, badge checker, parking lot attendant, waiter, bar-back, or in my case, babysitter.
The owners were a real family with kids and bills just like everyone else. They lived upstairs from the establishment. In 1998, I was hired by the owners to look after their two sons, Marco and Phillip, during the summer months. I began babysitting them when I was 12-years-old, before I was even allowed to stay home alone by myself. I watched them over the course of the next ten years.
We people-watched from the window since we had a Birdseye view of the club. We had our own dance parties, as the bass from the DJ reverberated through the floors. We went to the boardwalk, Water Works (later known as "Breakwater Beach"), and to Barnacle Bills. We watched the fireworks together every Fourth of July. I helped them with their summer reading.
Their mother, Phyllis, became like a surrogate older sister to me. She let me borrow her clothes and she did my hair and makeup. She listened as I told her about the boys in my life. We became an extended family. We shared Saturday dinners and the occasional argument. We attended one another's high school and college graduations, proms, and weddings.
I am not embarrassed to say that Surf Club is the reason I have all those wonderful memories and know these amazing people.
When Surf Club was destroyed, and hateful social media comments began rolling in about how "happy" some were to see that place get washed away, many probably didn't know that there was a real home atop of the club that was also destroyed. Along with photo albums and other priceless family memorabilia. A family's livelihood was destroyed, yes, but also things all the money in the world could never buy back.
Joey Harrison's Surf Club wasn't just a club. It was a comfort zone, above all else, because as that song simply puts it: "sometimes you want to go where everybody knows your name." We knew that we could show up alone on any given day, and run into at least one person we knew who cared about us.
I never knew one could grieve the loss of a physical place. But the more I think about the notion of "memory lane" the more I realize that it's as attached to the world as any physical lane, street, or road. Memories do not just live on in one's mind, but in the places where those memories were created. "Remember whens" will continue to sleep in those familiar wooden planks and within the crests of the waves breaking on the shoreline, long after the building is gone.
Sure, to the outsider Joey Harrison's Surf Club was just some fenced off sand behind a structure comprised of brick, cement, sheet rock and odd pink paint. Sure, the club's crowd got out of hand at times depending on what DJ was spinning. However, it was so much more. The thought of not being able to spend just one more summer on that beach with friends and family always makes my stomach flip. Surf Club fostered lifelong friendships and memories so extraordinary it hurts knowing there won't be any more made in that same way, with those same people, ever again.
Joey Harrison's Surf Club was a special. And though it was constructed like many other buildings that weathered many other storms, it had a heartbeat all of its ow