A little over a year ago I was going through one of those periods where bad news about LGBT rights seemed overwhelming. To cheer myself up I asked for people to send me happy LGBT stories. It worked, and I was smiling at the responses for days. It also introduced me to a wonderful couple, Charles and Drew. Charles wrote me to tell me how they had met, and Drew promptly wrote me with his own color commentary of Charles' story. They were adorable and inspired me to write a post. We've stayed in close touch over the months, and my husband and I consider them our friends.
As is the case for many gay couples, equal marriage is merely a pipe dream in the Deep South state where they reside. Alabama is not known for its progressive stance on most issues. But Charles and Drew decided that they were not going to let that stop them, and they set their eyes on the closest place where they could seal their commitment to one another: Iowa. Now, to be clear, Iowa is not exactly a hop, skip and jump away from their home, but the over 1,600-mile round trip was worth it if they could legally marry.
Charles and Drew contacted me and asked if I could lend them a hand, since I am Midwestern and live much closer to Iowa. My response -- "Oh, my god, yes! This will be so much fun!" -- should not be a surprise. The "Alabama Boys," as they are affectionately known in our house, set a date, and my planning brain started clicking.
A couple of years ago my father became ordained so that he could marry some of his nonreligious friends. Since then he's done several weddings and enjoys it, so it was a no-brainer for me to give him a call and say, "Hey, Dad, you want to take a road trip to Iowa and marry a couple of friends of mine?" My father raised me to believe in equal rights for all people and was more than happy to help me out.
A wardrobe was chosen (Hawaiian shirts and shorts, because the Midwest has famously disgusting hot and humid weather during the summer), I insisted on flowers (because, I mean, come on!) and our Alabama Boys filed all their paperwork with the state of Iowa. We were set.
Charles and Drew came to our home a couple of days ahead of time, and we spent that time together. They met our boys, played around our city with us and had a game night with our friends. By the second day they were here, my boys were begging them to play Wii and go for walks and sit next to them at lunch. As far as my boys were concerned, they'd just gotten two new uncles, and they were quite fond of them.
On the big day, we traveled to Iowa together, singing loudly and brashly along with the "Kids' Roadtrip" soundtrack, which consists of a lot of Glee, Katy Perry, Devo, Gogol Bordello and Weird Al Yankovic. My husband was about to kill all of us, but the boys thought it was hilarious. We eventually arrived safely at our destination, a small town in Iowa that was also a county seat. Charles and Drew got their marriage license at the courthouse, and 15 minutes later we were at the park selected as the wedding location.
At the park I fussed with flowers while the Alabama Boys and my dad made important decisions (that weren't about flowers and therefore did not concern me). My dad's girlfriend was taking pictures and wanted a shot of me fixing the lei around my father's neck. As I fixed his flowers, he smiled at me.
"Are they perfect yet?" he asked me.
"Nope." My dad rolled his eyes as I kept futzing. "Their wedding deserves as much pomp and circumstance as everyone else's."
My dad nodded. "Indeed it does, my dear."
Then it was time for the ceremony. I served as the maid of honor, my husband as the best man. The two older boys served as ring bearers. My husband held the baby, the flower boy, to keep him from running off to play. My father spoke the words (my older kiddos mentally checked out after their ring bearer duties were over, because weddings are boring), and Charles and Drew sealed their legal commitment with a kiss. Then my dad's girlfriend took more pictures of the happy couple. It was lovely.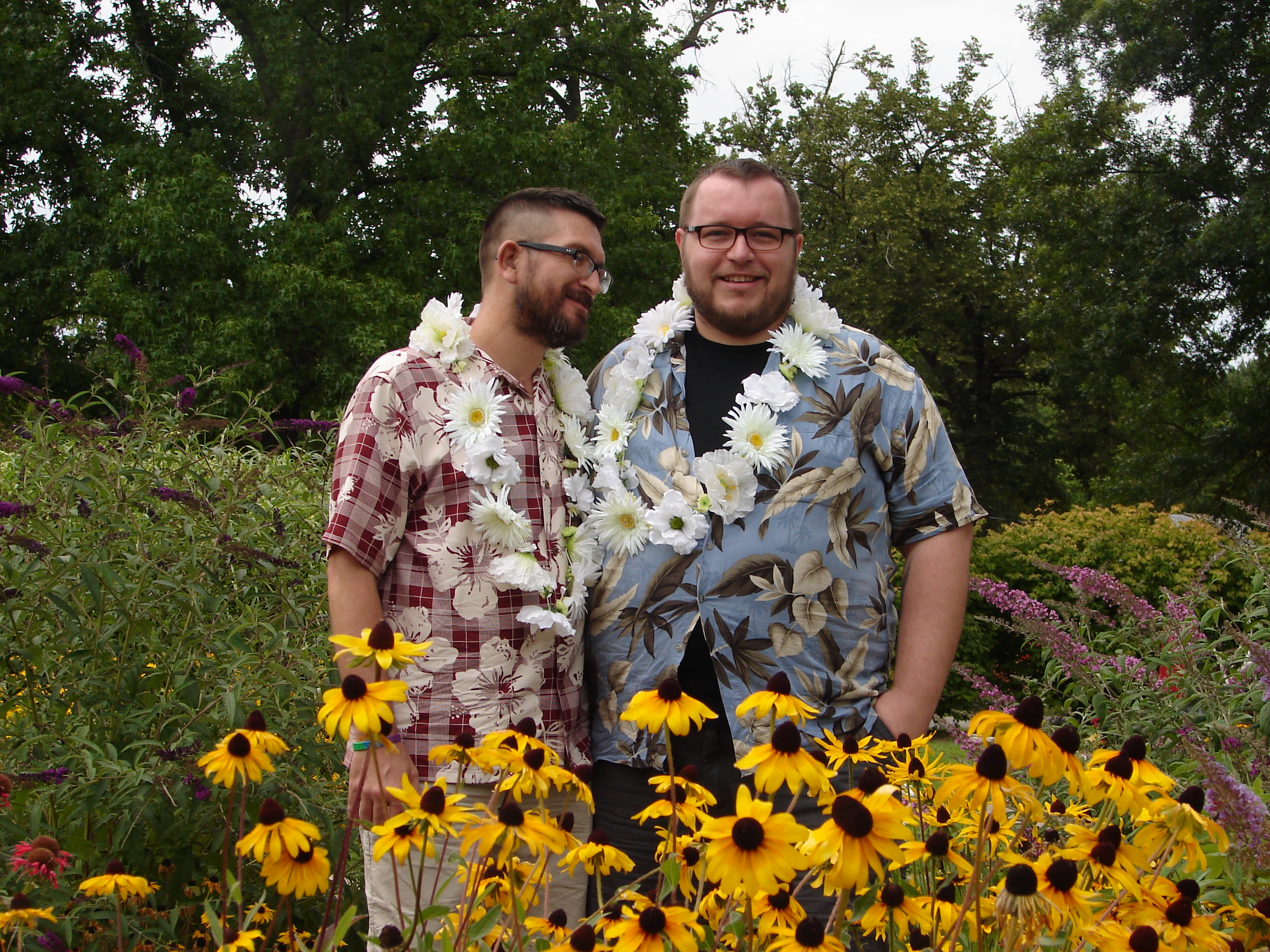 Then it was time to go home. We traveled back together, once again singing all the way, but now Charles and Drew were not only our friends but part of our family. And I hope they always will be.
I wish the story stopped there: an ending of joy and triumph and love. But it doesn't. While parts of the Defense of Marriage Act (DOMA) have been deemed unconstitutional, other sections are alive and well. What remains of DOMA allows Charles and Drew's home state to act like that beautiful day in Iowa never happened, as if my ordained father's words were never spoken, as if rings were never exchanged, as if our Alabama Boys never kissed. Section 2 of DOMA allows Alabama to continue to discriminate against my friends.
But it is a good reminder. This year LGBT equality took huge and important steps forward, but there is still a long way to go. Thirteen states now have marriage equality, and that leaves 37. We need to keep up our fight until all people in our nation have equality, whether the state they live in is red or blue, because it's important, not just to Charles and Drew but to all people who believe that none of us is equal until all of us are.