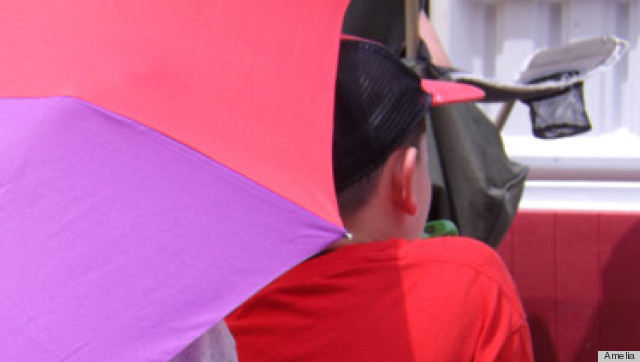 I'm not a sentimental person. I don't collect things or keep mementos. I didn't buy any high school yearbooks or go to my college graduation ceremony. (I graduated. Why did I have to sit through all those speeches and spend money on a super itchy gown?) I think I have some pictures of our wedding... somewhere. And the same goes for dates. I remember my husband's and kids' birthdays and the major holidays, but my wedding anniversary? Give me a few minutes and I might nail down an exact day. Whether or not it's correct is another story.
But I think I will always remember Aug. 16, 2011, because, like the days my sons were born, it's a day that truly changed my life, but this time I didn't have nine months to prepare. Aug. 16 was the day I wrote up a cute little story about my oldest son and his crush on Glee's Blaine and naïvely posted it to a blog.
Before that day I was normal working mom. I was always busy with my kids, being a good partner to my husband, and keeping up with the office. When I could squeeze in free time, I spent it nerding out with my friends. Basically, I spent my time doing all those things working parents do to keep life moving in the right direction while staying sane... well, as sane as possible.
Just a few hours after that post went up, my focus had shifted and become about something bigger. My life had become consumed with hundreds of nameless and faceless people online who wrote to me because of that post. Mostly children at first, they told me about their fears of coming out of the closet, about living with homophobic parents, or about their struggles to figure out just who they are. There were also stories of joy and hope, but most contained a lot of pain and loneliness. Every second of free time (and what should have been sleeping time) was suddenly filled with writing to these kids. I needed to let them know I cared. Through the Interwebs I tried to send some of my love to these children, whose parents were so desperately letting them down. I passed on resources far more qualified than I, in case they needed to contact someone for help. (Thank you, Trevor Project, for existing.)
As the days and weeks passed, the messages slowed down (for which my husband and my sleep schedule were very grateful), but they didn't stop, and some wonderful people came into my life who convinced me to keep going and not let it all stop with that one post. They helped me figure out that I had something to say, and that I should keep saying it and move forward.
And that's how I came to be here, one year later, talking to people on The Huffington Post. It has been one hell of a year. A year ago I would never have believed that I would still be doing this. A year ago I would never have imagined that my son's crush would lead him to announce he was gay a few months later, at only 7 years old. A year ago I had no idea just how much I could love.
When I was pregnant with my second son, I had this dark mother moment, one of those moments that no one wants to admit out loud, but it's still there. I loved my first child to the moon and back, and I wondered what would happen when my second child was born. Would I love him less? Would my love be split between the two of them? I worried about it, until the day my second son was born, because, as every parent of more than one child knows (or at least I hope they do), the minute I saw my new little man, my love didn't get split. Instead, it doubled -- tripled, even -- and I was no longer worried about making enough room in my heart.
On Aug. 16, 2011, and every day since, my love has continued to grow with every message, email, and tweet, whether they be from children in crisis, parents struggling to do right by their children, or adults sharing their lives and stories with me. It is hard to describe how much they mean to me, but every single one now has a place within me. And I carry their words everywhere I go, in whatever I do. It is such a privilege and an honor. I had no idea I could love this much. Thank you to everyone who has helped it grow.
And it's not over. Time goes on, my family grows up another year, and there are new things to share, to think about, to write about. So, thanks for an amazing year. And here's to another great one. Keep your words coming. We'll see how far love goes.