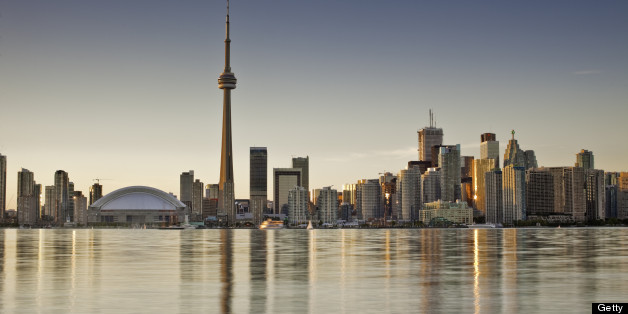 Drive into Toronto these days and you will notice things. The skyline seems bigger, because it is. The sidewalks seem more crowded, because they are. You may also wonder if the traffic isn't more terrible than you remember. You would be correct.
Nearly three million people live in Toronto now, with more and more of them living and working within the city's increasingly dense core. Toronto the city is now slightly larger than Chicago. The region is edging ever closer to seven million inhabitants, with many more new arrivals predicted to arrive in the decades ahead.
What does this all mean? Generally speaking, today's Toronto is different than the Toronto of even a few years ago. It is more vibrant, less predictable. Flatly put, it is more interesting. They even have real scandals now -- the kind that can grab the attention of seen-it-all Americans. (Maybe you saw the news, the other week?)
If you live within driving distance -- and many Americans do -- now's a good time to take a trip up north. Here are a few reasons I always look forward to returning, particularly during the summer months.
Toronto is a really good walking city. Truly pedestrian-friendly cities are few and far between on this continent. Toronto isn't perfect, but it definitely ranks up there. Stroll for miles along Queen Street West, from the steely canyons of the Financial District, through some of the city's most happening quarters, all the way down to Parkdale, not too long ago a washed up slum and now on the cutting edge of cool. Take long, slow walks along the pathways that line Lake Ontario, or disappear into the very green Don Valley and onto its trail network, a pleasant escape from the action at the center of town. The city's relative safety is a plus, too - wander at will.
The Chinese food is outstanding. Outside of Los Angeles and Vancouver, nowhere in the Americas (sorry, New York) will you find the diversity, quality and immediacy in Chinese cooking that you find in Toronto. Most of your best meals will be out in bland suburban shopping centers, in unremarkable places like Richmond Hill and Markham. But it is - and believe this - totally worth the trek. If you're feeling lazy, the very busy Chinatown section hubbed along lower Spadina Avenue is no slouch, either.
The summer cultural calendar is intense. There's plenty of culture in town, sure, but in summer, you absolutely cannot beat the Shaw Festival (in Niagara-on-the-Lake) and the Stratford Festival (in Stratford, of course) for quality and quantity. Both have their very specific roots - the Shaw to celebrate the work of George Bernard Shaw, Stratford's thing was Shakespeare. Both now offer a diverse calendar, from obscure plays to crowd-pleasing musicals, featuring a roster of world class performers. The vibe at both festivals is laidback, both are fairly easy day trips from town and ticket prices can be very reasonable. If you're into theater, a visit to both festivals is a must.
The city's historic markets are worth the trip. No matter what anyone tries to tell you, Toronto's restaurant scene still lags behind many cities in the United States. It's not as if they don't have the ingredients -- as far as provisioning goes, things are quite up to par. The classic St. Lawrence Market is stuffed with essentials like stinky Quebec cheeses, surprising Canadian wines, fresh, organic local vegetables and lots of tourist-friendly prepared foods. (Don't forget to grab a Montreal-style bagel at St. Urbain's.) Spend as much time as you can grazing here -- this historic landmark is a short walk from many downtown hotels. Slightly further out but even more interesting is the classic Kensington Market neighborhood, a magnificently old-school section of town that feels much like an expanded version of Philadelphia's Italian Market, with stores that seem to have been there dispensing bulk candy and nuts, cheese and what have you since the dawn of time. These days, though, there's change afoot, with a younger, savvier breed of shop owners dispensing everything from pickled vegetables to organic meats and fish, pork belly sandwiches, tacos and everything else you could possibly want to eat. The blend of old and new is kind of perfect -- enjoy it now, before too much of the old gets pushed out.
The outdoors are pretty great. The summers aren't as oppressive as they are in many spots south of the border, but it's still nice to escape the streets of any city at this time of year. In Toronto, you've got lots of options within easy reach, from The Beaches neighborhood that feels as if it were almost purpose-built for summer, to the charming Toronto Islands, easily accessible from the downtown waterfront via a short ferry ride. Out here you can walk for miles along the Lake Ontario-facing boardwalk, hang out at a casual waterfront café, slip out of your clothes and onto the city's favorite nude beach, or even just take the kids on a ride or two at the charming Centreville fun fair. (For that, maybe put your clothes back on.) Further up the coastline in the suburbs, the Scarborough Bluffs Trail is a must for any hiking enthusiast.
This is suddenly a great hotel town. Toronto's downtown hotel scene used to be a crashing bore -- even the flagship Four Seasons Hotel (it all started here, yes) felt far from essential. Beyond that, it was mostly business hotel tedium and a few smaller properties that never really made a strong case for breaking away from the old predictables. Over the past few years, a slew of new competition has changed everything. From the tiny and whimsical Ivy, a mini-boutique property housed inside the Verity, a women's private club (men can stay, too) to the shimmering new Shangri-La down on University Avenue, with its resort-worthy pool complex and on-premises outpost of David Chang's New York-based Momofuku empire, you won't be bored. Bring money: Toronto's hotel rates have been climbing fairly steadily for a few years now. Being at the heart of the action isn't cheap.
Toronto has a wine country. (No, really. It does.) Less than an hour from downtown, you can be on the back roads of the Niagara Peninsula and tasting very good wines in an atmosphere that's as sexy as wine country can get this side of the Rocky Mountains. Yes, there are museums to see and more neighborhoods to explore in Toronto, but if you are here in the summer or fall (or the spring, or the winter -- really, any time), you should spend at least a day out here, no matter how long you are staying in Toronto. It's just that good. The Niagara hits all the right notes, from vibe to scenery to wine quality to cute places to stay. The food here is very good and very local -- meals at Treadwell's and the Stone Road Grille in Niagara-on-the-Lake are not to be missed. And don't forget -- Niagara Falls is down here, too: The jaunt along the Niagara Parkway, from quaint Niagara-on-the-Lake to the closest thing Canada has to Las Vegas was once called "the prettiest Sunday afternoon drive in the world" by Sir Winston Churchill. It's up there.
RELATED STORIES

10 terribly overrated destinations (and where to travel instead)
It's time to rethink underappreciated Albuquerque