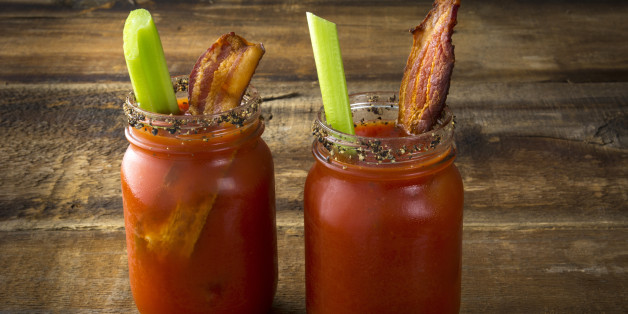 by Kimberly Kohatsu, Managing Editor for the Menuism Restaurant Blog
Bloody Marys are my favorite. They're the perfect excuse to drink in the morning and not prompt your family to convene an intervention. Plus, you get to snack on cured meats and pickled veggies while you do. I sought out some of the craziest, over-the-top, most Leaning Tower of Pisa-esque Bloody Mary garnishes out there. Then I decided to alphabetize the list because amidst all this chaos, I believe a little order is called for, don't you? Good. Then let's proceed.
Asparagus
Photo by Sara Norris, Thrillist
Pickled asparagus is actually pretty standard as far as Bloody Mary toppings go. Admittedly, the "F*** brunch" Bloody Mary from Anvil Pub in Dallas is only filed under A because it's the only place I could find space for it. Alongside the bacon cheeseburger slider, shrimp, cheese, hot dog, onion ring, and pork rinds, the asparagus seems rather tame.
Bacon cheeseburger
Sobelman's Bar & Grill in Milwaukee stacks shrimp, cherry tomato, lemon, Polish sausage, cheese, pickled asparagus, a scallion stalk, pickle, pickled mushroom, onion, Brussels sprouts, and celery on its Bloody Mary, named the Masterpiece. And, oh yes, it comes with a bacon cheeseburger. And a chaser of Sprecher beer.
Cold pizza
Photo by Alina Tsvor
Add a taste of the islands while you're in Chicago with Homeslice's Bloody Mary, topped with a cold slice of Hawaiian-style pizza. You also get pepperoni, peperoncini, and a Miller High Life pony.
Doughnut
The Icehouse in Minneapolis created an homage to Homer Simpson called the Bloody Homer. It's served in a Duff Beer glass and is topped with candied bacon and a doughnut. Mmmmm, doughnut.
Eggs
Photo by It's Shore Life
You drink Bloody Marys at breakfast, so why wouldn't you add eggs? The Attic in Long Beach, California offers five variations on the Bloody Mary, with a build-your-own menu to customize it with various seasonings, olives, and other garnishes. For an extra $2, a pickled egg is a glorious addition to any glass.
French toast
Photo by Sara Norris
The aptly named Big Ass Bloody at Sandbar Sports Bar in San Diego includes pickles, cheese, peppers, jalapeño bacon, salami, and a piece of French toast. Eat and drink your breakfast in one fell swoop.
Grilled cheese
Oh, Canada. The land of mounties and maple leafs happens to call Bloody Mary by another name, Caesar, which helps explain the "Bloody Chaesar" at Score on Davie in Vancouver. It arrives topped with a deep-fried pickle, onion rings, and a grilled cheese sandwich.
Ham
Photo by charlestonmag.com
The South loves its pork, and when you're at Husk in Charleston, South Carolina, you'll get your Bloody Mary with some shaved country ham. You'll also get about 30 other ingredients, including house-made hot sauce, bourbon-smoked pepper, and heirloom tomato juice.
Illegal-ish foie gras
Photo by J. Garbee, LA Weekly
FIG in Santa Monica, California was once famous for its foie gras bloody mary. When California passed a ban on selling goose or duck liver in 2012, FIG could no longer offer it. In January, however, a federal judge blocked the ban. California filed an appeal to challenge the judge's ruling, so we'll have to wait and see if this famous bloody mary returns in the future. In the meantime, FIG's Bloody Maria features Peligroso Reposado Tequila and a crispy strip of bacon.
Jerky
Photo by Rachel Blumenthal
Amplify the heat of your Bloody Mary with some spicy beef jerky at Parlor Sports Bar in Somerville, Massachusetts. The cayenne-cured "thermonuclear" jerky comes from Appalachian Jerky Company, and was the hottest the bar's owners could find.
For crazy bloody marys K-Z, visit the Menuism Blog!
Related Links from the Menuism Restaurant Blog:
• 10 Salads With More Fat Than a Big Mac
• Who Was General Tso and Why Are We Eating His Chicken?
• Don't Knock It 'Til You Tried It: Scary Foods (and Where to Get Them!)
• The 5 Least Welcome Places for Ketchup
Kimberly Kohatsu is the Managing Editor of the Menuism Dining Blog, the educational arm of Menuism.com, a popular website where a passionate community of foodies rate their favorite dishes and comment on restaurants they've visited. Kim is also a freelance writer and marketing consultant, whose recent dining adventures revolve around ramen, cheeseburgers, and fried chicken. When she's not eating, she's obsessed with all things panda.