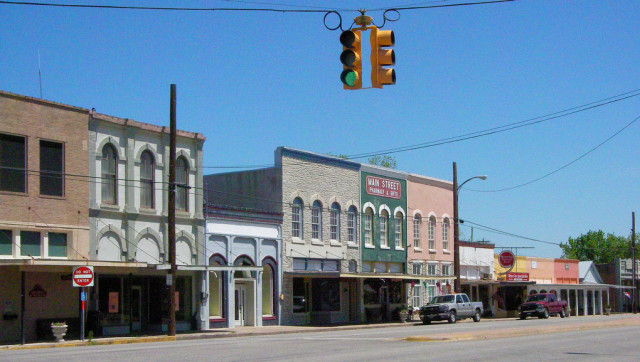 by Michelle Kretzer, Vegan Dining Expert for the Menuism Vegan Dining Blog
Photo by Christine Moran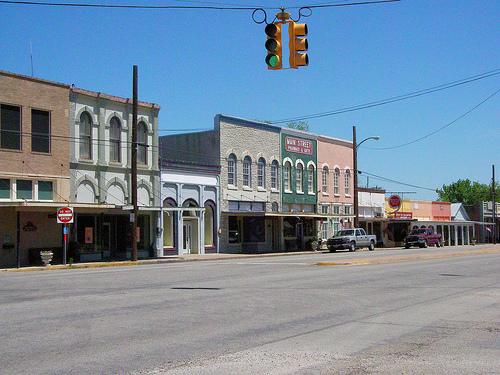 So you don't live on the Upper East Side. Perhaps you live in small-town America. Instead of skyscrapers and specialty restaurants on every corner, you have lush green fields and Piggly Wiggly. But just because you can't choose between gallery openings every weekend doesn't mean that you can't still eat grub like the city folk. Here is a small-town girl's guide to eating vegan wherever you live.
At the local mom-n-pop place: There's a lot to be said for old-fashioned comfort foods. Sit on the porch, sip some lemonade, and play checkers while you enjoy a vegetable plate loaded up with favorites such as corn on the cob, green beans, carrots, baked potatoes, collard greens, fried green tomatoes, okra, sweet potatoes, and asparagus. Most restaurants have moved away from cooking veggies with lard or bacon, but you can ask just to be sure. Finish with a big slice of watermelon and of course, have a seed-spitting contest.
At the brunch spot: Gather your friends for some juicy gossip over a mixed-fruit platter, muffins, hash browns, bagels, oatmeal with maple syrup, and whole-grain toast with local preserves.
At the Italian restaurant: I could quite contentedly bury my head in a bowl of pasta and never come up for air. Italian restaurants have more vegan options than you can shake a breadstick at. You can easily turn many of the pastas on the menu vegan by asking to trade out the meat in the dish for a vegetable (I always go for zucchini). Or simply order your favorite pasta topped with a wine, olive oil, or tomato sauce and your choice of veggies.
At the sandwich shop: Enjoy coffee and a good read over hummus with pita bread and fresh veggies. Or opt for a soup-and-salad combo with a steaming bowl of tomato or vegetable soup.
At the sports bar: I'm fortunate that my local sports bar actually has one of the best veggie burgers I've tried. If yours hasn't made the leap yet, you can still find snacks to wash down with beer while you catch the game. Stuffed mushrooms can often easily be made vegan, as can veggie quesadillas and potato skins. And, of course, there's typical bar fare, such as chips and salsa, guacamole, and onion rings.
At fast-food restaurants: Many of the major fast-food chains are now including vegetarian or vegan options on their menus. Burger King offers a veggie burger, and Subway's menu includes Veggie Delite subs and salads with sides of apples and chips. Tim Hortons has three vegan soups: hearty vegetable, minestrone, and tomato with whole-grain pasta, to pair with several breads.
Chains such as Moe's Southwest Grill and Chipotle Mexican Grill let you build your own Mexican favorites from a huge selection of ingredients, so you get your own custom vegan meal. And Taco Bell has a plethora of choices that can easily be made vegan by leaving off one or two ingredients, including the 7-Layer Burrito, Fresco Bean Burrito, black-bean burrito, veggie-cantina bowl, crispy potato soft taco, black beans and rice, Mexican rice, and chips paired with guacamole, Pico de Gallo, or corn salsa. Wash your meal down with a Limeade Sparkler and have some cinnamon twists for dessert.
On road trips: When I'm on the road, I can't stand to waste time by stopping to eat. I've become a gas-station vegan, filling up on fresh fruit, nuts, Clif Bars, unfrosted Pop-Tarts, chips, pretzels, Triscuits, Wheat Thins, and always, Oreos.
With so many options, it's pretty easy to be vegan wherever you live. Of course, one of the benefits of small-town life is that everyone knows everyone else, so don't be afraid to ask your pals who own and work at the local joints to start offering items such as veggie burgers and faux-cheese pizzas. If someone won't oblige, you can always tell his mom -- who graduated with your mom, briefly dated your uncle, and plays church-league softball with your in-laws.
If you're interested in making the switch to vegan eating, PETA offers menu ideas and vegetarian recipes to get you started.
Related Links from the Menuism Vegan Dining Blog:
• How to Eat Vegan (and Raw!) While Traveling
• 5 Salad-Free Ways to Eat More Raw Food
• Interview: Chef Matteo Silverman of 4 Course Vegan
How to Eat Vegan Even in a One-Stoplight Town originally published on the Menuism Vegan Dining Blog.
Michelle Kretzer learned about factory farming while pursuing a degree in Journalism at the University of Kentucky. She immediately stopped eating meat and dedicated herself to the cause of animal rights. When she is not writing for the PETA Foundation, Michelle enjoys traveling, collecting Beatles memorabilia, and finding great cruelty-free shoes and bags.