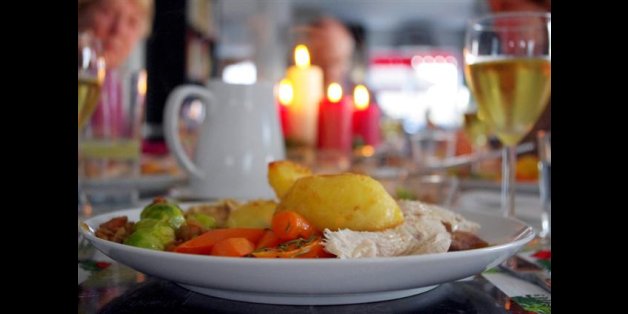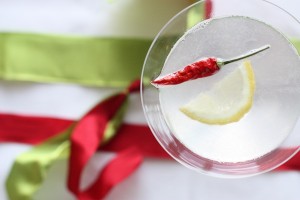 by Rachael White, Hosting Expert for the Menuism.com Hosting and Entertaining Blog
Photo by Rachael White
The holiday season seems to sneak up without warning, doesn't it? Even though we know that it happens at the same time every year, life gets busy and time flies by, leaving us wondering how we'll get everything accomplished. This can be especially stressful if you host any kind of holiday gathering. If you plan to entertain this holiday season, now is the time to start planning. By chipping away at your list a little bit each day, you'll be able to pull off a beautifully homemade holiday party with minimal stress. Just follow the timeline, tips and recipes below to get a head start!
2-4 Weeks Out
I'm sure you've all experienced this scenario: it's the week of your party and you're at the grocery store trying to find everything on your list (along with hundreds of other shoppers and party-throwers) only to find that the things you need have disappeared from the shelf. To avoid this holiday nightmare, start your grocery shopping early.
Determine Your Menu: Before you can shop for ingredients, it is important to have an idea of which recipes you will be using. Here are some easy, delicious holiday recipes to help get you started:
Turkey: If you are cooking a turkey, now is the time to buy it so you aren't left choosing from the bottom of the barrel. Some grocery stores take orders for free-range turkeys, which can be a convenient way to score a quality product. Whether you are ordering your turkey or buying it directly from the store, make sure you do so with plenty of time to thaw, brine and roast it before your event.
Bread: You can buy bread for making your own dressing ahead of time. When you bring it home, cut it into small cubes with a serrated knife, put it in a freezer bag and pop it in your freezer until you're ready to make the stuffing. When that time comes, just pour the cubes onto a baking sheet and bake at 300F until it is thawed and dry, about 10-12 minutes.
Potatoes, Yams & Pumpkins, oh my! Sweet potato casserole on the list? Mashed potatoes? Pumpkin pie? You can buy the stars for dishes like these early too. Just store them in a cool, dark place until you're ready to use them.
Butter: A party isn't a party without butter, right? This staple ingredient in holiday cooking can disappear from the shelves quickly, so stock up now and pop it in the freezer. A day or two before you need to use the butter, stick it in the fridge to thaw.
Cranberries: Fresh cranberries are so much better than canned. It's a fact. They can be used in a number of dishes, as garnishes for holiday cocktails, or to help decorate your holiday table. Fortunately, they freeze beautifully. You'll be glad you stocked up on these jewels ahead of time.
Wine, Beer & Liquor: Some nice wines that are meant to be paired with traditional holiday fare are featured beginning in early November. Take advantage of the experts at the liquor store and explain your menu so they can help you select the best wines. When it comes to beer, there are many nice seasonal brews that will make even the pickiest beer drinkers happy. Try something dark and rich to combat the cold. And try to make it local if possible. If not, chose a brewery like New Belgium where they try to reduce their carbon footprint (1554 is a tasty cold weather brew with flavors of coffee and chocolate; their winter ale is festively called Snow Day). For liquor, buy what you need based on which cocktails you want to serve. If you haven't decided yet, you can always buy the staples -- vodka, gin and maybe some bourbon -- and decide later what to do with them.
Coffee, Tea and Non-Alcoholic Beverages: Purchase the makings for other beverages you'd like to serve, especially if there will be any little ones there. They'll be much happier if you have offerings other than water.
Other Non-Perishables: Make sure you have plenty of flour, sugar, brown sugar, salt, spices, etc, for your holiday cooking. Anything that has a long shelf life is good to buy ahead of time.
Send Invites: Send your invitations out at least four weeks in advance. Schedules fill up quickly around the holiday season, and you want to catch an open spot before it's too late. This is especially important if your event is more formal. If it is a casual get-together where guests can arrive and leave as they please, it is acceptable to send invites a little closer to the date, but the earlier the better with this one. Try sites like Paperless Post or Punchbowl to send electronic invites quickly.
Candles & Other Decorations: If you plan to decorate your home for your event, buy the supplies early. Even if you keep it simple with a few candles, dried leaves, pinecones, etc, now is the time to collect what you need.
1-2 Weeks Out
Create a Party Playlist: If you plan to include music at the gathering, begin compiling a list of tunes to set the mood. Whether it is traditional holiday tunes by the likes of Bing Crosby and Ella Fitzgerald, or more contemporary choices, try to keep to one specific genre.
Clean, clean, clean! The most stressful part of holiday entertaining can be cleaning. Get a head start by doing the major projects now. Decluttering, cleaning the oven and purging the refrigerator are good starters. That way, as the date gets closer, you only have to worry about the basics like a quick vacuum job, a little dusting, and other tweaks.
Bake Some Cookies: Well, maybe don't bake them quite yet. But there are many cookie recipes that allow you to make the dough and freeze until ready to bake. Many recipes will work this way. Shortbread and sugar cookies work particularly well. Both are easy to personalize, too! Make different toppings to mix up the flavors and create a beautiful platter. You can also add a touch of matcha powder or food coloring to make them look a bit more festive and fun.
Assemble Decorations: Make sure your centerpieces and other decorations are ready to go. Get them up and enjoy their presence for a few extra days.
Do the Dishes: If you are using plates, flatware and glassware that typically spend time tucked away, take some time now to dust them off and make sure they are all clean. No one wants flakes of dust floating in their wine!
1-2 Days Out
Crunch time! Now that you're in the home stretch, you can start making some big dents in your to-do list and you'll be on your way to a relaxing holiday party with your friends and family.
Prepare & Assemble: Many dishes can be prepped and assembled ahead of time. Dishes like sweet potato casserole can be assembled and kept in the refrigerator. Before baking, take the dish out of the fridge about an hour or two to allow it to reach room temperature. It doesn't get much more low-maintenance than that! Other dishes that need to be assembled just before baking can at least be prepped. Chop onions, garlic, celery, carrots, herbs, etc, so they are ready to be tossed together in no time. Simply place them in separate bags or airtight containers and refrigerate until show time. The same can be done with apples for apple pie. Put the apple slices in a ziplock bag and squeeze a little lemon juice in with them. Toss them around in the bag to coat them so they don't turn brown. Pie crust can be made ahead and frozen or refrigerated as well.
Brine: Don't forget to brine that turkey!
Set the Table: Make sure your table is set for your guests with plates, glasses, napkins, flatware, etc. The simple act of setting the table ahead of time can relieve a surprising amount of stress!
Finishing Touches: Do some sprucing up around your home to make sure it is guest-ready. But remember, you don't live in a museum and most people are more comfortable in a home that feels lived in. That doesn't mean messy, it just means that it doesn't need to look perfect.
What to Wear? I can't tell you how many times I've forgotten this step and found myself staring blankly at my closet a mere 10 minutes before guests were supposed to arrive. Do yourself a favor and get this out of the way the day before at least!
Defrost: Remember all that stuff I said to freeze? Be sure to take it out so it can thaw. Some things may need to thaw 2 days in the fridge, while others will thaw quickly if they are removed the day before.
The Big Day
You've planned ahead and done as much early preparation as possible. Now it's time to go with the flow, finish cooking, kick back and enjoy! Here's a little help with "the flow."
Morning: First thing's first, drink a cup of coffee. Okay, fully caffeinated? Now get to work on your food. Get everything to the stage just before baking. For example, you can roll out and cut cookies, then place them on a parchment lined baking sheet in the fridge. Better get that turkey started now so you aren't waiting until all hours of the night for your bird. Also, don't forget to do any last minute tasks for your mis en place! You don't want to be slicing and dicing when your guests walk in the door.
Afternoon: After doing so much hard work, taking the time for a relaxing shower, a little lunch, and taking time to make sure you look and feel your best will do wonders. Once that's done, take stock of what is left before your guests arrive. Hopefully, with all your hard work in the weeks prior, you'll be all set!
Evening: While your guests are enjoying their drinks and hors d'oeuvres, take some time to say hello and welcome everyone to your event. Then back to the kitchen to make sure everything is on schedule. Your turkey should be done and the other dishes that require baking should be in the oven. You can bake the desserts while everyone is eating dinner, unless you've made pumpkin pie or another type that needs to set. In that case, get this done yesterday!
Eat, Drink and Be Merry! Now you can enjoy the festivities! Sit back and chat with your guests and drink in the wonder of the season.
*A Few Notes:
• Depending on the time of your event, you may need to tweak the schedule on the last day.
• These are all suggestions -- please take and tailor them to fit your event! Some will require more prep while others will need less. Either way, this is more of a template than a concrete plan.
• If you aren't up to the task of making everything from scratch on your own, ask guests to contribute a dish.
• When the party is over, don't turn down an offer for help with the dishes. One year, I actually put all the dishes under the sink so no one would feel obligated to help. Not smart. Seriously.
What are your favorite tips for staying stress-free when entertaining? We'd love to hear what you have to add!
Related links from the Menuism Hosting and Entertaining Blog:
• How to Throw a Holiday Party on a Budget
• Tips and Ideas for Hostess Gifts
• Throwing a Holiday Cocktail Party with a DIY Bar
A Stress-Free, Homemade Holiday originally published on the Menuism Hosting and Entertaining Blog.
Rachael White is an American foodie living in Tokyo. For two years, she and her husband have been exploring the ins and outs of the fascinating food culture of Japan. Rachael's blog "Tokyo Terrace" chronicles her experiences creating dishes and drinks that use new and exciting flavors in accessible ways. She has been published in Tokyo's Daily Yomiuri Newspaper and contributes to JapanEats.tv. Originally from Minnesota, Rachael creates recipes that reflect Midwestern comfort food with a modern, Asian twist.