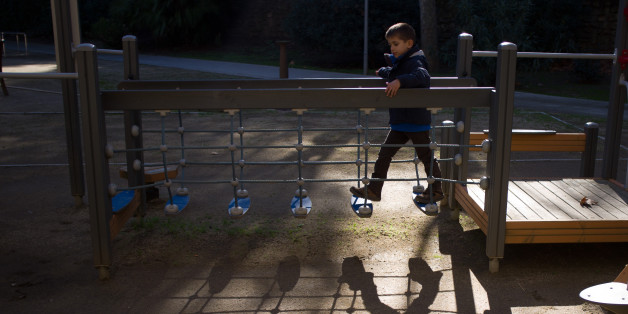 Dear Will,
Today you came home near tears because someone told you two gay people can't get married because it's wrong and gross. Your aunts are gay and your cousins -- whom you love with a wonderful ferocity -- are a product of their very much legal marriage (Massachusetts has had gay marriage since 2004). When someone insults your family, it hurts. You hurt right now, and I'm sorry for that.
I'm also sorry that it's not the first time, nor will it be the last.
I absolutely despise having to tell you about this ugliness at such a young age. Last year, when we stopped going to a certain area business because they were casually tossing around racial epithets, you had questions. And rightly so. That's how I ended up describing the evils of racism to a 5-year-old. And now you're faced with more ignorance and ugliness. And this time it's that much harder because it's from a friend.
I want you to know right up front, I'm proud of how you reacted. You told them (I'm using the incorrect pronoun to avoid repeatedly saying he/she and to avoid singling anyone out) gay people can get married in Massachusetts. You used your aunts as a valid example. And you told them the most important thing is that two people love each other when they get married.
Will, your friend is only 6. They might think marrying ANYONE is gross, or they might not have had anyone explain gay marriage, or -- and this is the scary part -- they might have parents who truly do believe it's gross when two people of the same sex pledge their lives to one another.
Unfortunately, you said this person didn't want to be friends anymore after your argument. It's my hope that, because you're 6, something shiny will distract you both and you can go back to being friends with this incident a mere afterthought and anomaly. But I'd be lying if I said these kinds of differences don't leave a trail of broken friendships in their wake.
I know you tried to explain the truth to this kid. I also know you were extra frustrated because you knew you were right. And you are right. Gay people can be legally married, your aunts are legally married, and as long as two consenting adults love each other there is no reason they should be denied the right to marriage.
But the sad fact of the matter is, at some point, you're going to have a friendship strained -- and ultimately broken -- by intolerance.
Will, sometimes I forget you're only 6 years old. I say that because your wisdom, empathy and compassion for others far exceeds the limited number of years you've graced us with your presence. You are kind to every living thing -- even apologizing to the worms we fish with when you put them on the hook. That's why I hope you continue to do what you're doing when the road gets rocky.
Remember, some kids are brought up in an environment of hate and intolerance. That doesn't make it right or excusable, but if that's all they know then you need to keep that in mind. Salvage the friendships you can and never burn a bridge unnecessarily. But if a friendship becomes truly toxic, it's OK to extricate yourself from the situation. Never be afraid to surround yourself with love and positivity, because you are a bright light, my friend.
And the world needs you to shine.
I watch you, you know? Even when you think I'm not looking, I am. I've seen you on the playgrounds and at birthday parties, and I love what I see. You have a refined and razor-sharp sense of right and wrong, and you don't just stand up for yourself -- you stand up for whoever needs it. If someone is being isolated, you play with them. If someone is being made fun of, they're met with a "HEY! THAT'S NOT NICE!" It is one of your finest qualities, and to possess it at such a young age is astounding.
Please never stop standing up for what's right.
As you get older, the easiest thing to do in those situations is nothing. No one likes to be made fun of, and the quickest way to become a target for bullies is to come between them and their prey. But guess what, pal? Ironically, the quickest way to bring down bullies is to stand up to them. It's not easy, especially when the bully turns out to be someone you thought was a friend. Remember: all that is necessary for the triumph of evil is that good men do nothing.
Continue being a good kid who stands for something and resides firmly on the side of what is right and just. You're amazing, and I'm the proudest father in the world.
Love,
Dad
This piece originally appeared on The Daddy Files, which you can follow on Facebook.
Like Us On Facebook |

Follow Us On Twitter |

Contact HuffPost Parents
Also on HuffPost:
PHOTO GALLERY
Love in One Photo