Devastating storms and lives lost, houses destroyed, sweltering heat waves, menacing bushfires, plunging winter temperatures, droughts, floods and even snowstorms in the desert: this is the reality of our weather -- it's not a forecast. And it's going to get worse if we prolong our addiction to fossil fuels.
A new Greenpeace International report, Point of No Return, identifies 14 major coal, oil and gas projects that will add an extra 6.34 gigatonnes of global Carbon dioxide (CO2) emissions annually by 2020. That's a 20 percent increase on current levels and more than the annual emissions from the US.
This comes on top of the record high CO2 in 2011, as we jointly pumped out 31.6 gigatonnes of the greenhouse gas responsible for global warming into the atmosphere, according to the International Energy Agency (IEA).
Such a massive jump in CO2 emissions would set the world on a path of five to six degrees Celsius of warming, locking the planet into catastrophic climate change. To avoid the worst impacts of climate change, the UN says we must keep the rise in global temperatures as far below the UN target of two degrees as possible.
The projects that are threatening our future range from massive coal expansion in Australia, China, the United States and Indonesia, to oil expansion in the tar sands of Canada, the Arctic and Brazil, to new gas production in the Caspian Sea and the United States.
Companies such as Shell, BHP Billion, Arch Coal, Ambre, Peabody, Xstrata, Enbridge, Gazprom, Cairn Energy, Petrobras or BP are profiting from climate change.
There is an alternative, as President Obama championed in his inauguration speech on Monday:
The path towards sustainable energy sources will be long and sometimes difficult ... We cannot cede to other nations the technology that will power new jobs and new industries -- we must claim its promise. That is how we will maintain our economic vitality and our national treasure - our forests and waterways; our croplands and snowcapped peaks. That is how we will preserve our planet ...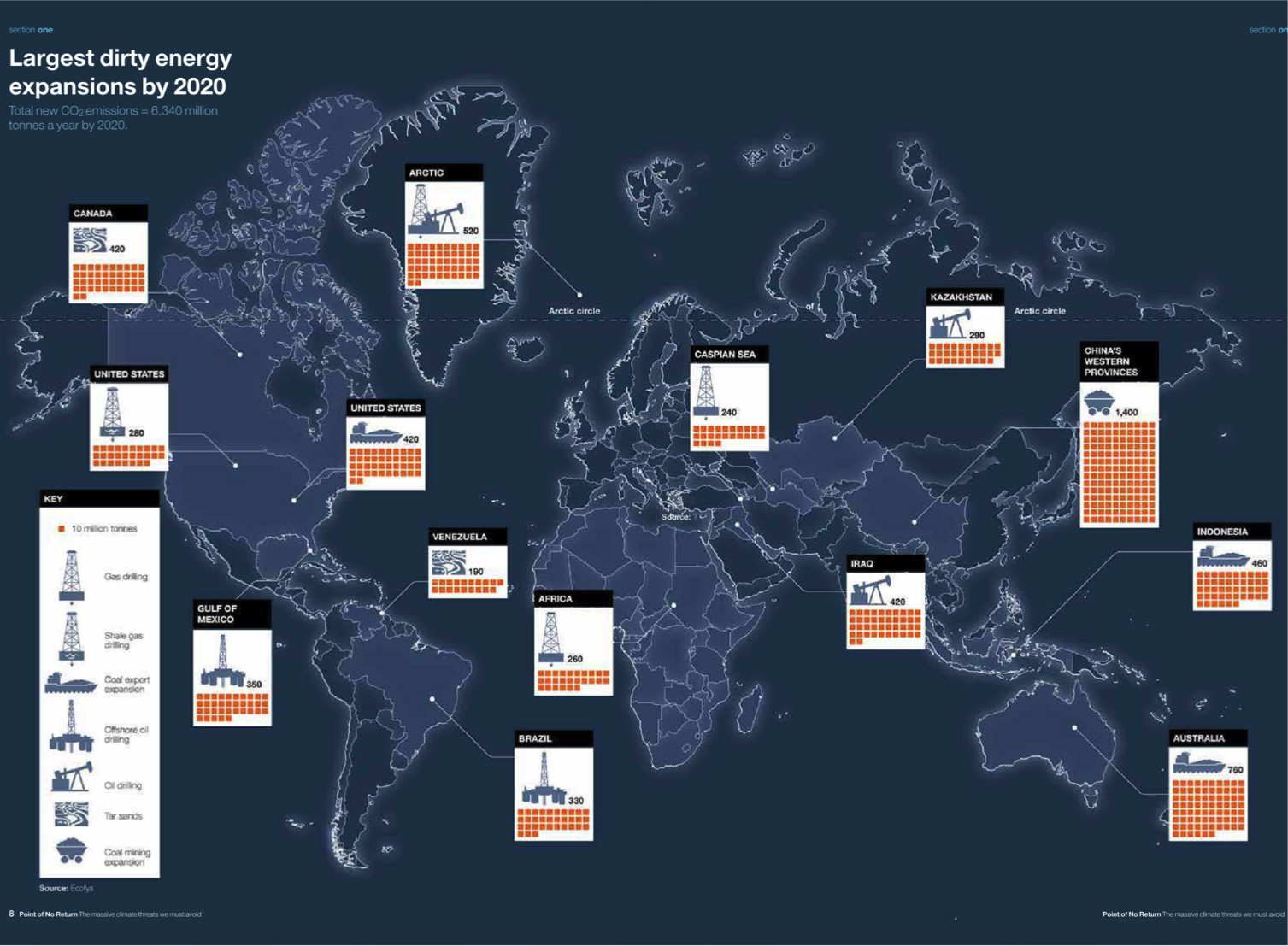 Ecofys, a clean energy consultancy that carried out the research and calculations for the report, shows us that there is a 75 percent chance of avoiding climate chaos if emissions peak by 2015 and then drop by five percent a year.
The new CO2 emissions avoided by canceling these 14 dirty energy projects would cover about one-third of the total reductions needed to avert future catastrophic climate shocks.
Coupled with that Greenpeace's Energy [R]evolution shows that renewable energy and energy savings can deliver the energy our economies need to survive and grow: that renewable energy and energy saving can deliver the "promise" that President Obama spoke of.
"In 2011, renewable energy (excluding large hydro) accounted for 44 percent of new generation capacity added worldwide, up from 34 percent in 2010 and just 10.3 percent back in 2004." This accounted for 31 percent of new electricity production, due to lower capacity factors for solar and wind capacity. This explosive growth can and must continue.
Increased investment in renewable energy will not only pay off in jobs and economic growth, it will also pull the world back from the brink.
The governments approving these projects have all talked with grandiloquence of tackling climate change and of preserving the environment for future generations. Their hypocrisy is placing our future at risk.