Looking through the eyes of the global media, you can interpret the World Bank's latest climate change report in slightly different ways, but the overarching message remains the same: a climate crisis is swiftly approaching.
Reuters lead with a specific example of the threat, highlighting the fact that Bangkok could flood within the next two decades if global warming stays on its current trajectory, as sea levels rise and cyclones intensify.
It was a similar approach taken by The Washington Post as it noted how major Asian cities were at threat and the fact the World Bank is committing billions of dollars to flood prevention, water management and other projects.
Highlighting the urgency of the situation, Bloomberg Businessweek's report picked up on the idea that global warming of 2 degrees Celsius threatens African food production and Asian water supplies "in our lifetime."
The short timeframe was also noted by AFP, which said the World Bank was warning of severe hardships from global warming within a generation.
Consequently, Associated Press said the World Bank will increasingly view its efforts to help developing countries fight poverty through a ''climate lens", because as the Guardian noted, people around the world are likely to be pushed back into poverty because climate change is undermining economic development.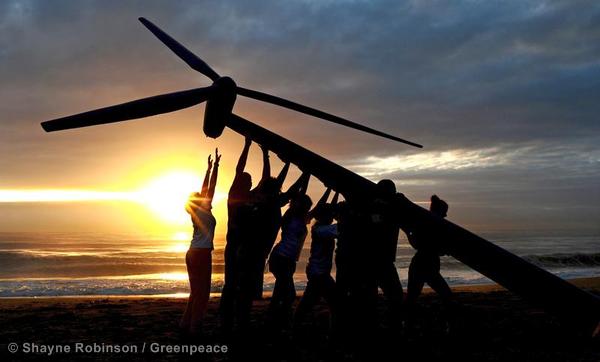 Taking these thoughts further, Responding to Climate Change reported that the World Bank is now urging governments to pay more attention to climate change adaptation, noting the bank's comment that "disaster risk management needs to be mainstreamed into development."
Deutsche Welle also looked at the two-pronged approach, quoting World Bank President Jim Yong Kim saying that "urgent action is needed to not only reduce greenhouse gas emissions, but also to help countries prepare for a world of dramatic climate change."
In reading these gloomy and dire predictions through, it's possible to think that the catastrophic future described by the World Bank is inevitable. This is far from the truth - there is still time to turn the tide and keep global warming within manageable limits.
It is with this in mind that Greenpeace has called for bold action not only from governments, but also the World Bank which can and must lead the way by shifting all its energy financing from fossil fuels to renewables and energy efficiency.
Currently, fossil fuels are being extracted and burned in the name of development and prosperity, but what they are delivering is the opposite, as the World Bank's report so clearly underlines. Only a clean energy revolution can truly help the poor and prevent runaway climate change.
This is our call to action.