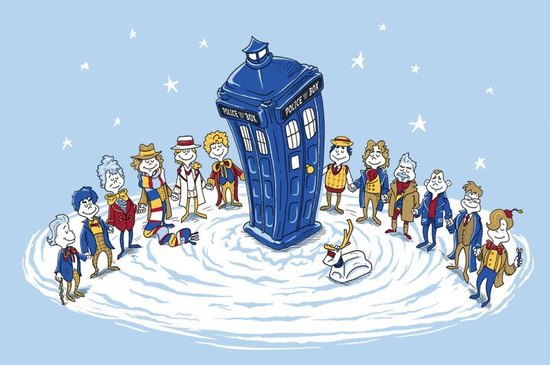 Time has not run out for Christmas shopping. And if you are buying for a Doctor Who fan, you have all of time and space to find the perfect something this holiday. In fact, there really isn't a better time than Christmas to show the Whovian in your life you love them with both of your hearts.
After all, the biggest Christmas mascot is an ancient humanitarian who bends time and space, and travels across the globe in one night. He visits the home of good little children, rewards them with gifts and candy (Jelly Babies, anyone?) from his "bigger on the inside" bag. Assisted by a super "sonic" reindeer with a glowing nose, this character has been seen in different forms across the ages and lands but it is always the same man. Basically, Santa Claus is a Time Lord. Aside from the jolly elf Santa's similarities to the Gallifreyan Doctor, Doctor Who has also become tied to the season with its Christmas specials, a modern holiday tradition for the fans that has emerged in the last eight years.
And 2013 is an especially fantastic year to spend Christmas in Whoville with your nerdy companion. Not only did we just celebrate the show's 50th Anniversary with a Doctor-packed special on November 23, but the "Christmas Special" airs stateside on December 25 at 9 p.m. -- and the story bids farewell to current (and supposedly final) Doctor, actor Matt Smith and ushers in new actor Peter Capaldi.
So don't be a Grinchy Dalek and instead take a look at the best of Doctor Who gifts and goodies for the Who-liday.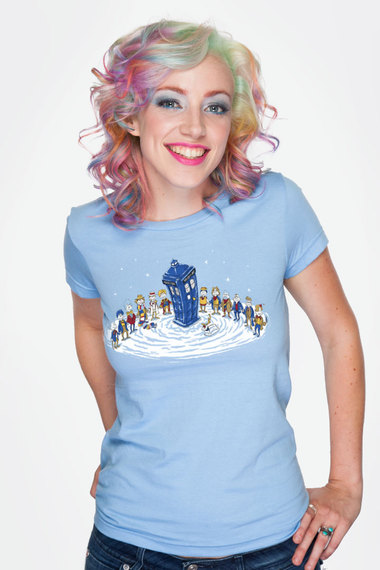 Have Yourself a Merry Little TARDIS
Before you can celebrate Christmas in Whoville, you and your companion will need to acquire some Wholiday spirit. The very best way to do so is with Ian Leino exceptionally unique Doctor Whoville tee ($20) which features Seussian regenerations of all the Doctors in Whoville (even John Hurt's War Doctor) holding hands and singing around a TARDIS, welcoming Christmas. The image is an instant classic on an American Apparel soft jersey cotton shirt. To decorate your holiday tree, or TARDIS, pick up some Who ornaments from Kurt S. Adler; the hand-crafted glass Cyberman head adds a little menace to your fir ($8). Shiny! (Sorry, wrong sci-fi franchise.) For more handcrafted nerdery, and bonus creepy tree points, head to Etsy for a Weeping Angel tree topper ($50). Just don't Blink when gazing at your decorations, opening your presents... and better not sleep on Christmas Eve either. Finally, merge A Christmas Story and Doctor Who with the TARDIS footie pajama onesie with hood ($40). It is incredibly warm and makes any adult feel like a big kid -- or time traveling phone box -- without the indignity of wearing that pink bunny get-up. Also, the footies zip off for free range action.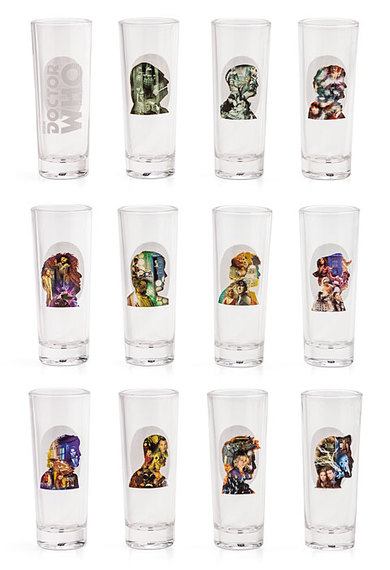 Regeneration Redecoration
Your loved ones on the gift list don't live in a dimensionally transcendental time-and-space machine disguised as a British police phone box with an infinite number of rooms? They can still give their home the TARDIS feel with decorations and accoutrements even if they live in an apartment that is decidedly not bigger on the inside. This exploding TARDIS rug from ThinkGeek ($56) is nearly six-feet long and is made of polyester pile and is super soft -- so soft my dog has already taken ownership of it. It also comes in a classic TARDIS pattern. Ward off any Vashta Nerada, and just create a nice ambience, with the soft glow of a TARDIS night light ($17). While relaxing like a Time Lord, enjoy some tea brewed with a TARDIS tea infuser ($16) that looks like a little phone box dangling on a chain connected to the 11th's sonic screwdriver. And with a cold drink, a bright blue TARDIS materializes on this color-changing pint glass set ($20). Also color-changing is this 50th anniversary set of 12 Anniversary mini-glasses ($60) from ThinkGeek that rock a tableau of each Doctor in profile, along with a reappearing TARDIS image.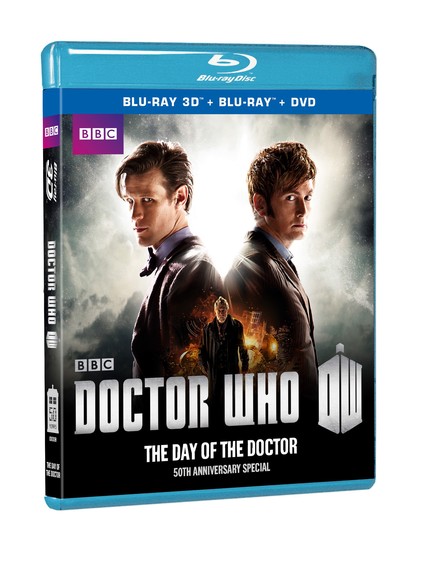 Time And Relative Discs In Space
Spend Christmas with your companion screening highlights from Doctor Who history, and preparing for the next regeneration of the man from Gallifrey. To get the full effect, pick up The Doctors Revisited DVD sets ($38) that walk you through the history of the actors who have played the Doctor and highlight story arcs from each of their runs. These sets also include specially-recorded intros by showrunner Steven Moffat, as well as collectible 50th Anniversary magnets. From there, move on to the Blu-ray 3D/DVD+Blu-ray combo pack of The Day of the Doctor anniversary special ($30). Even though Whovians have already seen the episode, it is well worth revisiting this epic story that honors and tweaks the show's mythology. Disc extras are "Doctor Who Explained," Behind the Scenes and the two mini-sodes, "The Night of the Doctor" and "The Last Day" and a limited edition trading card set. Then take a peek at what is in store for the next regeneration with The Thick Of It complete series set ($56), starring Peter Capaldi. The next actor to reside in the TARDIS takes lead in this British grown-up comedy series about bungling, conniving government employees. It isn't sci-fi but it is irreverent and raw, and shows off Capaldi's acting chops.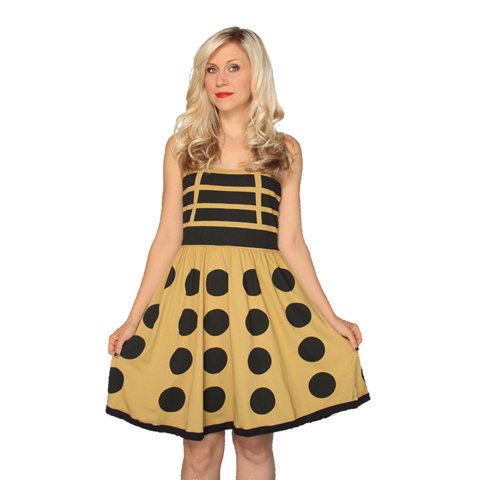 Fashion Forward Through Space
Fashion on the Doctor's homeworld of Gallifrey is dominated by big robes, bigger shoulder pads and even bigger collars, along with lots of circular, swirly designs. That won't cut it for your earthbound Whovian with a sense of style. Head straight to Her Universe for the best selection of apparel for Time Ladies; Ashley Eckstein's line for the fashionable female nerd has several 50th Anniversary Special-inspired items, such as the "Gallifrey Falls No More" Trio Crest scoop cotton tee ($28) emblazoned with images of Matt Smith, David Tennant and John Hurt's Doctors against a crest backdrop with Gallifreyan language and The Moment weapon with the big red button. The Portrait tee ($28) also comes from the 50th special, and shows a wedding day painting of the Tenth Doctor with his bride, Queen Elizabeth I. For classier affairs, Her Universe has a new Gold Dalek fitted A-line dress ($45). It is chic enough for going out while being recognizable to fellow Whovians. For the Time Laddies, grab a 2-pack of the Doctor Who boxer briefs from ThinkGeek ($22.50). They come in blue or black, with images of a Union Jack Dalek or TARDIS and have different sayings on them ("Keep Calm And Exterminate" or "Trust Me, I'm The Doctor") -- and they are cozy enough for all that running that the Doctor must do. Over at TShirtBordello.com, there is a nearly infinite array of Whovian shirts, including an actual Whovian shirt ($15) that utilizes dozens of iconic series images and Easter eggs to spell out the fan group's name. Finally, if your companion lives in cold climate, you might want to get them a red Dalek beanie ($25) to exterminate a cold pate. It is warm, very silly and Davros-approved.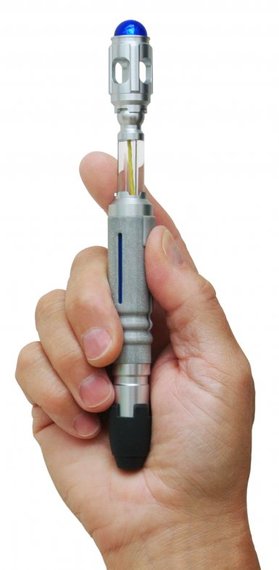 Toy Lord
The Doctor does love his toys, and the Whovian companion in your life is likely no different. Therefore, it is a safe bet they'll love the Tenth Doctor Sonic Screwdriver wireless remote control ($99-$115) from The Wand Company. A regeneration of sorts from the Eleventh Doctor's remote control from last year, this sonic can be programmed to control your television with a variety of gestures, or just used in FX mode. It is a precise replica from the show and lights up, speaks, makes a lot of noises and goes "ding" when there's stuff. It even has an extender tube like Tennant's Doctor's did so there is no sonic screwdriver envy in case your loved one encounters another version of themself in the time stream. On the low tech end is the Dalek Mr. Potato Head ($30). This is one ticked-off spud from Skaro, tired of being mashed, scalloped, baked and twice-baked -- and he's a lot of fun to play with. But maybe we suggest a Sontaran Mr. Potato Head next? If you want to fit a lot of history in very little space, the 11 Doctors micro-figure set ($55) offers 50 years of playtime in the palm of your hand. Appropriately, the little Docs come with tiny sonics, umbrella or flute.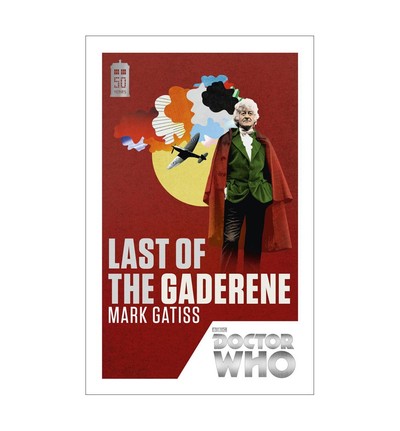 Timey Wimey Books
Even in the 51st century, when consumers have holovids, direct-to-brain downloads and fiction mist, the Doctor espouses that people still need books (and their smell). Well, you and your companion gift recipient are in luck, because there are loads of Doctor Who books. Written by Marcus Hearn, the Doctor Who: The Vault: Treasure From The First Fifty Years ($45) is a giant-sized gift to fans that should also be a gift to your fan. The gorgeous book is both an insider's guide and introduction to the series, as well as a history lesson of awesome with a collection of behind-the-scenes images, memos, script pages and more from BBC archives. Meanwhile, Who-Ology ($20) is the book of "official miscellany" by Cavan Scott and Mark Wright; it is packed with 374 pages of trivia, tidbits and factoids about the show. Want to know the Doctor's height, age, names of offscreen companions or when people have actually said "Doctor who?" on the show? It is all in there, along with a lot more, but organized in fun, approachable graphs and charts. Beyond history, the "Doctor Who 50th Anniversary Collection" of adventures is a very affordable and action-packed series of books re-issued to celebrate the big milestone. Each of the 11 books ($13) feature a different iteration of the Doctor, and they go back to 1990's Remembrance of the Daleks by Ben Aaronovitch, starring the Seventh Doctor. Personal favorites that might appeal to fans are Only Human by Gareth Roberts, featuring the Ninth Doctor and companions Rose and Jack Harkness. But writer/actor Mark Gatiss definitely delivers with Last of the Gaderene, starring the Third Doctor. With stories written by Whovians for Whovians, each paperback installment also has a lovely cover design and make for a great set.