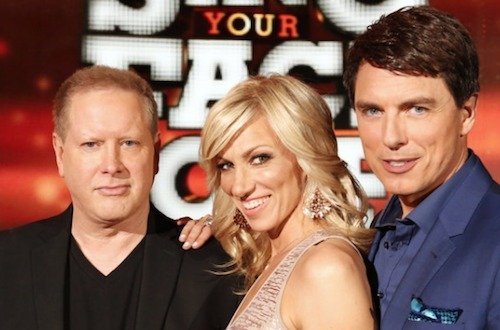 In nerd circles, John Barrowman is known as a can't-miss panel at comic cons. Except "panel" suggests other people taking part instead of a charismatic individual holding court.

While answering questions about his role as time traveling and Earth-saving hero Captain Jack Harkness from Doctor Who and Torchwood, or about his more recent role as villainous Malcolm Merlyn on The CW's Arrow, the actor puts on a one-man show that involves wit, cheeky humor, singing and even serious advice.

The John Barrowman Experience is already something to behold within these nerd circles, and now the rest of pop culture will get to take it in with his new celebrity singing show on ABC, Sing Your Face Off.

Premiering last Saturday, the concept of Sing Your Face Off revolves around celebs such as Sebastian Bach, Jon Lovitz and Lisa Rinna learning to perform and impersonate iconic musicians. Barrowman serves over the proceedings as a host, while Saturday Night Live alum Darrell Hammond and former teen idol Debbie Gibson act as judges.

Barrowman, an American citizen born in Scotland, has hosted in the United Kingdom, has released three compilation albums and appeared on multiple soundtracks, and has an extensive acting resume. So his duties on SYFO are a natural fit. And, in a recent interview, he said the job has its challenges but is not too difficult because he's done it before, and knows "how to handle myself in front of an audience." Moreover, he added that growing up, and to this day, his family would dress up, sing and hold performances.

"What's been lovely about this show," Barrowman said, "is the fact that it's an entertainment show, and entertainment competition, and I get to be myself but also get to comment on the things that are happening."

So what, precisely, are these things that are happening? For instance, Barrowman said if an entertainment journalist who is interviewing him wants to become a Barry White or Al Green, the show would "put that in the mix but would put things that would be totally opposite of you'd want to be."

And then that journalist might be transformed instead into a Whitney Houston, and would have to nail the appearance, movements and vocalization of that singer.

As one might imagine, Barrowman said that leads to some "outrageous behavior."

"They're mindblowing performances but taken very seriously, filled with a lot of silliness and fun," he added.

Among the silliness, Barrowman said audiences are going to be impressed by the celebrity performers. He said NBA basketball player Landry Fields "is going to blow everyone away" because the show transforms him into a female singer. And comedian Jon Lovitz will take the stage and sing a song Barrowman said "I don't even think Jon Lovitz knew he could sing."

He explained the whole arrangement as "most bizarre" but "totally great."

"What's really great is there are times they walk out off the lift and through the fog and I'm laughing so hard I can't control myself and then they finish the number, which is quite good, then come down and talk to me as that performer.

Meanwhile, as host, Barrowman said his signature wit and humor would be on display on SYFO, but that he wouldn't be singing because he has to "drive the show."

Even though this isn't his first time behind the wheel as a "show-ffeur," the actor isn't as known as a musical performer and host stateside. Instead, his reputation is more as a sci-fi genre favorite. Still, after taking meetings with networks about bringing his British show "Tonight's The Night" to the U.S. - which he still wants to do - Barrowman said ABC approached him about Sing Your Face Off.

"I did have to audition but the network reached out to me, along with the producers, who knew me from the stuff I did in the UK," he said. "But they were the ones who said right after, 'you're great for this, and have the energy and drive'."

And if the hosting gig goes well on SYFO, not only would Barrowman like to sing in Season Two (as Madonna on "Vogue" or as Michael Buble, who Barrowman said moves "awesomely awkward"), he said he's been happy with ABC and would like to pursue a variety show with the network starring him and a team of peers.

"Hopefully this will lead to other stuff with the network," he admitted. "I'd love to have my own variety show with a team of peers with me."

However, Barrowman emphasized that his work on a major network does not mean he'll be ignoring his pursuits in nerd culture.

"I love my nerds -- I am a nerd and say that will all due respect," the actor said. His nerds and their love for his Captain Jack character put him on the map internationally, he said, and these genre fans even arrived to support him in the audience of SYFO.

"That's what I love about the sci-fi world: my fans come with me; they go along on my journey."

Although he said it'd be a "great idea" to bring Torchwood buddy (and Buffy The Vampire Slayer's James Marsters) on Sing Your Face Off, because he said he is a good singer, Barrowman joke it may not always be pretty if his sci-fi and hosting jobs collided. He recalled his response when someone suggested his Doctor Who costar David Tennant join him on the new show.

"I said you might want to see him looking like somebody but you wouldn't want to hear him sing ... As much as I love David, he's a good kisser but I don't think he's a really great singer. Sorry, David!"

At that, Barrowman left himself open for a follow-up Doctor Who question. So far the actor has not appeared on the 50-year-old British series since it has been under the leadership of showrunner Stephen Moffat - despite publicly stating he'd like to but that he hasn't been asked and it's not his call.

With his duties on Arrow expanding, and now with Sing Your Face Off, might there be a time for Barrowman to hang up his Captain Jack Harkness overcoat?

Never.

"Here's the thing," he began. "In the Doctor Who world, you never say goodbye to the characters you played because you're part of that world the rest of your life."

After a moment, Barrowman continued: "Even if it's decided I will never put that coat on again, I will always be Captain Jack to everybody else, and that's what I'm most proud of, that's why I love Captain Jack ... If I'm ever asked to play him again, I will do it at the drop of a hat."

But until, or if, Captain Jack returns, Barrowman will continue to own the stage on on Sing Your Face Off and for "my nerds" at his unique comic con panels.