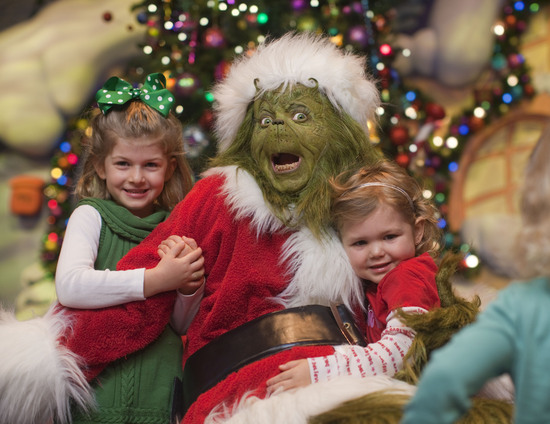 Forget about flying reindeer with incandescent beaks, elves on shelves or abominable snow bumbles. When it comes to Christmas cryptids, the marquee monster is The Grinch -- as in the one notorious for stealing Christmas. And just as Santa Claus "is coming to town" every year, the Grinch has become known for his annual migration to Universal Studios Orlando.
Though first discovered through the Whoville field journal of rhyming cryptozoologist Dr. Seuss (OK, he was really just created by Theodor Geisel in his 1957 book How The Grinch Stole Christmas), The Grinch normally resides on Mount Crumpit above the Who enclave. And he is a Christmas-loathing nasty, wasty skunk, at least until he had a change of heart -- of three sizes - and ended up carving the Who roast beast at the Whoville feast.
The entire story of the Grinch is played out each year at Universal Orlando Resort's Islands of Adventure "Grinchmas" event, which runs through January 4. Set at the theme park's Seuss Landing area, Grinchmas is billed as "warm fuzzies with a side of snark" as the area is decorated to look like a seasonal Whoville town, complete with resident Whos walking around and the "Wholiday Spectacular" show starring The Grinch. In addition to performances by Mannheim Steamroller and the Macy's Holiday Parade (which features floats from the New York City parade), Grinchmas sets the stage for a month of holly, jolly happenings in Orlando. And since this is the Weird section, I wanted to talk to the top-billed cryptid about surviving the season in Florida.
In the embedded audio, and in one of the more surreal interviews I've conducted, The Grinch talks about what makes him awesome (a lot of things, apparently), his familial connection to Sasquatch, how to approach a Grinch and what his thoughts are on Ebenezer Scrooge. And if you'd like some good "Grinchscaping" tips on achieving a great Grinch look and smell, well, you're in luck...