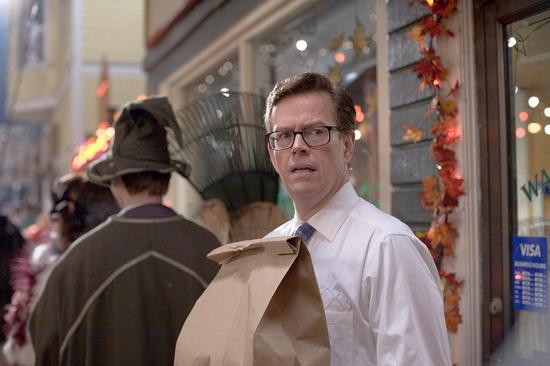 Dylan Baker's Halloween is full of treats. The veteran actor, who has a knack for bringing an indie cred to a mainstream project and vice versa, has had one piece of good news follow another this autumn.
His directorial debut, 23 Blast -- about a football player who goes blind but tries to stay in the game -- kicked up some buzz at the Heartland Film Festival in Indianapolis. Then the trailer for Anchorman 2: The Legend Continues showed off his character of Freddy Schap. But one of the most unexpected pieces of sweet news for Baker this season was the return of his film Trick 'R Treat.
The 2007 horror anthology film, written and directed by Michael Dougherty, and starring Baker as an ornery (and homicidal) school principal, was left on a studio shelf only to be released on home video in 2009 where it developed a cult following. But the flick received a long overdue theatrical screening Monday night at Los Angeles' Egyptian Theater, which closed out the Beyond Fest film festival. Following the screening, Baker joined Dougherty, producer Bryan Singer, co-star Brian Cox, moderator Seth Green and more to discuss the growing power of Trick 'R Treat. On the panel, head of Legendary, Thomas Tull, announced that a sequel to Trick 'R Treat was on the way, which would be written and directed by Dougherty.
While details have not yet emerged about the sequel (Dougherty has told us he has "bits and pieces" of stories), and there's no guarantee that Baker will return, the actor said he has a special love for Trick 'R Treat, which he calls "timeless."
In the following interview, Baker joined us from his home in New York City phone to talk about his work on Trick 'R Treat, his own Halloween tricks and upcoming projects Anchorman 2 and 23 Blast.
How did you initially connect with Trick 'R Treat?
Actually Michael Dougherty reached out to us and sent the script, and also sent some of his artwork. I liked the script; I think the character was kind of fun but was really intrigued by the artwork. He wanted to create a world, create an atmosphere of this small town with Halloween being the crowning night ... I liked Michael from the beginning. He knew the story he wanted to tell. He told us these stories had been germinating in his head since he'd gone out as a kid on Halloween night.
What has been the best part about being involved with the film?
I have fun with friends that discover it. The most fun is Halloween night when some kid shows up at my door with a white shirt, bloody, with glasses and he's Principal Wilkins.
When did you first think the movie would have staying power?
We went to New York Comic Con just a year or so after it first started coming out in festivals. We took the stage to talk about it, and two-thirds of the people there had already seen it. We looked at them and asked, 'How did you see it?' The other third was jealous the people got to see it, and wanted to know where they could see it. I could tell there was a real energy behind it. People didn't want to be denied the experience. Once you know about it, you want to see it - I really felt like it had a chance to hold on and become a cult thing, or find its way.
The film is set in a town in Ohio, but what does trick-or-treating look like in New York City?
The thing about people in New York, they try to do one of two things. One, they try to take their kids to a building that has a million apartments so they can catch all the candy by going to three or four floors. Then they can go home. Or they try to take their kids to a suburb someplace so they can get the experience of going house to house.

How have you celebrated Halloween in New York?
Before I had a child, one year I sat in a chair inside the apartment and was totally still. I covered every part of my body and had this mask with two eyeholes. I'd have a bowl of candy on my lap. My friend would dress up with a white face and white wig, and he'd just be crawling on the floor. When kids would come up, he'd just gesture to them with a finger to come. They'd look in the apartment and see me, and I was totally still, and they had to have the courage to come forward and grab some candy. If I just moved a little, they'd scream! Once I had a child I never did that again and couldn't believe that I had. I certainly added to the nightmares of several children in my building.
Are you normally a fan of scary movies?
I love Sam Raimi's movies. I got to work with Sam on the Spider-Man franchise, but I love his Evil Dead and Drag Me To Hell. I think those are great movies and would love to make one of those someday. They are fun to make and really fun to watch.
Would you return if Michael Dougherty wants you back for the sequel?

I'm there. I am there!
What are your Halloween plans?

I directed my first feature, 23 Blast, so I am working nonstop to make sure we get it sold properly. We just premiered at the Heartland Film Festival in Indianapolis. It got such a great response that our sales agent is starting to field all these offers.
Can you talk about your role within Anchorman 2?
I play Freddy Schap, the producer who sees potential in Ron Burgundy [Will Ferrell]. I hire him to his next job on 24-hour news. I get him a great crew to work with, and he rejects that and says I've got to get my guys together. So he rounds up Paul Rudd, Steve Carell, David Koechner and makes my life heck for the rest of the movie. It was one of the greatest experiences I've had in my entire life. I spent most of my time trying not to ruin takes by laughing too hard and crying too much.