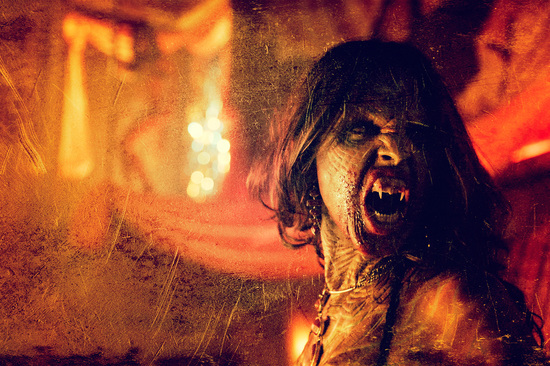 From The Walking Dead to undead, Greg Nicotero is sinking his teeth back into the vampire world after living amongst the zombie horde. Though the makeup effects rockstar isn't leaving his job on AMC's megahit - which includes serving as co-executive producer and sometimes director -- he is crafting the look of bloodsuckers on a raw meat diet in From Dusk Till Dawn: The Series, the show on Robert Rodriguez's El Rey Network.
Airing Tuesdays at 9 p.m., Nicotero serves as makeup effects supervisor on the show that re-imagines and extends the 1996 Rodriguez-directed, Quentin Tarantino-scripted cult horror. The job is a return to roots for the industry veteran who worked on the original film and where he became best friends with the director. And last night, Nicotero joined Rodriguez side-by-side as a second unit director on an episode where, he said, "all hell breaks loose."
That specific circle of hell should be pretty familiar to fans of the '96 film. After arriving at a vampire-run strip club, criminal siblings the Gecko Brothers run afoul of undead dancers. But instead of classic vamps from Transylvania, German Nosferatu or the sparkling variety from Forks, Wash., Nicotero and Rodriguez create a venomous serpentine breed with flip-out fangs and a wicked tongue.
Greg Nicotero joined me for the following conversation to talk about the installment and his friendship with Rodriguez.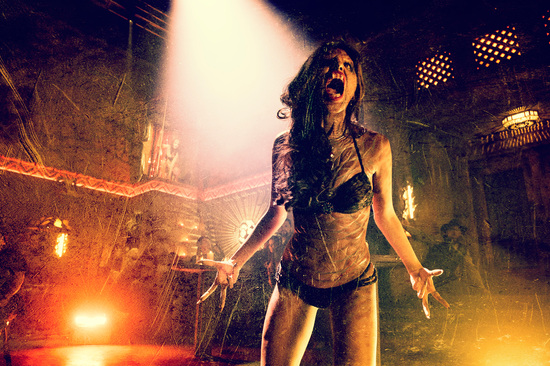 After dedicating so much time to zombies, is it odd to go back to vampires?
It actually was a bit of a welcome change. We've been doing zombies for four years, and I love that we're still doing it, but after seven months on The Walking Dead, it was fun to go do something a little bit different. Also, this was the first time I'd ever been involved with an adaptation of an original project I was involved with. Having done the effects on the original and, 19 years later, having the opportunity to do the effects and re-imagine the vampires we created so many years ago, I was really excited about it.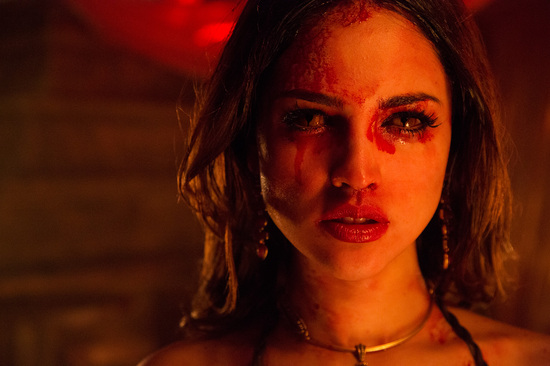 The series vampires are now snakelike. Was this alteration something you talked about in 1996?
When Robert was involved with the movie, he had begun to interject some of that Aztec/Mayan mythology. You see the Mayan temple in the last shot of the movie and in some of the Santanico stuff [a character originally portrayed by Salma Hayek, now played by Eiza Gonzalez, shown here]. Robert had the opportunity to start peppering those things into the movie, but really didn't get a chance to do as much as he wanted to. Having the chance to go back and lay down that groundwork was exciting for him.
Are there effects you're doing now you couldn't achieve back then?
From a prosthetic standpoint, we've certainly improved our craft in the last two decades. The opportunity to augment that stuff with visual effects: to be able to see Carlos' character [Wilmer Valderrama] fangs swing down into place; when they bite someone and see the venom pumped under the skin and the veins pulsating. Those were things we couldn't have done in 1995 without an elaborate Scanners-like Dick Smith makeup.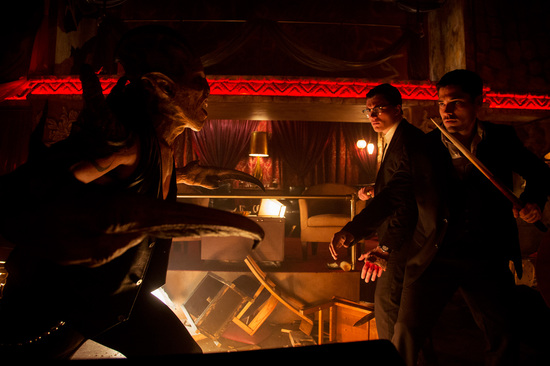 What was the experience on set for the second unit direction?
We shot three days of second unit where I went in and shot all the gags. Just like when we did the original movie, Robert said, "Dude, you know what I want, just have a good time." So it was three days of shooting gags we had planned and other stuff where it was, "Oh, what if we ripped this guy's face off or tore this guy's head off?" We really had a lot of fun. It was a very freeform opportunity.
Does Dusk allow you to be less restrained than with The Walking Dead, which is more serious in tone?
It certainly gives you a lot more latitude to be a bit more broad, in terms of the subject matter. We did some pretty outrageous things on From Dusk Till Dawn that wouldn't fit in the world of The Walking Dead. As ridiculous as it sounds, the stuff we do on The Walking Dead is grounded to the reality of the show. On From Dusk Till Dawn, once the doors of the strip club are locked, you can really do whatever you want.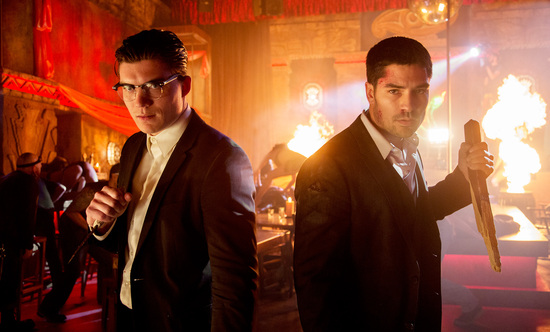 Will you be doing more directing for Dusk?
If the schedule works out, I would love to. I love working with Robert. He's my best friend, he's my brother, he's an amazing artist and he inspires me. You go to Robert's house and we're having meetings about the vampires, and while we're talking, he's cooking and making ravioli and pizza. We're talking about Frank Frazetta and Frank Miller and Bernie Wrightson. We're talking about the vampire makeup and the gags we want to do. And it was still fascinating for me to watch a guy like that and to see how much passion he has.
From a professional standpoint, how have you and Robert changed over the last 19 years since the original film?
We created this friendship on set during the shoot of From Dusk Till Dawn and what's fun about our friendship is a lot of times when we're together, we talk about stuff we love. He picks my brain about things and I pick his brain about things. I was supposed to direct an episode of Dusk but got a pilot greenlit through AMC I'm executive producing with Ridley Scott. I had to call Robert and tell him I had to respectfully pass but would still direct second unit and wanted to come down and be a part of the show. His response was, "Man, come on, we're busy creating our empires; I'm proud of you." He's so supportive of everything I do.