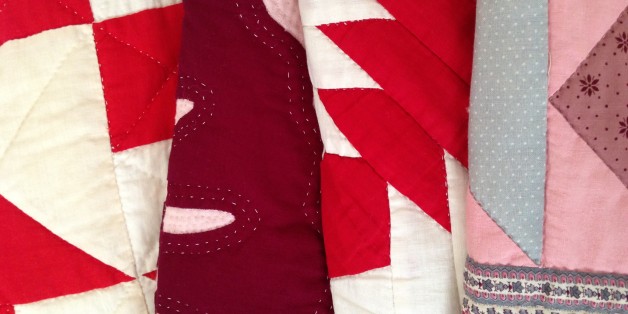 My mom is a quilter. Growing up I would play with my trucks and toys under a big quilting frame as a group of mothers stitched and shared stories. This community of moms talked about their hopes and dreams and the issues that mattered to their families like schools, health, safety, the economy, politics around the neighborhood and around the globe, and the pressures that their kids faced every day. As I grew older, I realized that these moms weren't talking for the sake of talking or to help the time pass by more quickly. They knew that by coming together and raising their voices, they could make a real difference -- and they did. Around the world, moms are a driving force for change and the glue that holds families and communities together. Mom power is as unique in every community as it is universal. And it's essential to solving global problems, like reducing the number of women who die from childbirth complications and ending the millions of preventable child deaths. I'm fortunate to work every day with mothers who are advocates, fundraisers, educators and activists for families across the globe. They're bringing their ideas, enthusiasm and experience to the table to help us expand access to life-saving vaccines, educate and support girls, and deliver health information to expectant and new moms. Starting tomorrow, we're joining
Johnson & Johnson
,
Baby Center
,
The Huffington Post
and an important group of partners to take our work together to the next level through the
Global Moms Relay
. Our theory of change is simple: To make progress on global problems, we must engage and empower moms. From March 7, the day before International Women's Day, and through Mothers' Day, moms and other community leaders will share online stories of motherhood to inspire action to help improve the lives of mothers and children everywhere. All of us have stories of how moms have impacted us, and all of us can get involved to pay it forward for moms worldwide.
Every time you share a Global Moms Relay post
with your social networks, Johnson & Johnson will donate $1 to one of three global initiatives, which support the United Nations Secretary-General's
Every Woman Every Child
movement:
The Mobile Alliance for Maternal Action (MAMA), which uses mobile phones to deliver vital health messages to new and expectant mothers;
Shot@Life, a campaign to protect children worldwide by expanding access to vaccines; and
Girl Up, which raises awareness and funds for UN programs that help some of the world's hardest-to-reach adolescent girls.
The Global Moms Relay is a key part of the Global Moms Challenge, a community focused on health and happiness for moms and babies everywhere. To me, the
Global Moms Relay
is a digital version of the quilt-making I grew up around. Mothers will come together to create a quilt of inspirational stories and a powerful community of change-makers committed to supporting moms around the world. Join us at
globalmomschallenge.org
.
###
Aaron Sherinian is the Vice President of Communications and Public Relations for the United Nations Foundation and a co-chair of the Global Moms Relay.
You share, they give: each time you 'like' or share this post via the social media icons on this post, Johnson & Johnson will donate $1 (per action) to help improve the health and wellbeing of moms and kids worldwide through MAMA, Shot@Life, and Girl Up. You can also Donate A Photo* and Johnson & Johnson will donate $1 when you upload a photo for Girl Up or Shot@Life--collectively you can help raise up to $250,000 in seconds with the click of your mouse or snap of your smart phone. Share this post with the hashtag #GlobalMoms, and visit GlobalMomsRelay.org to learn more.
The United Nations Foundation, Johnson & Johnson, BabyCenter and The Huffington Post created the Global Moms Relay with a goal of improving the lives of women and children around the globe.
* via the Donate A Photo app for iOS and Android. Johnson & Johnson has curated a list of trusted causes, and you can donate a photo to one cause, once a day. Each cause will appear in the app until it reaches its goal, or the donation period ends. If the goal isn't reached, the cause will still get a minimum donation.