Abbie Weinberg was inspired by art at a very early age by her mother, who also was a sculptor. She attended Goddard College and Evergreen State. After an exciting career as a jockey, she has concentrated on developing her studio arts practice. She recently was awarded honorable mention at Clay Arts Vegas, NV and has successfully participated in Topanga Canyon Gallery Artist Studio Tour, CA. Her present sculptural work consists of ceramic studies of life's mysterious reign.
Life is mysterious at times. The door or stairway leading to nowhere, abandoned civilizations left in ruins, piles of bones with no story to tell... The ambiance, sense, and phenomena of this mystery is what I am attempting to capture. Also, I am striving to connect with this mystery, to discover and reveal what transpires within the medium of clay.
Somehow it is within the nature of the material I use that yields and inspires this type of work. I approach the clay as a sculptor or a carver would -- by applying the elimination process. This enables me to explore what is happening and to make quick decisions. The clay body is also simple to repair and quite forgiving.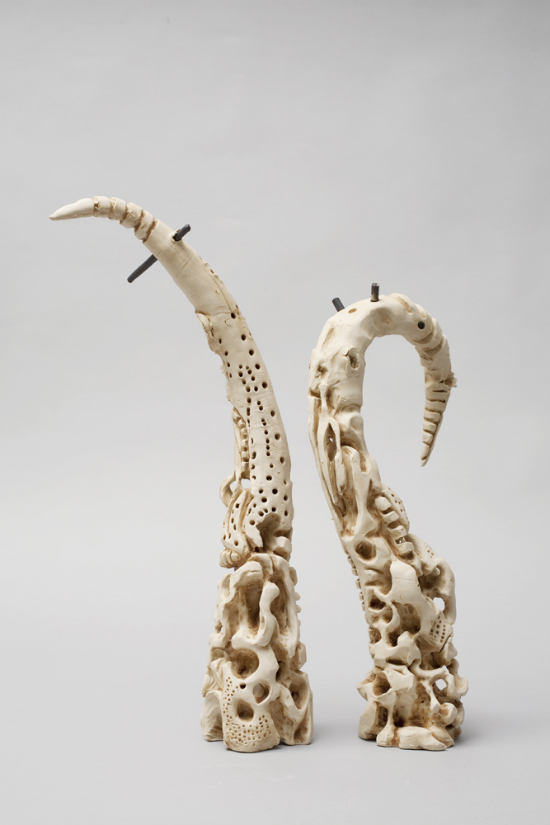 "Tusks," ceramic sculpture, 2013.
Are you 50 or older? Want to submit your own art or photography for consideration? Send us your work at 50arts@huffingtonpost.com. See here for more details.