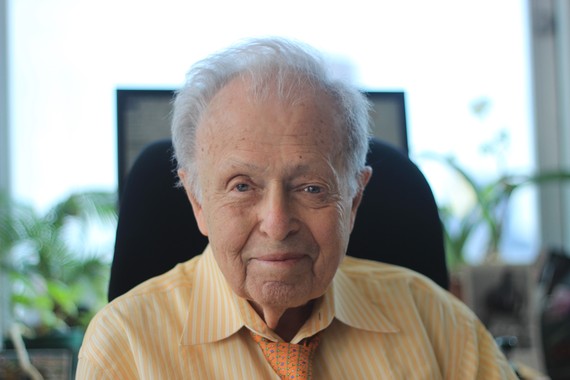 I grabbed my notepad and documents and headed over to the corner office as I always did around 11:30 AM. I forgot my pen, as I always seemed to, and snatched one up by the copiers and continued on my way to the office. Most corner offices on Park Avenue are luxurious and filled with overpriced collectibles -- but not this one.
Plants were lined up along every window panel, signs of a man who mindlessly disregarded the concept of a New York City office view. There were no lavish antiques nor pricey keepsakes lined up on his bookshelves. His Harvard Law diploma was not hung on any wall or in plain sight. I once found it, face down, buried under the sea of redwelds carpeting his floor. His shelves were filled with priceless cards from clients and colleagues thanking him for his work, images of his clients' accomplishments, and assortments of handmade objects given to him as gifts -- many from clients who did not have the means to otherwise pay for legal services. And, hung just to his right, a portrait of Clarence Darrow, his role model.
I knocked on the door as I usually did and walked into the office, "Good Morning Mr. Beldock, I have the digest completed. Do you have time to talk about it right now?"
"Abdul, wait. No work right now... no work. I wrote a song about my hemangioma, just sit down and listen." I smiled and took a seat in front of him. I listened to the song, an amusing tune he wrote to help him cope with his eye tumor. Composing poetry and songs was just second nature to him. He was always singing some type of tune, usually a standard from the American songbook.
Myron Beldock is no stranger to New York. He was born and raised in Brooklyn, the son of former Kings County District Attorney and Chief Appellate Judge, George Beldock. After graduating from Hamilton College, he was drafted and served in France during WWII. Soon after, he attended Harvard Law School to pursue his law degree.
Following his time as an Assistant United States Attorney for the Eastern District of New York, he started his private practice. His clients were not big corporations or famous entertainers; they were people who were wronged. They were individuals who suffered from the systemic racial injustices that still continue to cripple American society. One of his primary objectives that he wanted to accomplish through his work was to "rectify injustices and improve the criminal justice system." (The New York Times)
He worked on one wrongful conviction after another, continuously proving to the court and the public that his clients were wrongfully convicted. Some of his well-known clients include Rubin "Hurricane" Carter, Yussef Salaam of The Central Park 5, George Whitmore, Darryl King and Everton Wagstaffe to name a few. Although many of his other clients did not receive the same notoriety, Mr. Beldock fought for them with the same vigor.
While these men were locked in prison for crimes they did not commit, and the whole world stood against them, Myron Beldock fought for the truth. He was a voice for those who were silenced and a champion against inequality.
Last week, our firm got together to remember the man who impacted us all so much, but, more importantly, to remember his legacy. He believed in people when no other attorney would take their case, and did not stop fighting until the wrong was righted. He was known to go knocking on doors, searching for witnesses who could expose the truth. He was relentless with his work, working day and night, because he believed in his clients and wanted everybody to believe in them.
Recently, I spoke to one of his clients, who is wrongfully imprisoned and never had the opportunity to meet Mr. Beldock. He said "He believed in me when no one else would. Myron was like the father I never had."
On February 1, 2016, Myron Beldock, a founding partner of one of the most prominent boutique firms in N.Y.C., passed away. He was considered a legend in the field of civil rights law and was a respected attorney among his colleagues and adversaries.
On the day of his passing, the U.S. Court of Appeals for the Second Circuit ruled in his favor, overturning a district court decision in Victory v. Pataki. His legal work and legacy will carry on. As Jim Dwyer stated in his column in the New York Times:
Myron Beldock...had an important hand in cases that helped define the landscape of 20th-Century law, and in others that merely righted the grievous wrongs done to unknown people.
Although Mr. Beldock is gone, his firm, his partners, his associates and friends will carry on his legacy. He has trained a generation of attorneys who shared his beliefs. A group who understands that the system is not perfect but will fight to reform it and continue to stand for those who have been victimized by it.
Myron Beldock was not simply my boss, a friend, or a role model. He was a beacon of hope and a shining light in my life, and in the life of many others. I want everybody to remember and know the extraordinary Myron Beldock: a poet, musician, lover of the arts, singer-songwriter, jazz drummer, attorney, civil rights legend, a friend to all and a defender of the wronged.
I now realize that the way he looked up to Clarence Darrow is the same way I look up to him -- he has become my Clarence Darrow. However, unlike Mr. Beldock, I had the privilege of working with my role model.
One day, when I have my own office, I know whose photo will be framed on my wall -- just to my right.