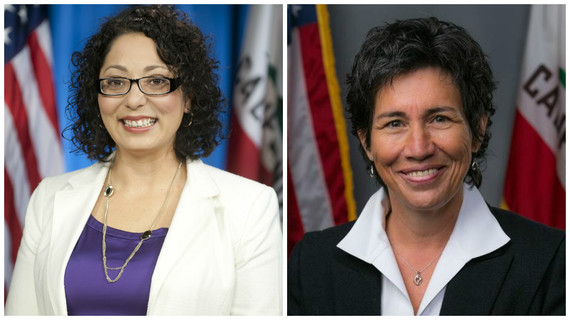 The Brock Turner fallout continued today seeping into the Twitterverse. It looks like Change.org, the petition organizers who have called for the impeachment of Judge Persky who gave Turner a slap on the wrist for rape, have had enough. Publicist Sharika Soal and activist Maria Ruiz are calling out State Assembly woman and vice-chair of the Legislative Women's Caucus, Cristina Garcia and Susan Eggman, for not following through on a promise to do everything in their power to have Judge Aaron Persky impeached.
Monday the women took to Twitter and unleashed a set of stern tweets directed at media and the two California assembly members. The activists called them liars and reminded them of their promises made to them and the 1.3 million people who have now signed their petition.

Soal tweeted, "She lied to us, and Change.org and she continues to ignore 1.3 million people." She then added, "Susan Eggman also promised us and she has failed to do anything at all."
Maria Ruiz, the original creator of the now infamous Change.org petiton to Impeach Judge Aaron Persky, chimed in alongside her frustrated partner and agreed that she too felt deceived by Garcia and Eggman.
Ruiz tweeted "@AsmGarcia how long will you keep 1.3 million people waiting. We deserve a response. #impeachpersky #solidarity4survivors". She asked, "@asmgarcia and @AsmSusanEggman do I have to chain myself to the door of your office with boxes of signatures to get your attention???" to which Soal replied, "Actually that's exactly what we are going to do in a couple weeks".
Judge Aaron Persky's job came under fire when he sentenced the then 20-year-old Brock Turner to just six months in jail after he was found guilty of raping an unconscious woman behind a dumpster. Turner served just three months of his six-month sentence. He was released September 2, 2016.
According to Courthouse News. Christina Garcia and Susan Eggman told the media: "Rape is a cancer that impacts the lives of survivors daily and for a lifetime. It is disappointing; the judicial process put this victim on trial and the judge has reduced his sentence to no more than an inconvenience." The assembly women said they will "exhaust other measures" if Persky does not step down from the bench.
Passion is good in politics.