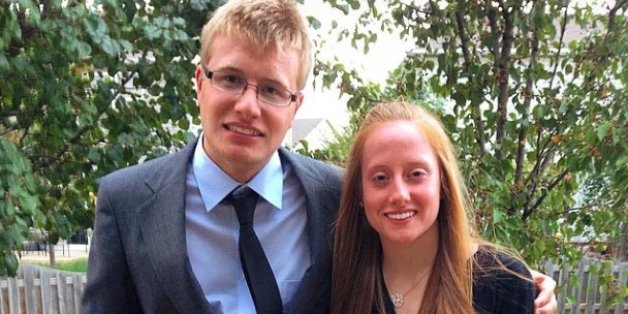 Abby: "Will you be my date for homecoming?" A simple question asked by thousands of teenagers around the country. A simple question that often leads to anxiety and fear of rejection. However when one of my best friends, Mitch, asked me to go to homecoming with him, I knew without a doubt I was going to say YES! And what a night we had, dancing and enjoying each other's company. But the best part for me was seeing Mitch in his element, introducing me to all of his peers and being so excited to share our friendship with all his friends.
While we only met a few months ago, we became best friends instantly. Mitch and I met at Special Olympics Indiana through a program that brings together students with and without intellectual disabilities to play sports together, become leaders together and engage other students in social inclusion in our schools. We do all of these activities in an inclusive environment and that allows everyone to shine in their own way. Mitch and I do a great job balancing out each other's strengths and weaknesses. I am naturally shy when it comes to meeting new people; however, Mitch has never met a stranger and constantly brings me out of my comfort zone to meet new people. We tease each other and find so much joy getting the opportunity to compete on the same playing field with and against each other in Unified Track. His is my biggest supporter and pushes me to achieve my personal best in athletics and beyond. Mitch's enthusiasm and zest for life is contagious and he can brighten a room with just one smile.
Our friendship looks past each other's differences and disabilities and is based off of our mutual love of sports and our competitive nature. I can honestly say Mitch is one of the closest friends I have ever had, but Mitch is not my "friend with an intellectual disability," he's just my friend. We talk to and support each other just like any other friend would do. Mitch is always giving me "Good Luck" texts on the day of my varsity basketball games, and frequently calls me to talk about how our week has been. I can always count on Mitch to be there for me and to cheer me on. I'm very lucky to have had the chance to meet such an inspiring person who has affected my life so deeply.
Mitch: Getting the opportunity to have my closest friend accompany me to my homecoming was an amazing experience. We had a blast dancing the night away and just being ourselves. It was the first time I attended a school dance with a general education student and it was such a great way to start my senior year. I felt like every other student in my school -- we were all just classmates celebrating our school, and I was celebrating with one of my best friends. I wished the night never ended; it was a night I will never forget!
The one thing I value most about my friendship with Abby is she sees me for who I really am, and doesn't see my disability. We share similar interests, especially in basketball, and we talk every day to see how each other is doing. We go to rival high schools, but I still come to her basketball games and cheer her on, even if she's playing my own high school. To have a friend that you can trust wholeheartedly and does not judge you is truly a special thing. I'm very happy I have gotten the chance to meet Abby; I know our friendship will continue to be strong for years to come. She is always the first to congratulate me on my successes and always listens to what I have to say. Contrary to what others may think, it is possible to be friends with someone that is different than you; all it takes is for you to take a chance and to put yourself out there.
Our friendship is a great representation of the endless possibilities that can come out of accepting and including everyone. We support each other, watch out for one another, and even pick each other up when we are not at our best. We challenge all young people to be inclusive and find meaningful friendships with your peers of all abilities; you might surprise yourself at how much you have in common.
Friendship really is the key to happiness.
This post is part of a series produced by The Huffington Post and Special Olympics in conjunction with National Bullying Prevention Month this October. To find out more about how Special Olympics is urging the world to #PlayUnified to stop bullying and support inclusion for all, please visit here. Read all posts in the series here.