By Janie Barrera, President and CEO of Accion Texas & Delta
As we look ahead to the rest of 2013, I'd like to share some reflections on small business and what it means to all of us.
For nearly 20 years, Accion Texas & Delta, a member of the Accion U.S. Network, has been helping entrepreneurs realize their dreams. And we do this for very compelling reasons, including the most important one: It's the right thing to do!
For starters, small business is the engine of the U.S. economy. We've heard variations of this statement for years. And it is TRUE! The economic impact of small businesses is profound: $11 trillion a year, according to the most recent figures available from the U.S. Small Business Administration. The SBA reports that 99.7 percent of ALL employer firms are small businesses. So the chances are good that you, your family and your friends work for small enterprises. There are almost 30 million small businesses in America and they employ nearly 57 million people. The vast majority of these firms employ five or fewer workers. In fact, the most recent SBA study reports that 78.5 percent of small businesses don't have any employees at all -- they are sole proprietors.
Secondly, self-employment is often the only way for men and women to provide for their families. But starting and sustaining a small business is hard work -- and there are often enormous obstacles that keep people from succeeding. Helping them get over the hurdles helps everybody along the way -- from your own family, to your neighbor's, to your town, your state, your country. In other words, helping small businesses to thrive is like a "chain reaction" that makes America's economic engine run smoothly and effectively.
I'm proud to say that Accion's mission is to help the most vulnerable people in our society who are striving for a better life. They need access to capital, education and a support system to realize their potential and increase their chances for success. We provide those things. And we take great pride -- and joy -- in the results, as we've seen with Victoria Rayas.
Victoria is an Accion Texas & Delta customer whose story was highlighted recently in the El Paso (Texas) Times. She received an Accion loan for $11,000 in May 2011 for her start-up business which provides personal-assistant, non-medical services to those disabled by age, disability, injury or illness. Rayas used the loan to pay for the license she needed, as well as marketing costs and office supplies. She also was able to hire one worker. One year later, Rayas had six people on her payroll and had expanded the services her business provides.
Since we opened our first office in San Antonio with three employees in 1994, we have helped thousands of people like Rayas achieve the financial stability and growth they so richly deserve as a result of their vision and hard work. We've made more than 13,000 loans totaling $140 million. And we've grown to include lending in eight states -- enabling us to reach more and more people with each passing year.
We have worked with every kind of business imaginable, from mom-and-pop restaurants and corner stores to clothing boutiques and flower shops -- and everything in between! These are the businesses that are part of our daily lives. We often take it for granted that they are there, waiting to serve us and provide us with the products and services we need. But most would not be there without a helping hand and many would have given up without resources. Every small business owner started with a vision and had to find ways to achieve it.
Organizations like ours have made a real difference at the most local level AND in terms of a meaningful and measurable national impact. It's a mission the Accion team embraces each day. What we do is rewarding beyond words. And knowing we are helping at the grassroots level in the communities we serve is a blessing and an honor. We celebrate the awesome power of small business owners everywhere!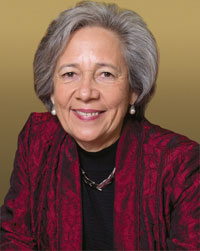 Janie Barrera, the founding CEO of Accion Texas & Delta, is a member of President Obama's Advisory Council on Financial Capability and is a member of the board of directors for the Federal Reserve of Dallas' San Antonio Branch.