One morning, I rose for an early appointment to visit Eric, a smallholder farmer harvesting his first crop of Jasmine through our pilot program. It was a special day for Copa Connect, marking the pilot program's very first purchase of paddy rice from a smallholder producer.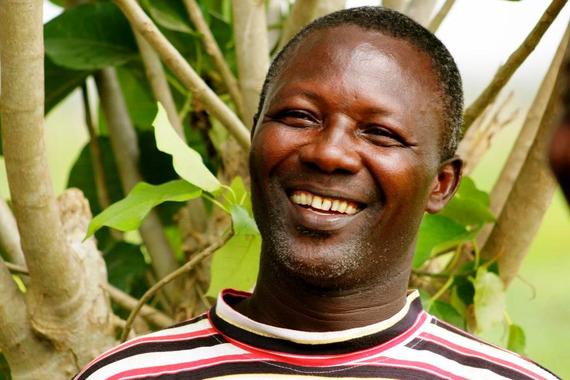 Eric's face beamed with pride as he greeted us. Behind him were sacks of premium-grade paddy, neatly packed and standing in orderly rows as if quietly awaiting our arrival. "I've never seen anything like it," marveled Eric, his voice quavering. "I've been growing rice for almost twenty years, but this is the first time I've harvested this many sacks of paddy."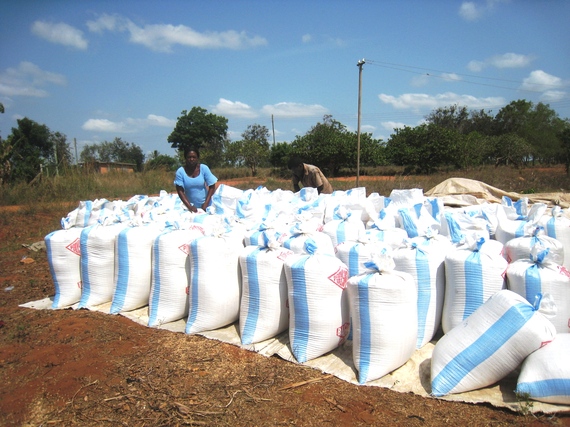 Eric had achieved the full six ton yield in his first growing season. Before enlisting in the Copa Connect pilot, Eric had been growing an inferior rice variety -- the only kind available to small farmers in the area. Eric's farm had been producing only about three tons per hectare. He found himself with so little money left over after expenses that he could barely pay off his debts. His family lived hand to mouth, and never had enough money for his kids' education. "Now," Eric exclaims, "we can finally build a life for ourselves!"
To double his yield immediately after switching to jasmine was a stunning achievement.
By dramatically improving his output, both quantitatively and qualitatively, Eric had basically doubled his revenue from the previous harvest. Better yet, his net proceeds were a full four times what he had typically earned.

When we handed Eric the money he earned, his face broke into smiles. "This is so amazing! I've never seen so much cash in one place in my life." Eric continued to grasp the roll of money in both hands, as if feeling its heft over and over.
Courage, Conviction, Effort
It took courage to change the way Eric had been farming for 20 years. When a rice farmer switches to a new variety, seeds from the old rice will usually keep germinating for another two or three seasons. To produce 100 percent premium rice fit for Ghana's end-consumer market, Eric needed to weed out all the unwanted seedlings. We explained GADCO's quality standards to him at length and warned him that GADCO could not purchase mixed-variety rice from him; any of the old rice plants that sprouted up while he was growing jasmine had to be culled. For a Ghanaian smallholder farmer accustomed to being rewarded for quantity, not quality, this required a courageous change in mindset. Other farmers in the neighborhood who dropped by out of curiosity would say, "What a waste!"
When Copa Connect first told him about this program, he was skeptical: "At first I wasn't sure whether to believe you, because other people have come here making all kinds of promises, and none of them have delivered. But you were different. The very next day after I agreed to participate, you brought me the premium jasmine rice seed you'd promised. That's when I decided I could trust your word." Eric had the strength of his convictions. He believed he was doing the right thing in order to build a better future for himself and his family. And he was able to make that dream come true.

I believe that his success was the reward for his own courage and tireless effort. He plunged in unafraid of change, when everyone else had hung back. Moreover, he had stood by his decision to the end, ignoring the many naysayers around him.
The Journey Begins
Two weeks later, around the end of March, we were driving around the Volta region trying to get farmers to sign up for phase one of Copa Connect's commercial launch. Our goal for the first half of 2013 was to enlist 600 smallholders. We were beginning to hold workshops in each district for prospective participants in order to introduce the program. At one key meeting, we looked up to see Eric entering the room. He had come to share his experience.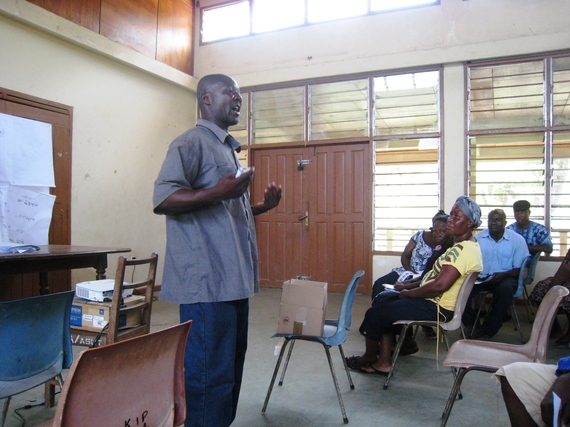 Eyes glowing with energy and self-confidence, Eric stood in front of a few dozen farmers and single-handedly turned the meeting into our liveliest and most productive session yet. The farmers hung on his every word. When he nodded, his audience nodded, too. When he laughed, chuckles rippled through the room. A farmer who had been sitting silently in the back of the room stood and began asking questions. And Eric answered each question with complete sincerity. I had the feeling I was witnessing the birth of a true leader.

This kind of personal transformation, though difficult to quantify, is surely the most important way in which a program like Copa Connect can hope to impact people's lives. When people like Eric realize their leadership potential, they not only transform their own lives but bring ongoing change to the entire community as role models for the people around them.
Photos courtesy of Junko Tashiro
Junko Tashiro traveled to Ghana to launch Copa Connect, a social venture aimed at integrating smallholder rice farmers into the value chain. Through Eric's story, Tashiro illustrates the power of courage, conviction, and effort. A longer version of this piece was orignally posted here.