It's the most wonderful time of the year. Not Thanksgiving or Christmas. It's football season. Starting last Sunday, the next Sunday without football isn't until February of 2015.
As I get ready for this season, both reality and fantasy, I think of statistics, trades, injuries and about what I am going to wear every Sunday. Whether I am at home on the couch, at my favorite sports bar or in the Superdome (where I will have a chance to see a couple of games), I like to wear team colors, but also look fashionable.
To give me advice, I turn to my BFF, Melanie Coburn. She is an inspiration in love and business (she and her husband run Cadre DC, a community of professionals), a true beauty (inside and out) and a former Redskins cheerleader. She knows about football, and about fashion.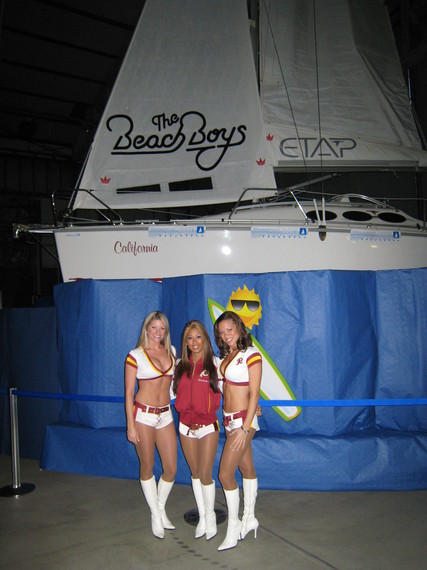 Photo Courtesy of Melanie Coburn
She tells me about how she got her start in cheerleading and football:
I grew up in Germantown, MD and went to Seneca Valley High School where I was a Cheerleader for our State Champion Football team from '93-'95 (where I found my love of football)! I then spent a year cheering on the Nittany Lions at Penn State University, but then transferred closer to home to the University of Maryland, College Park in '96. I was a Maryland Dancer from '96-'97 before making the Redskinettes (they didn't officially change the name to Washington Redskins Cheerleaders until 1999). I was a "First Lady of Football" from '97-'01 and then became the Marketing Director (until 2011, 10 years). Being a Maryland girl at heart, I do cheer for the Ravens whenever they aren't playing the Redskins -- including at the Super Bowl in New Orleans in February 2013 (my first ever Super Bowl)! Although I've moved on from the NFL, I'm still a big fan and continue to cheer on the Skins! "Once a Redskins Cheerleader, always a Redskins Cheerleader!" I even named my Fantasy Football team, "First Lady of Football"!
And then we talk about outfits. Here are her recommendations. Keep in mind everything is Redskins-themed given these are Melanie's recommendations -- my team colors are, well, different...

Watching the game(s) at home: the goal is to be comfortable, relaxed, but not in your pajamas. (For me, this is Thursday night and Monday night football). The perfect pair of yoga pants featuring your team colors paired with the perfect T-shirt (Alyssa Milano has a collection with lots of feminine pieces on NFL Shop online) and if your feet always get cold, don't forget these socks.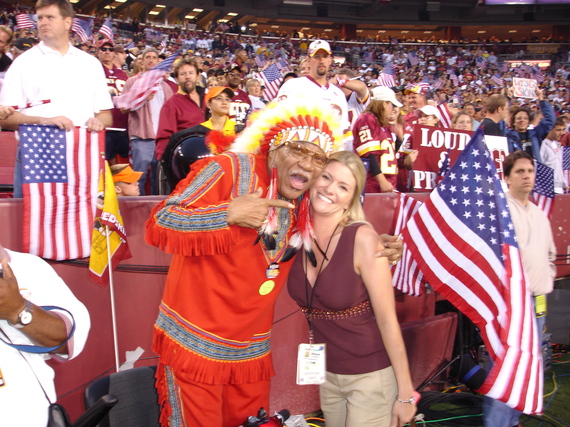 Melanie and Chief Zee Courtesy of Melanie Coburn

Watching the game(s) at your favorite sports bar: the goal is to have a "going out style," and you don't have to worry about the weather since this is indoors. For me, this is most of my Sundays, and although for particularly important games I have my "lucky outfit" I will otherwise follow this advice: Build your outfit around a quarter length sleeve Junk Food Tee (quarter length sleeves are always elegant) and pair with your favorite pair of boot-cut jeans and these wedges.

Early season or warmer weather tailgating: be comfortable, and never leave the house without your favorite sunscreen. You could also pair this casual outfit with shoes that work well on grass and always look polished, like the must have Lillybee U flats.

Watching a live game, assuming winter weather and an outdoor stadium (My dream is to watch a game at Foxborough while it snows and have the Patriots win; my outfit is all planned!) This jacket will keep you warm, as will these boots, which are comfortable enough to stand in for a few hours.
A personalized jersey is fun for the Club Level during the half-time & fifth quarter parties.

Let the games begin!