At the Women's Wear Daily CEO Summit last month I have the pleasure of hearing beauty entrepreneurs and leaders, and the delightful surprise of meeting Laure Dubreuil, CEO and Founding Partner of The Webster Miami. She is an entrepreneur, beautiful, French, and incredibly fashionable. I could not help but pick her brains about her background, how she got into fashion, and the latest items I need to put on my wishlist.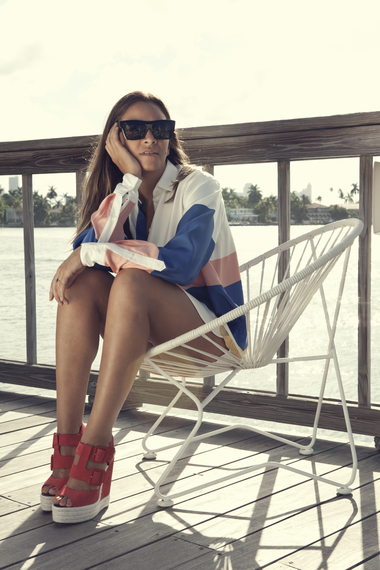 Laure Dubreuil (courtesy of Laure Dubreuil)
How did you get started in fashion?
"I studied at FIT and was working for Nicolas Ghesquiere at BALENCIAGA, followed by YSL where I was Merchandiser."
What do you see are the key differences between French and American women?
"I think French women love to be "under-stated," they look like they don't wear make-up and hardly brush their hair, they don't diet and never go to the gym. On the other end, American women are very groomed, perfect hair, nails and teeth with great attention to their bodies. It is not good not to workout several times a week in the US...."
How do you pick the assortment for The Webster?
"I choose everything myself and I pay particular attention in picking timeless pieces. All of The Webster's assortment is fashionable of course but it doesn't get out of trend after a season... I buy with Miami in mind of course, meaning the warm weather and the more colorful styles, but I mainly buy for people coming from everywhere in the world and traveling very frequently."
What are the three pieces in your own closet that you like the most and why?
"Hermes royal blue Birkin bag my Fiancé gave me for my 35th birthday, my extremely worn-out Balenciaga perfecto Ieather jacket that is like a 2nd skin for me, and Eres lingerie which makes me so powerful and beautiful."
You have two boutiques - what is next?
"A Bal Harbour men store this summer and more openings in the US to follow..."
Tell me about the special partnerships / exclusive collections you work on.
"All of my exclusive collaborations are very organic. Recently I have had the pleasure to work with SUNO on developing a capsule collection together, as well as Calvin Klein and Olympia le Tan... All brands and designers I have become friends with..."
What is the big trend in fashion you are seeing now?
"It's all about fringes on hand-bags, shoes, jewelry and RTW!!! But also Pochettes and clutches are replacing large everyday hand-bags + running sneakers, pony tail hair and statement earrings are in."
How is Miami fashion different from the rest of the US?
"The weather as well as its location influence Miami fashion. It is a tropical weather so more colors and light fabrics but it is also the gateway to South America and Latin America and women are very feminine, there's a focus more on high-heels and cocktails dresses...."
Resortwear recommendations - for men and for women.
"Lem Lem, Yvonne S and Alaia dresses, ERES swimwear, Jewelry by Aurelie Bidermann - for men I love Dries Van Noten, AMI, Lanvin and Valentino."
Resortwear don'ts?
"No unnatural fabrics - it does not age well and make your body heat faster... I always choose breathable, natural fabrics."
Your favorite fashion quote?
"The most beautiful clothes that can dress a woman are the arms of the man she loves" by Yves Saint Laurent.
The best 5 pieces of fashion advice you can give.
"One simple one - be YOURSELF, wear comfortable shoes, be daring and don't be afraid of colors."
The one fashion piece on your wish list for this summer.
"I just had a baby so a summer Bonpoint wardrobe... for my son!"
-Ada Polla is the CEO and Co-Founder of Alchimie Forever skincare.