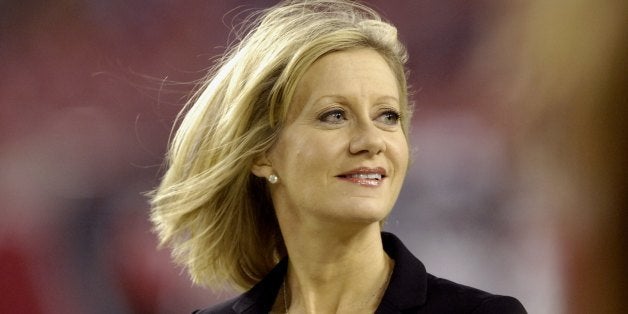 Meeting Andrea Kremer was on my bucket list. She is one of four sports figures that made it to my bucket list (the other three being Al Michaels, Tom Brady and Bill Belichick). And meet Andrea Kremer I did, a few years ago, all because of a blog I wrote on being thankful for football on Thanksgiving.
This week, I was lucky enough that work brought Andrea to DC, so we could meet, and chat about football (it's that time of year... her accurate prediction is that the Broncos will defeat my beloved Patriots), but also about fashion. Fashion on the football field, more specifically.
Perhaps you are still wondering who Andrea Kremer is. She is one of the most accomplished and widely respected journalists in the industry today. In 2011, she was named one of the 10 greatest female sportscasters of all time. TV Guide said Kremer is "among TV's best sports correspondents of either sex," and her work is "distinguished by her eagerness to calmly ask tough questions and her refusal to pursue the same old story." A two-time Emmy award winner, Kremer is currently the NFL Network's Chief Correspondent for Player Health and Safety. In her past life, and how I got to become a fan, she was a reporter for NBC sports. For five seasons, she was the sideline and feature reporter for the Emmy Award-winning Sunday Night Football on NBC.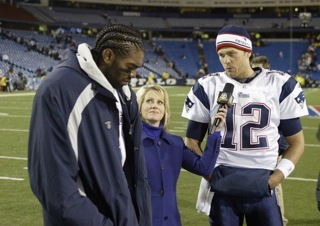 Andrea is very upfront about the importance of looks on TV: "As much as it's fun to talk about football, TV is still a visual medium, and you have to look a certain way in terms of being a sportscaster."
She reminisces about her first network job in 1989, which was ESPN.
Phil Jackson was hired as head coach of the Bulls. I was based in Chicago, and I go to the announcement of his hiring to interview him for Sports Center. It was 103 degrees in Chicago that day, and I had on a little red Ralph Lauren sleeveless dress. I have always had more muscular arms, but I am very petite. I remember busting by butt and getting the interview and putting this package together for Sports Center, and the feedback that I got was that "my guns were blazing." They didn't like that my arms were showing. And how about the work we just did -- hello?! Now, if you look at women in the studio, they are muscular, and constantly showing their arms. I believe that Michelle Obama had a lot to do with this. It is a lot more acceptable for any woman to dress that way today.
Her favorite perk of the job? The clothing budget -- and getting to keep all the clothes!
I have always been much more comfortable breaking down zone defense than picking clothes to be in front of the camera. And I was very spoiled by NBC. We had a very generous clothing budget, and even more importantly, I had access to Ariel Lawrence, my amazing professional stylist. I would go and meet her in NYC or wherever, she would pick everything out, they would come to my house, go to my closet, weed things out and style all of my outfits -- tops, pants, shoes, coats, accessories. She would photograph it and send it to the producer for approval. We always had to keep in mind that we could never wear the team colors... Stay away from blues and greens if the Giants and Eagles are playing!
Other tips about dressing for TV?
You never want to have anything that is distracting to the eye. No dangly earrings that are moving all around. You want people to focus on what you are saying -- and on nothing else. I remember one time my stylist picked out these two beautiful leather jackets. They were really expensive, they fit perfectly and they were gorgeous colors: ocean blue and deep violet; and they had lots of zippers. They were approved by the producers, so I wore one of them, with black pants. And my producer was like, 'Wow, look at that leather.' I got more tweets about that jacket from fans than anything I said on air. I mean, don't you have to pay attention to kickoff? I never wore it again -- I think it was too much about the distraction. People were staring at the jacket and not listening to what I was saying.
And remember I was only seen from the waste up. So I wore boots exclusively when on the field. Never heels. I was on my feet for five to six hours, so comfortable shoes were always key, and cold feet make me angry.

I also had to keep in mind the personal preferences of our iconic executive producer, Vic Eversol -- he had a hat phobia. So no matter how cold it was. there was no wearing hats. When it started to get cold, since I could never wear a hat, I would pick the brains of this one top NBC camera woman, who knows more about weather and how to layer and use heat packs than anyone I have ever met, so I learned a lot of the tricks of the trade from her.

One time when I was at ESPN, I was doing a Monday night pregame hit for the Dolphins and there was a hurricane warning, so they put sandbags on my feet so that I would not fly away. I remember that was one of the more fun shots I got to do -- when we came out of commercial and the camera panned up to me, they showed the sandbags!
NBC has the best hair and makeup person. She travels every week around the country For HBO now we also have a phenomenal hair and makeup person. I love it -- but I am a content person. I don't want to worry about what I look like -- I worry about what I put on the air. I do understand however that what I look like is really important to the message.
Did she ever have a wardrobe malfunction, I ask? "No, thank goodness!"
Does TV really add 10 pounds? "For me, TV added height, not weight. Most people who meet me have no idea how petite I am. Except sometimes if I am standing next to a player." (She is indeed tiny, at 5'2 and ᅡᄒ, and probably weighs under 100 lbs. Funnily enough, seeing her stand next to the players, I always thought "Wow, he is so big," and never "Wow, she is so small," -- until I met her in person that is!).