Last week I interviewed my friend Cecilia Singley on what it is like to be a model. My piece was picked up by Radar Online (the coach / couch typo is not my fault...) and I was amazed by the comments and responses from Radar's readers. Of course, Radar Online did a fabulous job sensationalizing my piece... interesting to see how things sound when taken out of context. Then, this past Saturday night something happened that I took as a sign from the Universe that my exploration of what it is to be a model is not yet finished... As my husband and I were sitting at the bar of one of our favorite spots, Rasika West End, having dinner, we start chatting to the couple next to us, also dining at the bar. And go figure, the gentleman is a professional model... As a complement to my interview of Cecilia, in her early 20s, just starting out, here is my interview of Jean-Philippe, in his late 40s, who has been a model for 15+ years.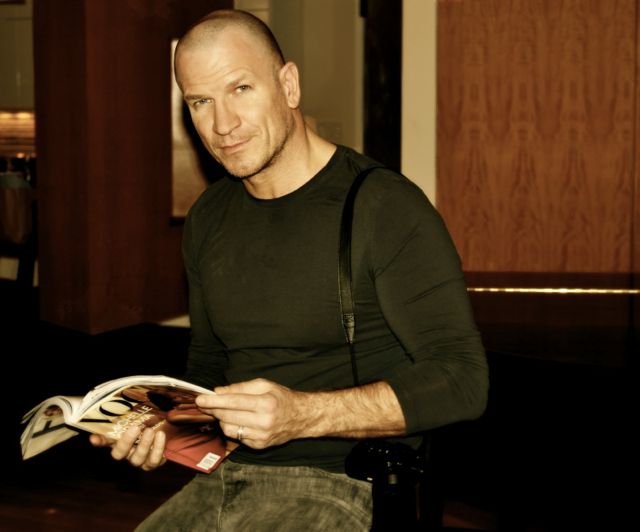 Photo by Sofia Glyamova
AP: How did you get started in modeling?
JPK: I was working as a mechanical worker in a factory in Lorraine, France. I started my apprenticeship there when I was 14, and after two years, they hired me full-time. I was working 3 shifts, it was challenging manual labor, everyone in the factory was looking for an escape through People Magazine and the like. After 10 years and 1 day at this factory, I couldn't take it anymore and decided to quit. I was not happy, I felt like I needed a change. I had since become a body builder, I was 240 pounds and was sporting long hair, doing some bodybuilding competitions, in Speedos (!!), with tanning oil and that whole thing... I met a girl who told me I should try modeling. I followed her advice and started mailing pictures of myself to modeling agencies. No one was interested. That's when I decided to leave my little village and go to Paris. I thought maybe if I could introduce myself in person, I would have more luck. Over the next 5 months, I was living in Paris, without a job, and realized that the agencies were not any more interested in me in person than they had been when I was mailing my photos. I was totally broke, I had to sell my car to get by, and I even spent one night on the street. I lost 60 pounds, cut my hair, and persisted. Then, I got my break: a small commercial agency named Beauties gave me a chance. I started working on small jobs, moved to a bigger agency, and one year after leaving Lorraine, I was on French TV for L'Oreal Elseve, and had gotten booked for Timberland.
AP: I think of modeling as a career that lasts a couple of years - but you have been doing it for many more years than that. How has your career evolved?
JPK: The modeling business has really changed a lot over the last 15 years, mostly because of technology, namely the emergence of digital cameras and Photoshop. Back then, photoshoots took a week, involved longer travel, and were more fun. Today, photoshoots have to get done in a day, there is less travel... Back then, being a male model was kind of an underground profession... today everyone is a model, an actor, a singer... Having been a model for so long, I have had the opportunity to travel the world, and also learn so much about myself. I did do the "model house" thing, and shared living space with other models, which was a completely unique learning experience.
AP: Which market has been the most successful for you?
JPK: The thing with modeling is that every market is different. You can be a top model, let's say, in Greece, and not at all right for the German market for example. I am lucky in the sense that I have a classic look, so most markets were ok, I kind of fall in the middle of the game.
AP: You started modeling in Paris; how and why did you end up in New York City?
JPK: I loved my years in Paris, but I always felt that something was missing. Since I was young, because of TV and movies, I had always been fascinated by New York City, it was magical to me, I had been dreaming about it for a long time. Just like one day I just quit my factory job, one day I just booked a flight to New York City. I am impulsive I guess... I was already 37 years old... I landed in JFK airport with no agency contacts, no apartment, really with nothing other than my dreams, my energy, and my photo book. I once again did some little jobs to survive (like so many of us do in between contracts), then I found a commercial agency to get me a work visa and start booking me. New York City is perhaps the most competitive city (in modeling and in anything really), and nobody is waiting for you... Little by little, once again, I built my business, in TV (for Wall Street), got some magazine covers, and now at age of 49 I am still on TV for The New York Times, and I am the face for Thompson Reuters in the US. I can't complain...
AP: Do you do runway modeling or only photography modeling?
JPK: About twenty years ago, I did some runway modeling for Christian Dior and Hugo Boss. Overall, though, my market is more catalogs and TV advertising.
AP: What is the modeling lifestyle like? What do you like best? What don't you like at all?
JPK: Overall, the lifestyle used to be a lot more fun fifteen, twenty years ago. There was so much travel involved, but I got the change to stay in amazing places for up to a week for a photoshoot. Today, again, because of digital photography, there is much less travel, there is also less money. I like the lifestyle, obviously, or I would not have continued to model - but I did always feel a bit guilty about not creating anything. I don't make anything... which is also why I started doing some photography.
AP: Do you think, and if so how, that modeling is different for a man than for a woman?
JPK: Absolutely! It is like two different worlds, like night and day really. There are so many more opportunities for women, with products such as fragrance, lingerie catalogs, makeup, hair, runway shows, and more. In general, female models will end up making twenty times more than male models... but a male model can model until he is in his seventies, whereas for women, the game is typically over in their late twenties.
AP: Do you expect to be modeling until your seventies?
JPK: Six years ago, I started to do photography. I love being on the other side of the lens. I do a lot of commercial model photography. I like helping the young models get their start, and because I have been a model myself for so many years, it helps me understand how to photograph people to get them booked. I also do more artistic photography... but I will continue to model as long as I can get work!