I love to read. I love to read more because I love my book club. And I love my book club more because Karin Tanabe is in it. She is an author; she actually was introduced to book club because she is an author, and came to present her first book The List during one of our meetings. She was so fun, friendly and fabulous that we asked her to join as a reader.
Last week, she played both parts in our book club. Reader and writer. She talked about her just released second book, The Price of Inheritance. Set as it is (for the most part) in Newport, Rhode Island, our evening involved champagne and crabs (as she said, "the right kind of crabs").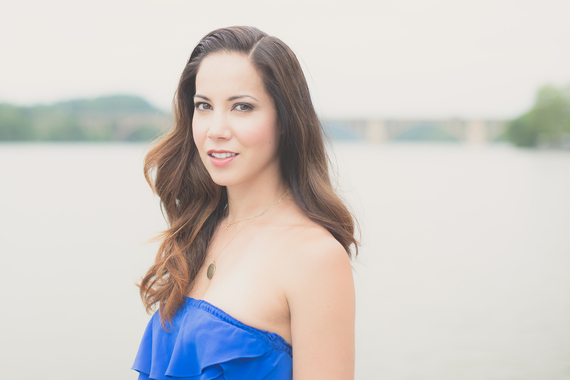 Karin Tanabe (courtesy of Lauren Roche-Garland)
What fascinates me most about both of her books is the fashion and style that comes through, mostly because she is so good at describing her characters' wardrobes. So I had to ask her how about how she creates her characters' distinctive styles.
AP: Tell me about Jane Dalby- she is the first character in your book that resonated with me from a style and fashion perspective. She is very, very rich, very barefoot, very classy. She wears crewneck cashmere sweaters, 3 gold bangles, an 8 carat engagement ring from her grandma and a wedding band; she wears white jeans even though it is winter, and likes to be barefoot. She has great hair, dark with blonde highlights - Jackie Kennedy hair. Just a little makeup: mascara and blush.
KT: Some pieces of clothing stand out to me. Some colors stand out to me. In the case of this book, green was the theme color for the Dalbys. Green conveys envy and money. The Dalbys wore a lot of green - green cashmere, specifically. That color represents a lot in my book - one more reason I wore that dress in my book reading.
AP: Cashmere...
KT: Yes... the book takes place in a resort town in winter. The people who live there are so rich, so old money, they are actually casually rich and very understated. Plus, I love cashmere. I wear it religiously. This theme of understated old money is also why they only have sailboats don't have yachts. Sailboat clothes are very old money. Like Audrey Hepburn in Sabrina... Mega-yachts are such a nouveau riche concept. I thought a lot about sailboat clothes: white jeans, navy blue jackets, cashmere, three gold bangles that Jane wears all the time.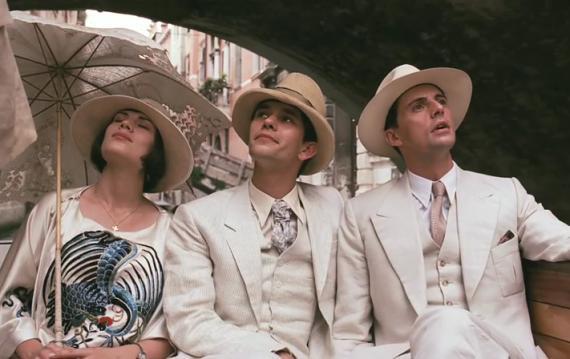 Brideshead Revisited
AP: I loved those recurring gold bangles and the sound they make. Tell me more.
KT: It's an old money thing to have a signature piece - not a new thing every season, not the latest and perceived greatest, but the same amazing thing that you always wear. Like Jane's 3 bangles.
AP: Jane is always barefoot in winter.... Isn't that cold?
KT: There is something nice about being barefoot in huge mansions; it indicates a certain level of comfort, which we wouldn't find in nouveau riche. So comfortable, not trying to impress. Of course, the assumption is that Jane has perfect toes, probably dark red since it is wintertime.
AP: OK, let's switch to Carolyn. She is the main character, one of my favorite passages in the book is when she has a monologue in her head about the various outfits in her wardrobe - beige, St. John, Coco Chanel, backless, depending on the customer she is meeting with.
KT: Carolyn (this is Carolyn in NYC) is a huge pleaser. She has grown up around all this money and wants to be at the top of her game. She dresses more for other people rather than for herself (quite the opposite to the Dalby sisters). She is trying to keep up with the Joneses, both professionally and in her private life. She will wear what she things will advance her professionally. Her makeup jewelry and shoes are very, very done. She wears quite a bit of makeup. Her accessories are Chanel flats and Louboutin heels. Things that are very outwardly expensive because it matters to her and her clients.
AP: Yes, but then she moves back to Rhode Island for a bit...
KT: Carolyn in Rhode Island is Carolyn without the will to live - which she has lost... She also puts on a couple pounds... Once her career is shot her clothes are shot too. Her everyday outfit becomes firemen's' sweaters, old jeans and riding boots.
AP: So what about your style? How would you describe how you dress?
KT: I love signature pieces. I think they are so interesting. Donna Tartt was on Vanity Fair's best dressed because she always wears men's clothing - always men's suits. I have always liked that idea. I don't yet know what my signature fashion style or item is. I like global things. I like to dress like a world traveler - think Gucci meets National Geographic...
AP: What is your favorite item in your closet?
KT: A classic YSL evening tuxedo. I bought it because I was invited to a party in a palace in Monaco during the Gran Prix and I had 2 hours notice and ran into town. I wore it with no shirt underneath - no shirt, yet lots of jewelry. That was a fun night!
AP: What about the fashion item you most want, that you do not have?
KT: I want something by Delvaux; it is a Belgian brand like Hermes but less people know of it. Specifically, I want Le Tempete in black crocodile. Like the Hermes Kelly bag but more undercover. I also want a "vavavoum" evening gown. Gucci or Marchesa, very low cut, with lots of silver sequins. I will buy this dress for myself when somebody buys film rights for either of my books!
AP: So who inspires your style?
KT: I am a big pants person, I love sporty American classic clothing like what Katherine Hepburn wears. I also love Cate Blanchet, she dresses in a way that is very elegant and age appropriate.
AP: What is your favorite fashion movie?
KT: That's easy - The Talented Mr. Ripley - the clothes are too good to not watch...
AP: Any favorite fictional characters in books whose style you look up to?
KT: Yes! Marjorie Morningstar by Herman Wouk is the ultimate story of a normal girl who wants to be an actress in NY; she reinvents herself and her wardrobe and changes her name. In the movie she is played by Natalie Wood. I also love Jordan Baker in The Great Gatsby. I think she has better clothes than Daisy. She is long and lean and more modern and very much a golfer. And of course Jay Gatsby himself - the fact that he wears a pink suit is one of the best things in literature fashion-wise.