I spend about a third of my life in New Orleans, a city unlike any other in the United States, that I have come to love and call "second home." The things that come to mind are music, food, and Mardi Gras - but New Orleans was recently called the South's "next fashion capital" in Southern Living Magazine. And indeed, the fashion scene in New Orleans is thriving. One of its most active promoters is the multi-talented and extremely fashionable Andi Eaton, founder, NOLA Fashion Week, designer, Hazel & Florange, and blogger, Oui We. I am lucky enough to call her a friend, and asked her over coffee this weekend to tell me more about New Orleans' (Louisiana's) up and coming fashion designers. Here are, in her own words, the ones to watch (and shop!):
1. Anthony Ryan Auld: Baton Rouge native and Project Runway All-Star winner designs under the label Anthony Ryan, Auld creates innovative fashions to inspire the modern woman with clean lines, definitive shapes and bold fabric selections. He nailed it on Project Runway and does so time and time again on the NOLA Fashion Week runways. Available online here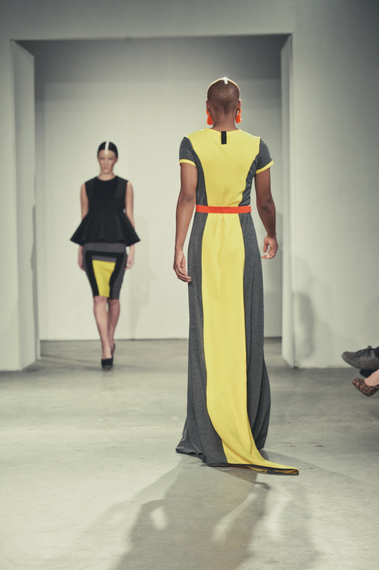 Anthony Ryan runway shot by Tate Tullier
2. Matthew Arthur: Another Louisiana native and Project Runway alum designing "unapologetic" and climate appropriate womenswear and menswear under the label "Mattingsworth." The line has recently expanded to include custom swimwear in unique fabrics appropriate for an afternoon pool party. Available at Hazel & Florange studio and online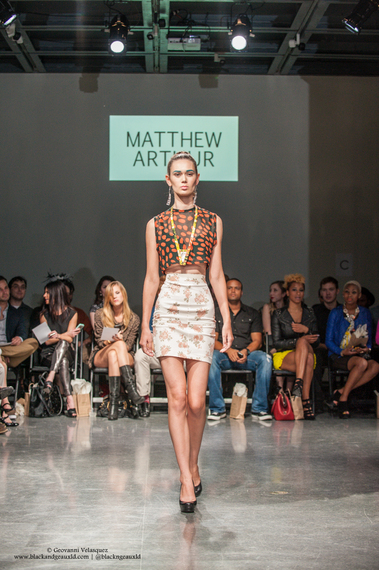 Matthew Arthur runway shot by Geovanni Velasquez
3. Lisa Iacono: In New Orleans, a go-to resource for garment making is NOLA Sewn, owned by Iacono, herself a designer and NYC expat. "Garment making is still very much a living art and cultural pride here, more so than any other city I've lived [in]," Iacono told Women's Wear Daily in regard to the apparel industry movement in New Orleans. Iacono is single-handedly giving the local apparel industry a boost by being the manufacturing home for upwards of 20 southern designers. Available online here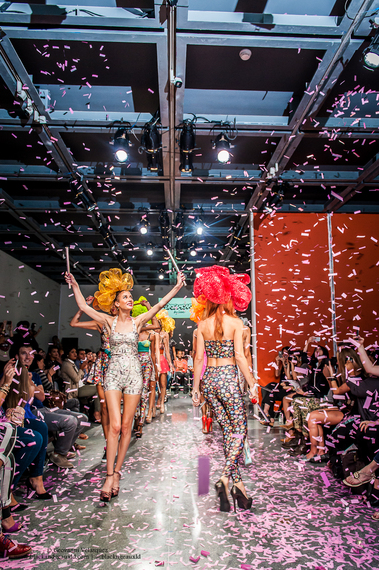 Dreamcar! by Lisa Iacono runway shot by Geovanni Velasquez
4. Suzanne Perron: Designer to the Mardi Gras Queens, Debutantes and Society Brides of New Orleans, Perron spent more than a decade in New York City on Fashion Avenue. Working for some of the most highly regarded design houses including Carolina Herrera and Vera Wang, she earned her stripes -- well, her crinoline and silk actually -- and then returned home to open an atelier specializing in "once-in-a-lifetime gowns in white and ivory." Available via her website
5. Jolie & Elizabeth: With a focus on seersucker, cottons and feminine styles and shapes each J&E dress is manufactured in New Orleans. The designers pride themselves on "contributing to the rebuilding, revitalization and redevelopment of New Orleans and the great state of Louisiana." Shop
6. Amanda deLeon: Inspired by music and architecture, invoking a deeply romantic and emotional connection, deLeon's designs are highly intricate (think hundreds upon hundreds of sequins per dress) and flawlessly constructed. DeLeon hand makes each garment, and was recently named a Designer to Watch at New York Fashion Week. Available here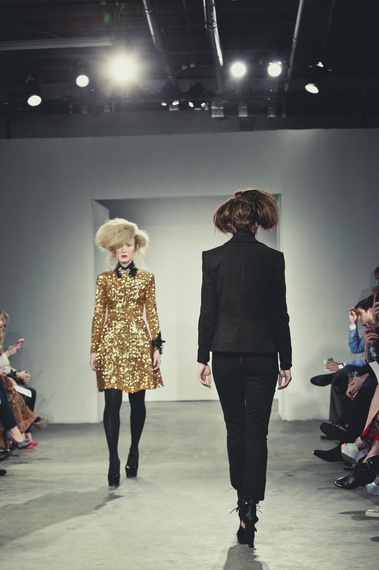 Amanda deLeon runway shot by Tate Tullier
7. Kallen Forster: Designing under the label The Design Lab, Forster's mission is to employ and educate women in low-income communities to develop skills for a career path in the apparel industry. Available here and Noelie Harmon boutique.
8. Leigh Kellogg and Crickett Lapeyre: The duo behind the lady like and vintage inspired line Libellule, each bring a unique skill set and a serious amount of talent to the line. Kellogg's background is in textile conservation and costuming, while Lapeyre comes from the world of international acrobatics. The aesthetic eye of each makes for beautifully constructed garments. In 2013 the duo launched a second line Peony, fine children's clothing. Shop

9. Natalie Bendy: Designer behind the plus-size line Dama Talya, Natalie works in partnership with her mother Kim, and creates figure-flattering garments that accentuate a woman's curves with feminine fabrications and cuts. Available here
10. Erin Tufts: Tufts' line of handbags, Rorin, is made locally in New Orleans and her obsession with quality shines through her products. Tufts works in leathers including lambskin and embossed crocodile and focuses on the fine details to perfect each bag. Prior to launching Rorin, Tufts designed womenswear as a part of the duo behind the line Nire Collection. Available online and in the Hazel & Florange studio.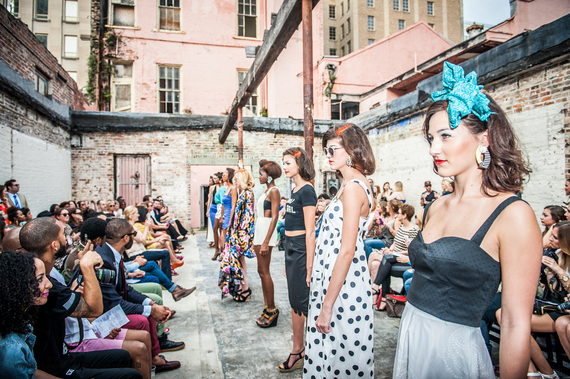 Hazel & Florange presentation shot by Geovanni Velasquez
Ada Polla is Co-Founder and CEO of Alchimie Forever skincare.