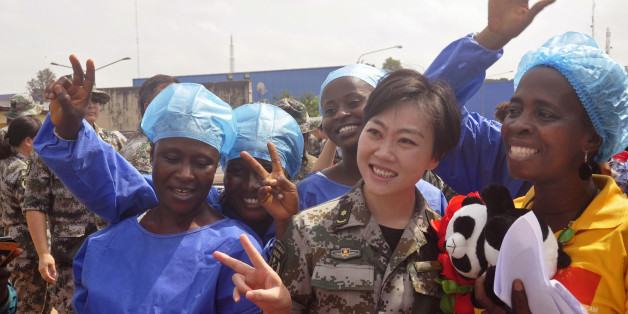 If all goes as planned, sometime today the World Health Organization will officially declare Liberia to be free at last of the deadly Ebola virus, having passed through the requisite 42-day window without a single new case of the disease. Based on what I hear from my friends and colleagues there, we can expect large crowds of joyous people celebrating tonight in the streets of Monrovia and all across the country.
This will be in sharp contrast to the scenes I witnessed just eight months ago, when I watched very different crowds gathered in the streets outside of Ebola Treatment Units (ETU) in Monrovia, consumed not with joy but with utter fear. Every morning, men and women, young and old, rich and poor, would gather outside the entrances to these ETUs, shaking with fever, vomiting on the ground, sometimes even bleeding from their gums. Occasionally an ambulance would cut through the crowd with no less than a dozen human beings crammed into the back. Due to a lack of space and staff to care for them, most patients lined up outside of the ETUs in those dark days would be refused admission, sent home to die and possibly infect their loved ones in the process.
During my time in Liberia last summer and fall helping International Medical Corps to set up its first of five desperately needed ETUs in the region, the US Centers for Disease Control and Prevention released projections about the future of the epidemic. If nothing were done to stop it, Ebola would infect up to 1.4 million people in Liberia and Sierra Leone by early 2015, killing more than half of those cases and literally decimating the population. These catastrophic numbers quickly (and appropriately) made headlines across the world.


International Medical Corps ETU in Suakoko, Liberia prior to September 15 opening
But those same headlines missed the very next paragraph, which stated that if the world responded appropriately, increasing community engagement, improving surveillance and access to laboratory testing, and opening up more treatment units to manage the sick in a safe environment, then the epidemic would be all but finished by early 2015. Thankfully, due to the courageous work of the people of Liberia, Sierra Leone, and Guinea (with a little help from their friends around the world), it was the future behind door number two that eventually came to pass.
While today is certainly an exciting day for Liberia, deserving of great celebration, the fight against Ebola remains far from over. Transmission of the virus continues in nearby Sierra Leone and Guinea, with dozens of new cases each week. Even a single case crossing the border would be enough to reignite the epidemic in Liberia, or any other country in the region for that matter. Losing focus now could spell disaster for not only Sierra Leone and Guinea, but for all of sub-Saharan Africa.
In addition, much work remains to repair the devastated health care systems in the region. As I've stated in previous posts, Ebola is not just a disease of individuals, it is a disease of health care systems, especially weak and overstretched healthcare systems. The epidemic has further depleted the already small population of nurses and doctors in the region, while disruptions in routine vaccinations mean future increases in child mortality and outbreaks of other diseases such as measles. Meanwhile, the economic free fall caused by Ebola has left local governments with less funds on hand to purchase drugs and equipment and pay health worker salaries. Ellen Johnson Sirleaf, President of Liberia, has called for a Marshall Plan for the region, similar to the effort to rebuild Europe after World War II, an apt comparison given the extent of the damage that has been wreaked by Ebola.
Finally, we must remember that even after the last patient is discharged from the last ETU in West Africa, Ebola will still not be gone. It will continue to persist in its natural reservoirs across sub-Saharan Africa, waiting for the right set of circumstances to reemerge, like some mythical beast from an ancient fairytale.
Which is why we have a moral responsibility to its future victims to learn as much as we can now about Ebola from this current epidemic. Hundreds of thousands of pages of epidemiological, clinical, and laboratory data currently lie scattered across West Africa, piled up in various ETUs, mobile laboratories, and local government offices. Within those stacks of chlorine-stained paper lie more information than has ever been generated in the history of the world about Ebola. Information such as the factors that lead to contracting the disease and those that increase its mortality; the severity and time course of its symptoms; the treatments that work and don't work; and the management strategies that produce the best outcomes can all be gleaned from this data. If not collected soon, entered into electronic databases, and aggregated and analyzed in a secure and responsible way, then all of this knowledge will be lost, leaving us back at square one when the next epidemic strikes.
Currently I am working with International Medical Corps to lead an effort to recover this data, beginning with the data from our five ETUs across Liberia and Sierra Leone. At the same time, an unprecedented collaboration of humanitarian organizations, local ministries of health, academic institutions, governmental organizations from the US and Europe and the World Health Organization are coming together to share data and contribute to a joint effort to learn as much as we can from this horrific tragedy in West Africa.
Last August, I wrote a blog post stating that if the world put enough effort towards containing Ebola, we could all be dancing in the streets, celebrating the end of the epidemic within a year. If we now put that same effort into strengthening local health systems and learning as much as possible from this recent epidemic, we can ensure that the next time Ebola strikes, it will be humanity with the upper hand.
Adam Levine is an Assistant Professor of Emergency Medicine and Director of the Global Emergency Medicine Fellowship at Brown University. He currently serves as the Principal Investigator for the International Medical Corps Ebola Research Team. His research focuses on improving the delivery of acute care in low-income countries and during humanitarian emergencies. The views expressed in this blog are his alone and do not necessarily represent the views of any of the organizations mentioned above.