I've always been and will always be a technophile. But despite my love affair with the latest smartphones, smart home devices, computers and anything claiming to be artificially intelligent, I've never owned a tablet or have needed to. Coming from a longtime tech geek who's always ahead of the digital curve, it's quite ironic to only get it now so late in the game.
I blame it on the right tablet taking its sweet time to finally smack me in my face. That tablet is the high-end Sony Xperia Z2, which is not to be confused with the new Sony Xperia Z2 smartphone of the same name. The tablet is now available in white and black and it went on sale earlier this month.
I used to review cell phones for About.com when they were clamshells and candy bars. It was all about being smaller and thinner. Before that, I wrote for years as a telecom reporter in Chicago. Way back when, I even was one of the first people to write about the concept of an iPhone before there were whispers of Apple getting into the phone space and the notion of going viral wasn't even in its infancy.
Today it's still about being thinner, but now it's about being bigger and bolder, too.
To those who know me, I make no secret about being a Google/Android guy versus a rabid Apple fan. But despite being a techie, I've been satisfied my whole post-1989 life since the Internet went public with only a smartphone, a work laptop and a home laptop. I haven't wanted or seen the need for a tablet. It'd just be a distraction, I thought, that was smaller than my laptop but bigger than my phone.
The tablet has been the middleman I've never needed.
For me to go the route of a tablet at all, I'd most expect myself first gravitating toward a Samsung Galaxy tablet considering all of my phones in the last few years have been upgrades to the Samsung Galaxy product line. It turns out that Sony is my dark horse. They're an interesting choice because their sell – and, in fact, what they do deliver – is the ability to pack in the best technology from their BRAVIA TVs and marry it with their well-known expertise in sound.
Waterproof, Thin & Fast
The resulting Sony Xperia Z2 will surprise you. From first glance, you'll notice how thin it is: just a quarter of an inch! Then you'll notice how light it is: just 15.5 ounces. By comparison, the thinnest iPad – the iPad air – is 0.29 of an inch and is 1 pound (16 ounces) in weight.
While the Sony Xperia Z2 is just barely thinner and lighter and has a slightly larger display, it ranges from $500 for the 16-gigabyte model to $600 for the 32-gigabyte model. The iPad Air ranges from $500 to $929 with lots of choices. The iPad Air, though, can't boast that it is waterproof, which is an interesting benefit to seek out in a tablet. It'll come in handy when you least expect it.
The Xperia Z2 is rated IP55/58. This means it has been tested and has "protection from the amount of dust that would interfere with the operation of the equipment" and also "protection from water projected from a nozzle." This also means it features a water resistance ability up to a depth of 4.9 feet.
In testing, the Xperia Z2 warned me when I opened its flappy microSD and charger port protectors because the tablet's inputs there aren't waterproof. So, be careful not to put your Xperia Z2 in the shower while you're charging it. Also, while I haven't yet broken those flappy port covers, I feel like I could easily snap them off (and then, of course, the tablet will get mad at me because it's no longer truly waterproofed).
The 10.1-inch screen (1920x1200 pixels and 224 pixels per inch) is stunning and extremely bright even on a sunny day. Black actually looks black, white is true white, light doesn't bleed and millions of colors are sharp as nails. The Xperia Z2 brags with lots of trademarks and marketing jargon for its screen – including an HD TRILUMINOS™ display and Live Color LED with X-Reality™ – but that stuff just means it's like watching a stunning HD TV that's as good as it gets today.
The iPad Air has a 9.7-inch, LED-backlit retina display. When you get down to the nitty gritty, the iPad Air has the upper hand from a display perspective with its resolution of 2048x1536 pixels and 264 pixels per inch. Pixilation is mostly unnoticeable in both cases, but technically the iPad Air with retina display can produce a more detailed image and more accurate colors.
As for sound, we have more trademarks and fancy words: S-Force Front Surround™ audio, Clear Audio+ and digital noise-canceling support. It's great sound in the real world, but I've easily noticed overloaded sound coming from watching music videos and the like. It's sly to put the speakers on the front versus the back where you can easily muffle the audio when placing it on your lap.
The Xperia Z2 features a 6,000 mAh battery whereas the iPad Air is approximately equivalent to 8,820 mAh (or 10 hours of surfing the Web on Wi-Fi, watching video or listening to music). To put things in context, the latest Samsung Galaxy S5 smartphone has 2,800 mAh (up from 2,600 in the S4 and 2,100 in the S3). While the industry has expressed concerns with the Xperia Z2's 6,000 mAh battery, it'll easily last you a full day's use until it's time to charge it at night. The Xperia Z2's Stamina mode noticeably helps keep you juiced longer, too.
The Xperia Z2 is extremely fast. For the geeks, it features a Qualcomm Snapdragon 801 processor with a 2.3-gigahertz quad-core Krait CPU, Adreno 330 GPU and 3 gigabytes of RAM. It has up to 16 gigabytes of flash memory and up to 128 gigabytes of expandable memory via a microSD slot. The iPad Air sports the A7 chip with 64-bit architecture and a M7 motion coprocessor. In my testing, the Xperia Z2 runs cool to the touch except for in the upper-left back quadrant where it tends to warm up.
Both are extremely fast tablets, but the true test is time and how much data you put on it. Tablets and smartphones always seem fast off the shelf. They slow down over time when you clog them with all of your selfies and videos of Aunt May playing bingo.
Drawbacks
We all know technology is never perfect, it's never the best and tomorrow there's always something better. The Sony Xperia Z2 has it fair share of mistakes and things that make you go hmmm.
Let's start with its camera. There's no flash! I seriously can't wrap my brain around this. Even the iPad Air doesn't have a flash. Sure, the depth of the flash won't be powerful enough to light a whole room. For objects near to the tablet, though, even a basic LED flash would be an improvement over not having one at all. While the iPad Air has a 5-megapixel camera and a 1080p HD video recorder, the Xperia Z2 has an 8.1-megapixel camera and a 1080p HD video recorder.
The Xperia Z2's camera is just fine. It's nothing to brag to mom about but it's sufficient for everyday use. While the Xperia Z2 attempts to make up for a decent camera with some fancy app work (including burst mode, scene recognition, panorama, smile and face detection, etc.), its biggest miss is background defocus.
Background defocus is one of the most important camera features a tablet or smartphone can have. Because it's not a true digital SLR camera that can take one picture and focus on the foreground while blurring the background, the Xperia Z2 quickly takes two photos and attempts to use software to blur the background.
The result would be a professional-looking photo, but in my experience, I attempted to accomplish this 50 times and only succeeded twice. Even when I was following directions, in nearly every case the camera couldn't blur the background. Great thinking, Sony, but fix it or don't include such a useless tease.
Also, the Xperia Z2 is the opposite of smudge resistant. It's a smudge jungle that shows all of the oils on your skin both on the front screen and the back cover. The iPad Air has this better thought out with its fingerprint-resistant oleophobic coating.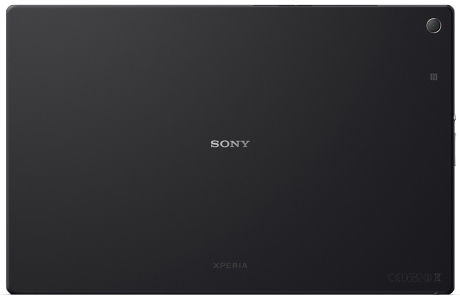 I've also noticed some mistouches. While I haven't yet experienced the dreaded lag that will come with any device because of processor and memory issues, I have seen some infrequent issues with the Xperia Z2 responding to my touches the way it should. This usually isn't a problem, but I have had to swipe a couple times, for example, to unlock it when I should only have to do that once.
Verdict
I'm not going to buy Apple because I'm not an iOS guy. But whether you're an Android or iOS person, your money is better spent on the Sony Xperia Z2. I know that'll be hard to swallow if you're an Apple person, but the truth is the iPad was the innovator and is no longer king.