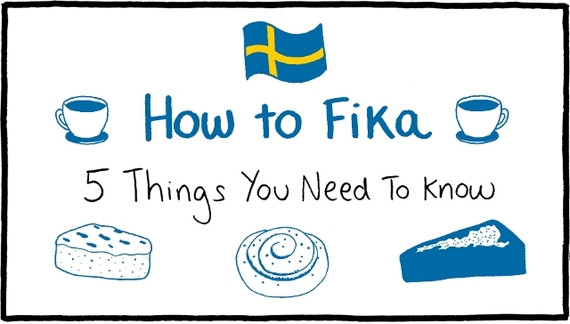 There's one food everyone thinks of first when trying to figure out what exactly is "Swedish food." And that's meatballs. (Thank you IKEA for introducing that to the world.) But Sweden is so much more than meatballs. Swedish cuisine traditionally includes a lot of meat and seafood. Open-faced shrimp (or prawn) sandwiches are especially popular for lunches, and meatballs seem to be endlessly available. However, during the midsummer season (celebrated on Midsummer's Eve every June 24), the popular Swedish meal includes pickled herring, boiled potatoes with fresh dill, sour cream and chives. The celebration involves maypoles, songs and flowers.
But perhaps the strongest culinary tradition in Sweden is the fika. What is fika? It's the everyday tradition to have coffee and cake each afternoon -- something you really have to experience in Sweden because it's a truly unique experience. Somehow it's more than most other culture's "coffee and cake" afternoon traditions! It's not just about a quick coffee and a sweet treat, but rather you usually spend it meeting with a friend over a leisurely break.
With the help of my friend Clairkine, we've put together an illustrated guide on what you need to know for a proper fika.