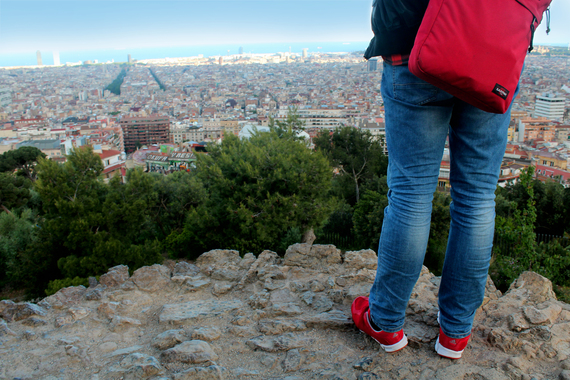 As that famous song by Rufus Wainwright says: Nothing really does compare to Barcelona. You have to be there to experience all the beauty of the architecture, not only the magnificent works of Gaudí, but also streets like Passeig de Gracia. You can get lost inside the little streets of the Gothic neighborhood and at the same time enjoy the sun in the Barceloneta.
Barcelona offers you everything you need for a perfect summer vacation: amazing food like churros or xocolata in Dulcinea, the colorful street life in Park Güell and Montjuic. You can take a day trip to Tibidabo mountain and discover the church at the top of the hill, offering a great panoramic view of the city and the beauty of the Mediterranean Sea.
In Barcelona though, it's not all about beauty. There's also culture. You'll find it everywhere. You have museums that are a MUST: like the one dedicated to Miró or Picasso<. You can experience modern art, theater, music. Food is certainly another form of art in this city. In the Barceloneta you can get the fresh products of a bakery, or try some delicious fish in one of the local restaurants and markets. I love to recommend visiting the Mercado de la Barceloneta, and then walk along the beach, watching people playing chess or tablero, exercising on the beach, enjoying an ice cream (seriously: go for ice scream at Eyescream and Friends) or just contemplating the sea.
For the night, you have the amazing nightlife of the clubs and also in the streets. If you're lucky, you might also be in town for a classic football match at Camp Nou -- the most exciting being a match between Real Madrid and Barcelona. Football (ie, soccer) also means lots of tapas, beer and a lot of rambunctious cheering. This country gets crazy about football and there is no denying that it's contagious. The game is also politics, though, because many in Barcelona want to claim independence from Spain.
Shopping is also an experience in Barcelona. Spain is one of my favorite countries for fashion and with their sales and discount prices, there are just so many different options available. Like several other places in Spain, some former plaza de toros have been adapted to be shopping malls, such as Las Arenas. Closer to the city center, however, you'll find the more popular and commercial shops. In the area around La Rambla and Plaza Catalunya are a mix of independent and chain stores.
If you decide to visit Barcelona this summer, remember to practice your Spanish. Most of the people in Barcelona speak Spanish, even when the official language is Catalán. However, English, German and French are also spoken in many places. Take time to walk around the Rambla, because the area is full of life and energy. Sometimes too much life and energy. Barcelona, like many cities, also has its' problems. Pickpocketing is quite common here and I've even had a few close calls. I wouldn't describe Barcelona as a dangerous city, but just be on your guard.
With three days in Barcelona you can accomplish a lot, even if traveling on a budget. Go visit the markets, get local snacks and fruit, experience the city's café culture. But you will have to shell out some Euros for a few of the most important sites, namely Casa Batlló and the Sagrada Familia. And make sure you enjoy at least one delicious Catalan Cream -- probably the most delicious dessert in the world. Nothing really compares.
This post about Barcelona in summer first appeared on travelsofadam.com