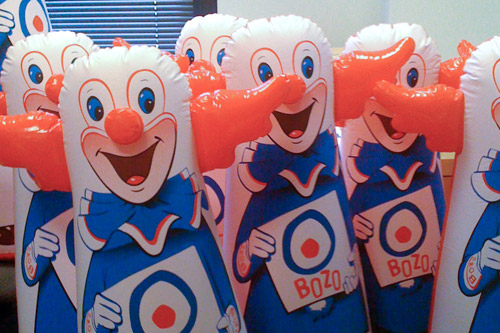 While conflicts raged in Iraq and Afghanistan in Spring 2009, a lesser known battle was being fought at 21st street in downtown Manhattan. It all started with a blow-up Bozo doll in the window of the Harrison & Star ad agency. VideoHelper, a music company across the street, responded to the perceived insult with their own Bozo doll aimed back at their neighbors. Then things got serious.
The escalation that ensued is captured in Bradley Glenn's documentary Battle of the Bozos, which has its New York premier at the Williamsburg International Film Festival this Saturday. Glenn works both sides of the street as the Bozos start multiplying, capturing each company planning their war strategy, considering sniper attacks and kidnappings, and culminating in the final "shock and awe" campaign that leads one office to unconditionally surrender.
Glenn, an independent producer, was doing a project at Harrison & Star when the third Bozo went into the field. "I was on the phone with my wife and she heard these screams in the background. I told her the story, and she said I had to make a movie about this." He says he was drawn to the story because "it's like a 60's art happening, but this one just involved regular people in the middle of work."
Fortunately, this battle has a happy ending, with both companies hammering out a peace treaty at a charity event and raising money for the Ronald McDonald House. Glenn also sees a deeper lesson: "Even in a town like New York, which is so big, you never know who is watching you."
Battle of the Bozos, part of the Williamsburg International Film Festival, will be screened on Saturday, September 26th at 5pm at the Knitting Factory.