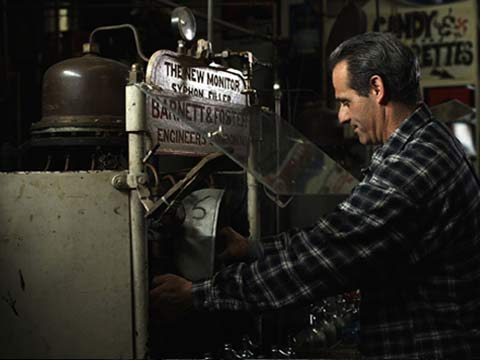 Owning the last seltzer bottling plant in Brooklyn qualifies you as a psychiatrist. "People call me all the time just wanting to talk about the old days," says Kenny Gomberg, third-generation owner of Gomberg Seltzer Works. "It was a nostalgic part of people's lives. They were very attached to it."
Seltzer Works, a documentary by first-time director Jessica Edwards, premiers tomorrow night on the PBS series POV. The world of seltzer may not seem glamorous, but Gomberg wasn't surprised when Edwards approached him about filming there. "We've been featured in countless articles, local news and even a cable station in China or Japan. I forget which."
Edwards, who became a seltzer fanatic "late in life," got the idea for the project when an accident involving a seltzer delivery man made the local news. "Brooklynites were, of course, concerned about his health, but were also worried about how they would get their seltzer." She went to the plant, was charmed by Gomberg, and was amazed at the old machinery.
"Good seltzer should hurt the back of your throat," says Gomberg. The plastic bottles sold in supermarkets can't handle the 60 lbs. of pressure his glass bottles can take. The old valves also maintain that pressure after each pour. "When you open that plastic bottle. Ssssst. That's all that pressure going out."
He may be the last of his kind, but Gomberg isn't going away anytime soon. "As long as people out there are interested, the machinery is still running." Gomberg doesn't know if they'll be a fourth-generation owner just yet, but "there are people interested in taking over if I get out of it."
Edwards, who grew up in Canada, claims Gomberg "holds the torch for this piece of history. It's Brooklyn history. It's Jewish history. It's New York history." She also has a vested interest in the subject matter. "I need a glass of seltzer first thing in the morning to feel refreshed."
Seltzer Works, Directed by Jessica Edwards, premiers on PBS on Tuesday, August 24th at 10pm (check local listings).